Tennessee quarterback Marcus Mariota is progressing just like the Titans had hoped when they tabbed him as the future of the franchise with the second overall pick in the 2015 NFL draft. Mariota has Tennessee entering the bye week at 6-6—in the thick of the AFC South title race, as well as in sight of a wildcard spot. The QB's 2016 season didn't start very hot, but has taken a jump in recent weeks.
Here we take a look at the offense as a whole, where Mariota is excelling, and where the quarterback can improve as he continues to progress in year two.
Building the offense around him
The plan to alleviate some of the pressure on Mariota with a running game and solid offensive line—while he learns how to consistently win from the pocket in the NFL—has helped the QB in big ways. The learning curve coming from his college offense at Oregon was steep, but the Titans have built an offense with a lot of diversity personnel-wise and a variety of formations. The offense displays a power run game, but still uses a lot of the spread elements Mariota is comfortable with and excels at, both in the running and passing game.
The NFL is very much an 11-personnel league (one RB, one TE, three WRs), with 59 percent of snaps from offenses this season coming from that personnel grouping. The Titans don't fall in line with the norm, as just 40 percent of their season snaps come from 11-personnel (second-lowest rate). With that, they rank well above the NFL average in using heavier run sets, whether it be multiple RBs, TEs, or both.
The commitment and production in the running game has been there all season, as they rank third in the NFL in rushing yards per game (141.5). The Titans have had only three games this year when they have not rushed for 100 yards—all losses (Vikings, Chargers, the second Colts game).
The second element the Titans wanted to help Mariota out with was pass protection, and it has shown up well this season. The offensive line is tied for third-fewest QB pressures surrendered this season, with just 90 pressures on 421 passing opportunities.
Clicking at the right time
Mariota and the Titans' offense didn't start the season particularly well, with eight turnovers in the first four weeks. Early in the year the passing game simply wasn't clicking, and lacked any rhythm. Whether it be lack of separation or precision from his receivers, timing, accuracy issues, or forced throws on his behalf, there simply wasn't a consistent rhythm to the passing attack.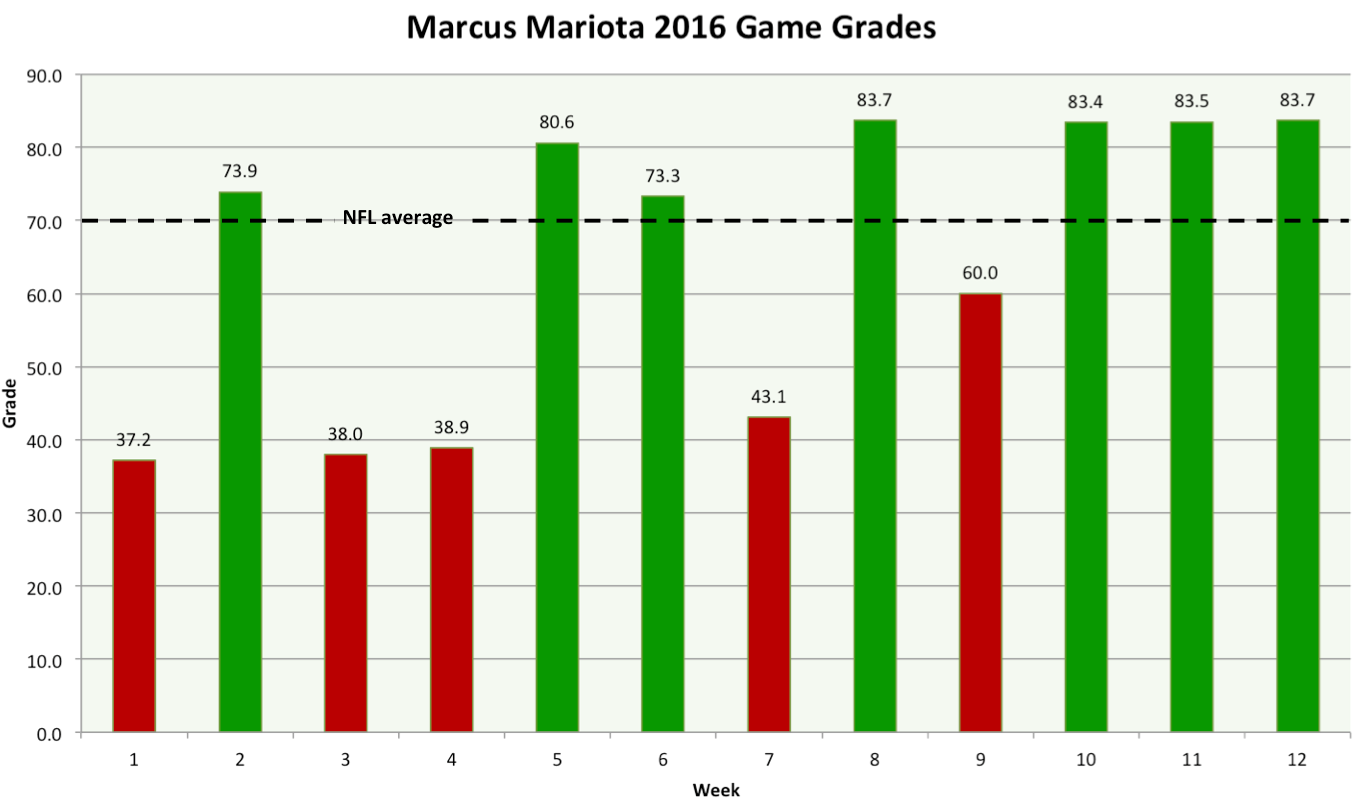 Since Week 5, however, the Titans' offense has greatly improved, having turned the ball over just five times and making explosive plays in the passing game. Mariota has seemed to gain more trust and confidence in his pass catchers, as well as his overall feel in the pocket, with just two below-average games out of his past eight. Here's a look at some of Mariota's key improvements:
Passer rating from a clean pocket:
Weeks 1–4: 81.8 (28th)
Weeks 5–12: 123.5 (third)
Passer rating under pressure:
Weeks 1–4: 47.2 (20th)
Weeks 5–12: 99.1 (first)
Passer rating on deep shots (throws traveling 20 or more yards in the air):
Weeks 1–4: 81.9 (18th)
Weeks 5–12: 123.8 (tied for fourth)
Passer rating using play action:
Weeks 1–4: 62.9 (30th)
Weeks 5–12: 131.5 (second)
Red-zone performance
Mariota's play in the red zone since entering the league is pretty well documented. The past two seasons have seen Mariota with a 63.0 percent completion rate and a 32:0 TD:INT ratio inside the 20-yard-line. But when you look a little deeper at his red-zone numbers this season, you'll see he is up there with some of the best when the area is condensed to an even greater degree, inside the 10; Mariota is 15-for-22, and his completion percentage of 68.0 puts him at seventh-best among QBs in that regard. Of his 15 completions, 13 have gone for TDs, ranking third-best in the NFL behind Drew Brees and Aaron Rodgers in passing touchdowns inside the 10-yard-line.
Mariota possesses one of the quicker releases in the NFL, a big reason why he is so productive in the red zone. He plays with fearlessness, and has a unique ability to see/anticipate windows when the area is tight; on top of that, he is extremely accurate. Mariota can, at times, get away with a few throws in the red zone because the ball is out of his hand so quickly and accurately that defenders have a difficult time reacting. The ability for him to convert drives into touchdowns will be vital for the Titans down the stretch.
Areas to improve
While Mariota has been outstanding as of late, there are still many areas to clean up as he progresses. Most notably, his footwork. Coming from his shotgun offense, there was an expected learning curve with certain drops under center. Oddly enough, many of his problems lie within his shotgun footwork at the mid-level and deeper developing route concepts. When Mariota experiences accuracy issues, it's typically tied to his footwork. The QB's footwork, at times, is very choppy/rigid and lacks rhythm, which hinders his timing and ball placement on certain routes. While his quick release and accuracy can sometimes make up for it, his footwork on certain concepts—as well as getting stuck on his back foot—are holding him back from taking that next step as a passer at the moment.
The next area Mariota will need to show improvement in is his decision-making and accuracy outside the pocket, specifically when scrambling to his right. The majority of Mariota's negatively-graded snaps come on scramble plays, where he at times tries to milk the play for too much, instead of cutting his losses. He's learned from a lot of these mistakes lately, but it still shows up more than the Titans would prefer.
Like any young quarterback, Mariota is learning how to quickly get through progressions while feeling the pocket. He will miss certain things at times, but that can be expected from a young player, especially when you consider the jump he made from the offensive style at Oregon. Mariota's vision and natural instincts in the pocket are exactly what an NFL team looks for, and this area will only continue to become more consistent. The Titans' offensive staff has demonstrated that type of confidence in Mariota's ability to see things. They don't always have to spread the game out for Mariota to see things clearly, as they use condensed formations with bunches and stacked receivers to create defensive confusion and communication as much as anyone.
Going forward
The Titans have been back and forth with their record all season, and have played many close games. Mariota's play—specifically taking care of the ball and converting in the red zone—down the stretch will be crucial for Tennessee's chances at the playoffs. The good news for Titans fans is that he and the passing offense are clicking at the right time.
Bill Walsh said years ago that it takes a year and a half to find out what a quarterback is in the NFL. Mariota has progressed in year two in a way everyone had hoped; if he can continue to improve upon a few things, he is well on his way to being a consistently-good quarterback for many years to come.