The quarterback carousel is generally an NFL-wide phenomenon, but Minnesota has been home to its own amusement park ride over the last two years. With 2016's expected starter — Teddy Bridgewater — going down to injury and Sam Bradford and Case Keenum taking over signal-caller duties over the last two seasons, the Vikings were housing three capable starting quarterbacks on their roster by the end of 2017. However, all three quarterbacks are now free agents and Minnesota must decide which, if any, will be back for the 2018 season and beyond. Let's break it down.
[Editor's note: The quarterback statistics mentioned below can be found in the first ever PFF QB Annual released earlier this year for PFF Edge & Elite subscribers. Not a subscriber? Sign up here.]
Case Keenum
From career backup to coveted free agent? Keenum's breakout 2017 was one of the stories of the season, but how much is fool's gold given what we knew about him in previous seasons? It's a fair question for the Vikings to ask, but let's focus on what he did well.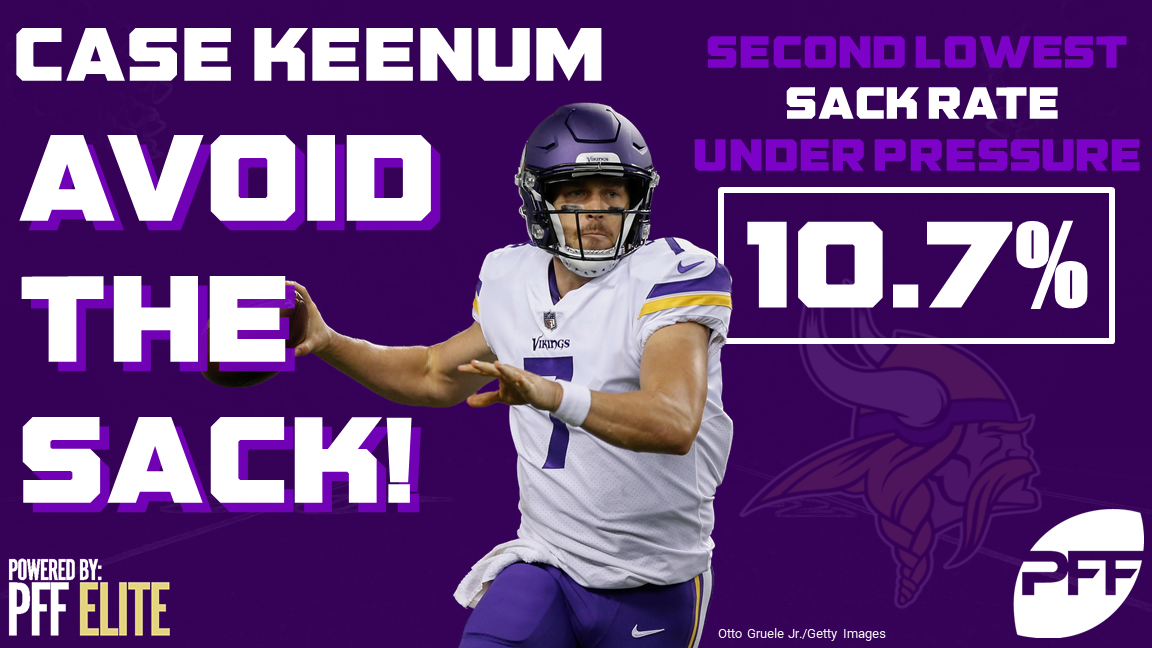 Keenum played behind a poor offensive line, but he still managed to avoid sacks at an incredible rate while making good decisions and taking care of the ball. It's a great combination for a quarterback graced with an excellent defense on the other side, and it all added up to a career-high 85.3 grade (ninth in the NFL), the No. 2 seed and a bye for the Vikings in the NFC playoffs.
He was certainly aided by one of the best wide receiver duos in the league in Stefon Diggs and Adam Thielen, both of whom ranked in the top five in contested catch percentage, and overall, Keenum had one of the best supporting casts of playmakers we've seen in the last few seasons. However, Keenum did show an excellent combination of strong decision-making and aggressiveness that protected the ball, yet allowed his receivers to make big plays down the field.
It may be asking a lot of Keenum to duplicate his career year, but it may be asking even more for him to duplicate it elsewhere in a different environment. With that in mind, Minnesota may be the best fit for Keenum, and the Vikings must hope that the rest of the league is not enamored with him. If they can bring Keenum back at the right price, while keeping options open for other quarterbacks, including potential draft picks, that's the prime scenario for the Vikings heading into 2018.
Sam Bradford
Bradford's last two full seasons have been the best we've seen from a PFF grade standpoint, as he finished at 86.4 in 2015 and 83.4 in 2016. His 2016 season with the Vikings was solid, starting out with a spectacular game against the Green Bay Packers in Week 2 before settling in as a risk-adverse game-manager type of year.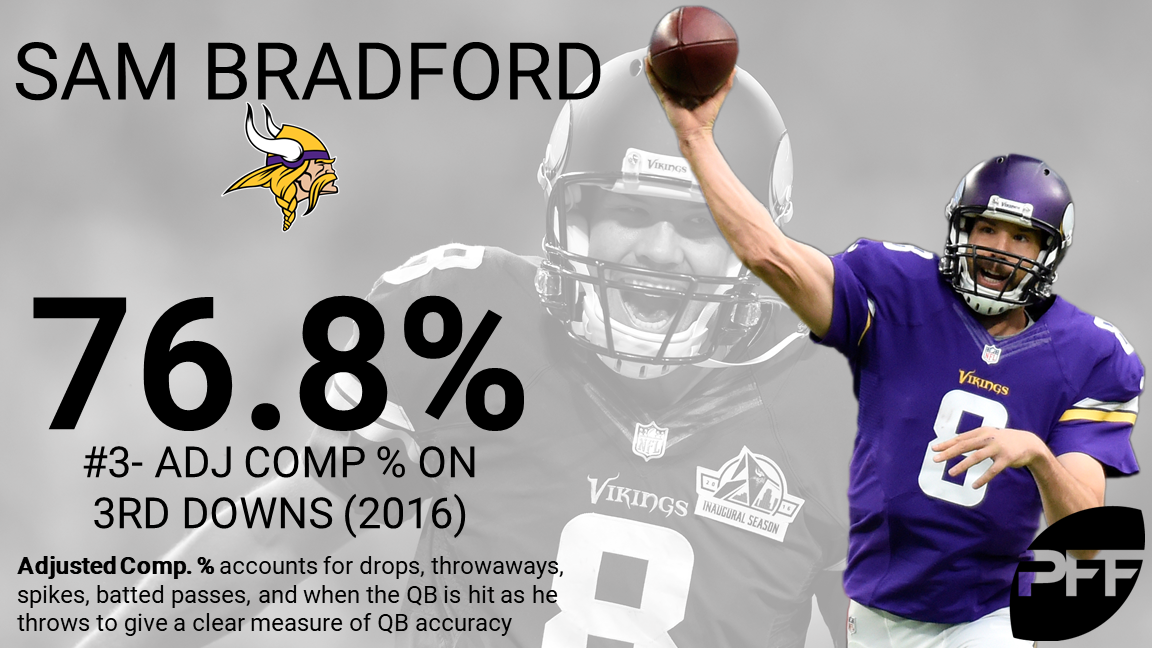 Much like Keenum in 2017, Bradford was excellent at taking care of the ball, ranking fifth at avoiding turnover-worthy plays in 2016, but he ranked only 36th out of 40 qualifying quarterbacks in percentage of positively-graded plays, and therein lies the issue with Bradford through the years. He can make the special throws (often ranking high in big-time throw percentage), and he can take care of the ball, but there simply aren't enough "value-add" throws to his game. Even when he's posted solid PFF grades, Bradford hasn't been great statistically, as he's never topped 7.0 yards per attempt in a single season.
There are legitimate questions as to whether Bradford can ever put together a season in which he takes a few more chances down the field and elevates his teammates statistically, and it may simply be a situation where he needs a near-perfect environment of offensive line and playmakers in order to put up the statistical season everyone has been waiting for since he was the No. 1 overall pick in 2010.
The other obvious and important question with Bradford is health, as he missed the majority of the 2017 season and now missed all or part of four of his eight seasons in the NFL. The health risk, combined with Keenum helping the Vikings take the next step offensively last season, will likely lead to Bradford being the odd man out in Minnesota.
Teddy Bridgewater
The biggest unknown of the group, Bridgewater went from potential franchise quarterback to injury risk after a disastrous knee injury prior to the 2016 season. He was off to a good start to his career, grading at 84.1 as a rookie in 2014 and 82.1 in 2015, with the construction behind his grading also landing on the game-manager spectrum, much like we've seen from Keenum and Bradford in recent years. Bridgewater never felt like a great fit for offensive coordinator Norv Turner, who liked to drive the ball down the field with a vertical passing game, but in today's NFL, could actually have the opposite effect on quarterbacks.
He ranked second at avoiding turnover-worthy plays in 2014 before finishing 36th in positively-graded throws in 2015 while posting the lowest percentage of negatively-graded throws. What does it all mean? Bridgewater was generally safe with the football, he rarely missed the "expected" throws, but like Bradford, he was unable to force the issue down the field with the chain-moving positively-graded plays.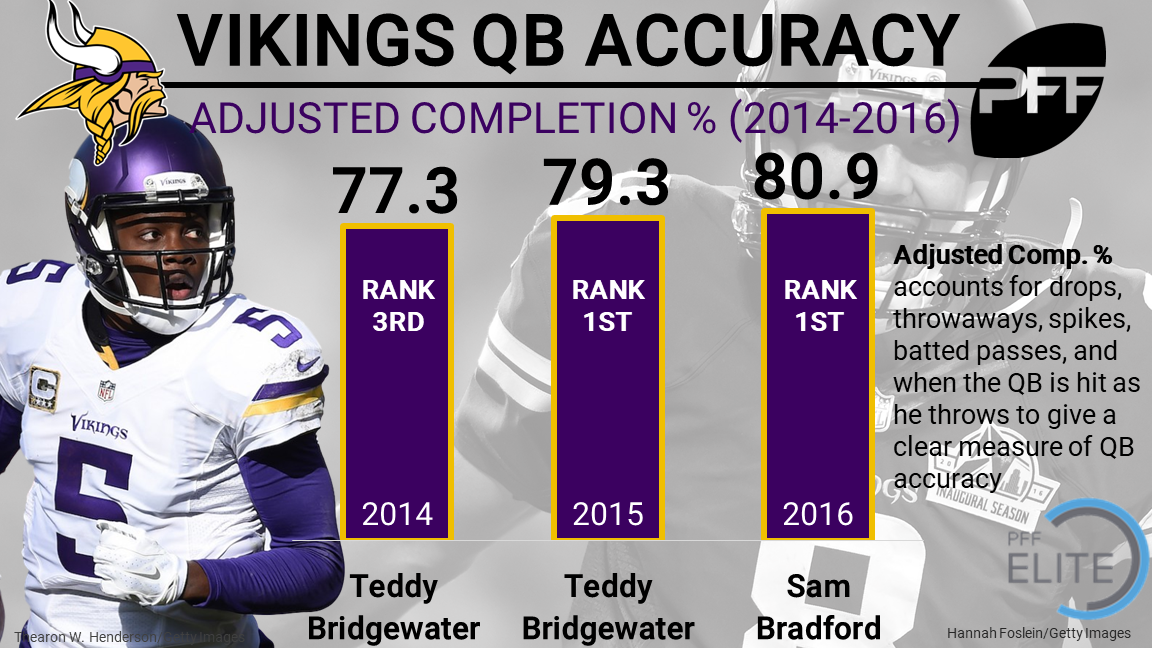 Perhaps he was poised to take that next step in 2016 prior to the injury, but we'll never know what would have happened in that next year of development. Instead, we're left to wonder about his promising start while trying to diagnose just how much the injury still affects him. The good news for the Vikings is that they have a much better feel for where Bridgewater is in his development than the rest of the teams around the league and that could make it a cheaper market for his services. If that's the case, assuming a clean bill of health, Minnesota should look to bring Bridgewater back on the cheap to let him compete with Keenum for the starting spot.
Even if there is a discrepancy in pay in this scenario, there's a realistic chance Bridgewater can outplay Keenum and win the starting spot in a fair competition. The difference in money would only stem from recency bias toward Keenum's good season and perhaps a hot market for his services, whereas Bridgewater's injury questions could send him back to the Vikings by default. But it would not surprise to see Bridgewater re-claim his starting spot get back on track as the signal-caller of the future in Minnesota.
Scenarios 
Best Case: Vikings sign Keenum to a team-friendly multi-year deal that incentivizes strong play, yet gives the team an out if he reverts back to previous levels. Other teams are reluctant to give Bridgewater a big deal, he re-signs at hometown discount for the Vikings. Open competition between Keenum and Bridgewater with best QB getting the nod.
High Risk: Vikings sign Keenum to mid-level starter long-term deal that may pay off, but inherently comes with risk due to Keenum only having one year of strong play under his belt.
Moderate Option: Vikings franchise Keenum, give him one more year to shine while keeping their options open for the future. Remain hopeful for cheap Bridgewater deal for backup money.