The Kansas City Chiefs averaged 35.3 points per game this season, which sits behind only the 2013 Denver Broncos and the 2007 New England Patriots for the title of the highest-scoring offense in NFL history. That doesn't happen unless two things come together – extraordinary talent at the quarterback position and an ideal offensive environment. Those two elements have come together this season for the Chiefs, and that gives them an offense that no one wants to come up against in the postseason.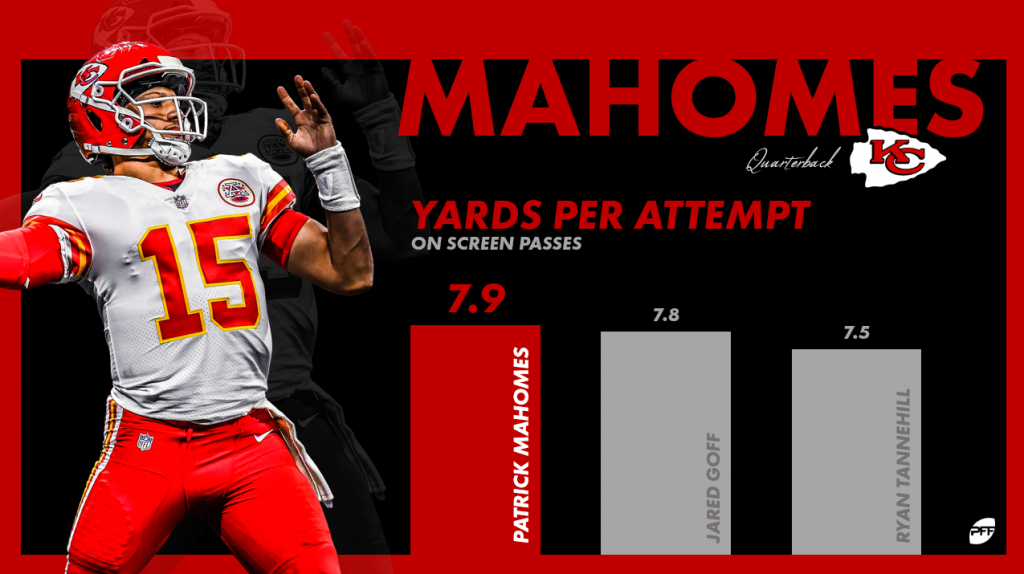 Much has been made about Patrick Mahomes' ability to improvise and create big plays outside of structure whether that be under pressure or outside the pocket, and he is certainly dangerous in those situations. What should be scarier to defensive coordinators league wide, though, is just how efficient Mahomes has been within the structure of the Chiefs' offense. Andy Reid and Eric Bieniemy have put together an offensive scheme that, in coordination with the electric playmakers the Chiefs employ around Mahomes, has created the perfect environment for him in his first year as the starter.
Mahomes is certainly capable of making big-time throws deep down field or into tight windows, as evidenced by his league-high 46 BTT's, but the Chiefs' offensive scheme has also given him easy throws that go for big plays.
One area where this most clearly shows is in the screen game. Mahomes attempted 83 screen passes, which was fewer than only Ben Roethlisberger on the season. On those screen passes, Mahomes averaged a league-high 7.9 passing yards per attempt and a passer rating of 123.5. Eight of his screen passes went for gains of 20 or more yards. No other quarterback had more than five completions of 20-plus yards on screen passes. He got the ball out to Pro Bowl-caliber players such as Tyreek Hill and Travis Kelce behind the line of scrimmage and let them do the rest all season.
Of course, Hill is one of the most dangerous offensive weapons that you will find anywhere in the league. When you pair him with other matchup weapons such as Kelce and Sammy Watkins that will naturally lead to open men running free downfield. This season, Mahomes attempted 75 passes to receivers with two or more steps of separation 10-plus yards downfield. Only Matt Ryan had more such attempts on the year. This is just another way that the Chiefs have provided Mahomes with easier throws to lighten his load.
In fact, no matter where you look, when Mahomes was working in the rhythm of the offense, he was putting up historic numbers. He was excellent from a clean pocket with a passer rating of 134.2, which not only led the league, but it was the highest mark for any quarterback since 2006 that had at least 400 dropbacks. And if you look at who led the league in passer rating last season from a clean pocket, you'll see the man whose job Mahomes took – Alex Smith at 115.3.
What about passes that get out in 2.5 seconds or less? All Mahomes did there was complete 79.3% of his passes and throw for 27 touchdowns compared to one interception. For all the talk about Mahomes free-wheeling, gunslinger mentality at quarterback this season, no one was better at operating within the confines of their offense than he was. Once again, the talent and scheme surrounding him deserve a lot of credit for not forcing him to be a one-man show.
That is what whoever comes up against the Chiefs in the divisional round will have to attempt to do – force Mahomes to be a one-man show and create for himself. If you let him work in rhythm, you've already lost as a defense.
When taken out of that rhythm, Mahomes will still get his. He has 27 gains of 20 or more yards when pressured and 23 gains of 20 or more yards when moved outside the pocket, both of which lead the league. He seeks out the big throw on those extended plays with an average depth of target of 18.4 yards when the pass comes over three seconds after the snap. So yes, forcing Mahomes to extend the play and move around does not come without risk. It does provide opportunities for the defense to get off the field, though.
On those passes that come out over three seconds after the snap, Mahomes has a completion percentage of just 43.2 percent. He also is tied with Josh Allen for the league lead in interceptions on such throws at eight, which is rather unlucky considering his total of only eight turnover-worthy plays, but nevertheless, those are opportunities for a defense to give the ball back to their offense.
It's not a perfect solution, but there isn't one when it comes to defending the monster that they've created in Kansas City. Mahomes and the offensive environment he was placed into have elevated each other to form one of the most explosive offenses in league history, and it's the reason that the road to the Super Bowl in the AFC goes through Arrowhead.