When the Denver Broncos drafted a 24-year-old Garett Bolles with their first-round pick in 2017, many people thought it was a questionable move by John Elway. There was no question that Bolles was talented, but he would be 25 years old before his rookie season even started, which is older than your usual first-round pick. Regardless, Bolles pulled off a solid rookie season in 2017, as he finished with the year with the 28th-best overall grade (72.9)and the 11th-best run-blocking grade (74.2) out of 92 qualifying offensive tackles.
Bolles' second season showed a slight decrease in his overall grade (70.7) from his rookie year, but his performance in the second half of the season (Weeks 10-17) was extremely encouraging, particularly from a pass-blocking perspective. From Week 10 on, Bolles allowed a pressure rate of just 2.9% which ranked third among left tackles in that period, trailing only Tyron Smith (1.5%) and Ronnie Stanley (2.6%). It was a promising in-season improvement for the Broncos' left tackle, as his pass-blocking grade in the second half of the season (77.1) was over 10.0 points higher than it was from Weeks 1-9 (66.4).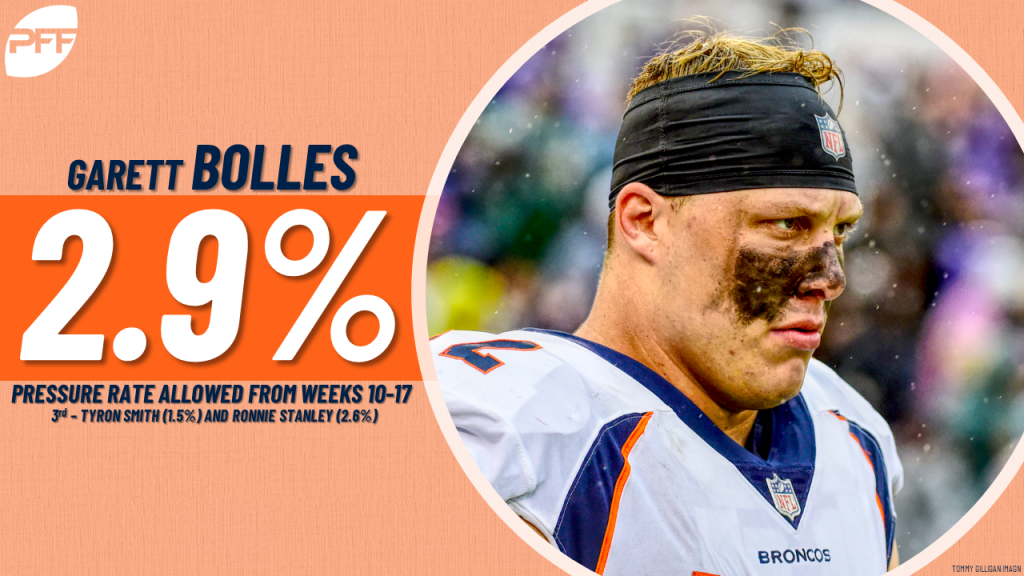 In addition to increasing his pass-blocking grade in the second half of last season, Bolles also slightly increased his run-blocking grade from 63.7 from Weeks 1-9 to a mark of 67.9 in Weeks 10-17. Although it seems like a low grade and a small increase, he did go from the 30th-ranked run-blocking offensive tackle in the first half to the 20th-ranked in the second half. Both Phillip Lindsay and Royce Freeman saw success when running off Bolles last season, as Lindsay averaged 4.3 yards per carry and Freeman averaged 5.2 yards per carry when running outside the Broncos' left tackle.
With numbers like that, it's easy to see how Bolles played a big part in helping the Broncos earn the seventh-best run-blocking grade as a team last season, and if he can carry over that momentum he built up in pass-blocking over the second half of 2018, the Broncos could have themselves a solid offensive line for the first time in a while.
However, there is one crucial thing that Bolles can improve on, and that's the number of penalties he gets called for, as his 13 penalties last season were tied for the third-most among offensive tackles. Ten of those penalties came by way of holding in pass protection, which was significantly more than Denver's right tackle Jared Veldheer — who had just two such penalties — and much more than an elite left tackle like Terron Armstead, who had no such penalties.
In fact, if Bolles had committed just one or two offensive holding penalties, his grade would have been much higher, as his pressure rate allowed (4.7%) last season ranked 10th among left tackles.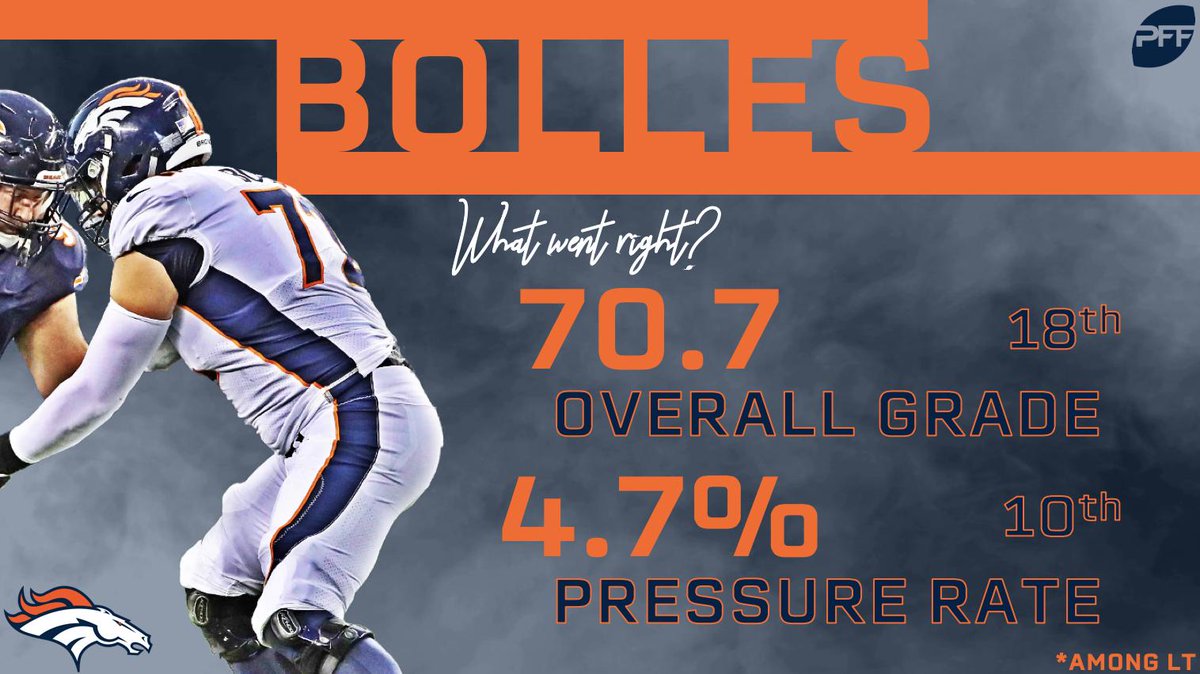 The addition of offensive line coach Mike Munchak — who previously coached the Steelers' terrific offensive line from 2014-2018 — should help bring down Bolles' penalty count, as his offensive line in Pittsburgh was pretty well disciplined. After all, his Steelers allowed a pressure percentage of just 30.4% against stunts last season, which was the third-best mark in the league — something only the most disciplined offensive lines can pull off.
As Chris Harris said during the draft two years ago, Bolles is big and nasty in the trenches. He has all the physical tools needed to be a dominant offensive lineman in the NFL, and the addition of Munchak to go along with Bolles' progression and talent should help Denver's offensive line in a big way as they head into the 2019 season.