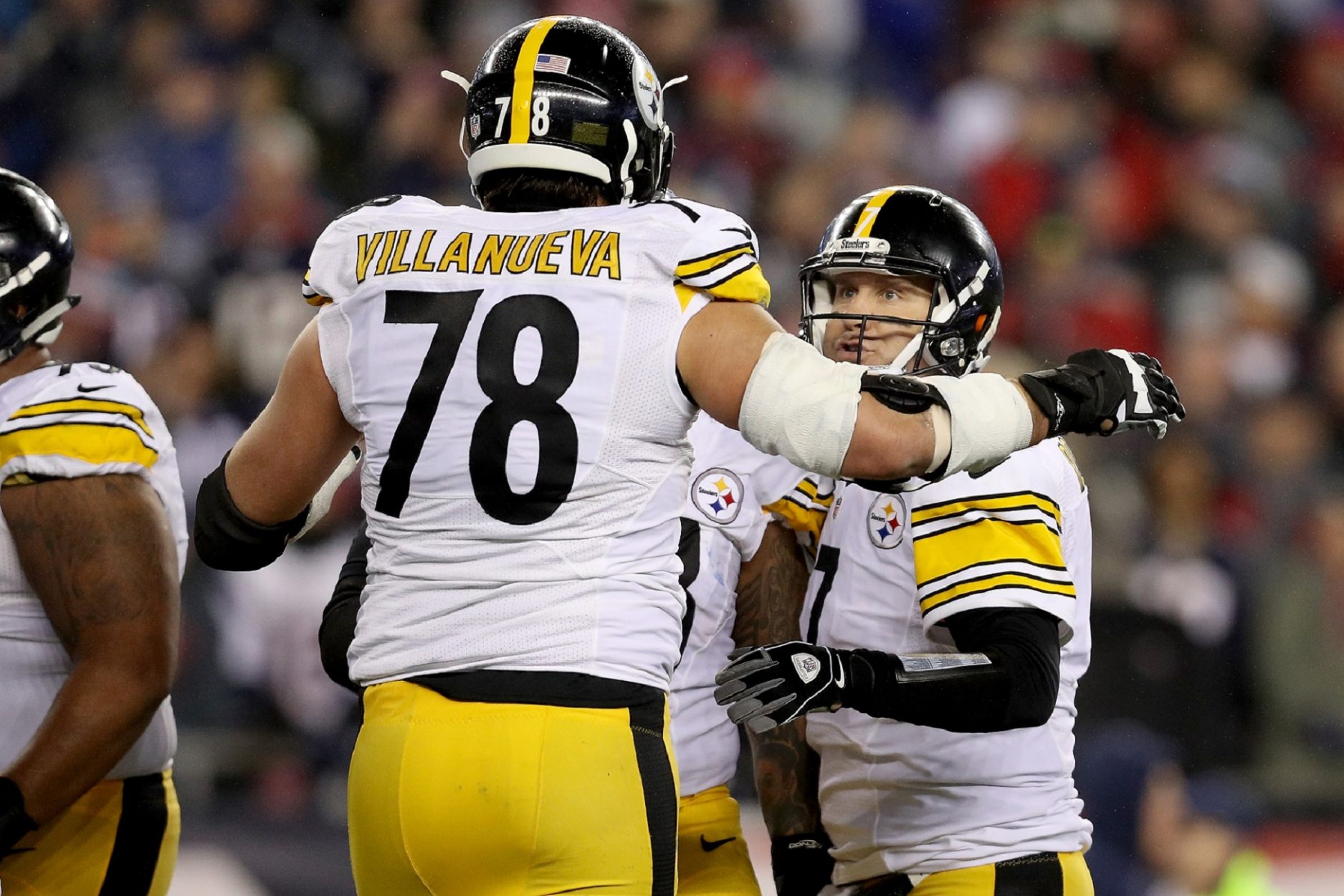 FOXBORO, MA - JANUARY 22: Ben Roethlisberger #7 of the Pittsburgh Steelers talks to Alejandro Villanueva #78 during the first half of the AFC Championship Game against the New England Patriots at Gillette Stadium on January 22, 2017 in Foxboro, Massachusetts. (Photo by Patrick Smith/Getty Images)
According to Ray Fittipaldo of the Pittsburgh Post-Gazette, Pittsburgh Steelers offensive tackle Alejandro Villanueva, may not report to Steelers training camp. Villanueva, who is an ex-Army Ranger Captain, said, "after taking orders my whole life, now I'm working with a really good agent, and I'll do whatever he tells me to do." Villanueva is set to earn just $615,000 under the terms of his ERFA tender, but is looking to work out a long-term deal.
Villanueva played 1275 of the Steelers 1276 snaps in 2016, and ended the season with a PFF overall grade of 79.3, ranking 30th of 77 qualifying offensive tackles.
He started the season poorly, and didn't register a grade above 70.0 until week 6 of the season. However, he finished strong. From week 14 until the conference championship, he didn't allow a single sack or hit, and his grade only dipped below 70.0 once.
Villanueva showed vast improvement in pass protection down the stretch, and from week 14 until the conference championship he earned a pass blocking efficiency (the PFF metric that measures pressure allowed on per snap basis with weighting towards sacks) of 97.2, which ranked fifth of 34 tackles in the league.