The next man up dictates the market. That's been the trend at the quarterback position as the next viable signal-caller with an expiring contract seemingly sets the market for his peers and this time, it's Kirk Cousins playing the free agent game to perfection. His reported three-year, $84-million deal is fully guaranteed and puts him back on the open market in relatively short order, but in the meantime, the Minnesota Vikings improve their situation while not getting locked into a crippling long-term deal.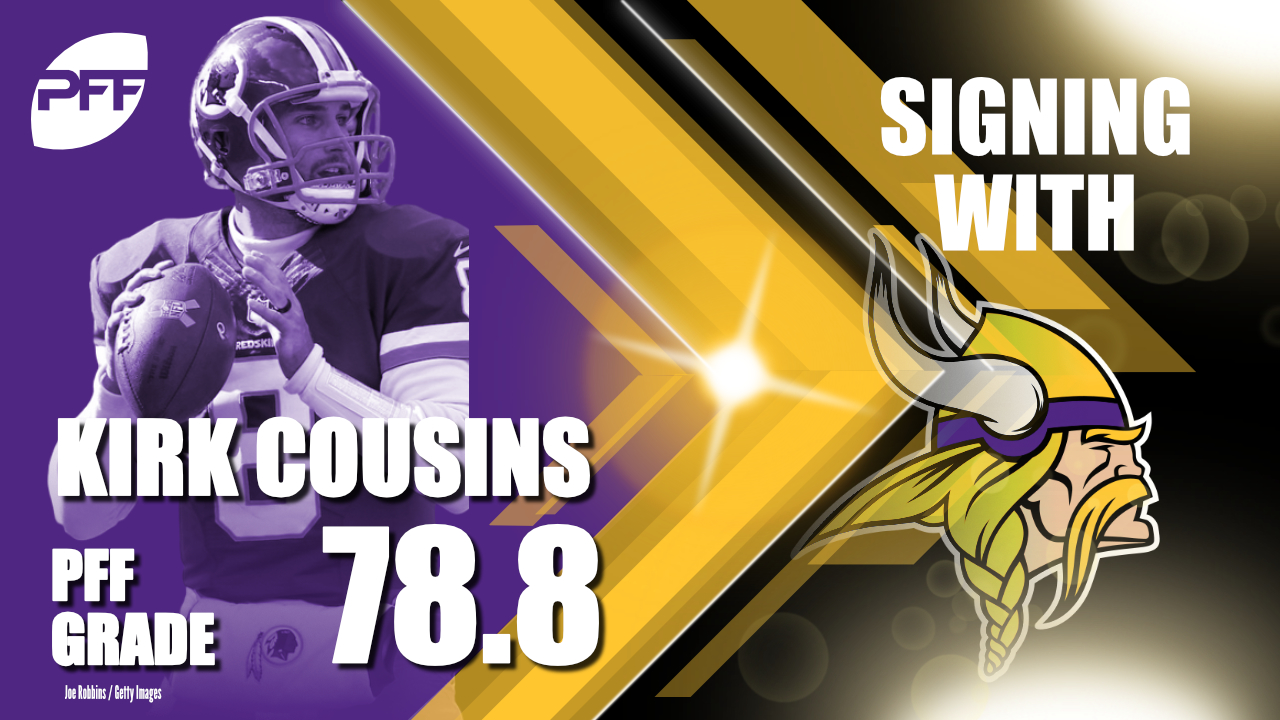 While Cousins represents an upgrade from what Case Keenum provides on a yearly basis, he's still very dependent on his supporting cast in order to put up the gaudy stats that will match his contract's expectations. Cousins has put up excellent traditional stats, finishing with a passer rating of 101.6 in 2015 (fifth), 97.2 in 2016 (seventh) and 93.9 in 2017 (14th), though when matching his rankings up with his PFF grades of 82.4 in 2015 (14th), 85.4 in 2016 (ninth) and 78.9 in 2017 (17th), we see that the stats look better than his actual performance would dictate.
When a quarterback has better traditional stats than PFF grade, it indicates that he's getting some level of help from his supporting cast or some level of favorable luck, or perhaps a combination of the two. Cousins' best statistical seasons featured a fantastic group of playmakers including wide receivers DeSean Jackson, Pierre Garcon and Jamison Crowder as well as tight end Jordan Reed, one of the league's best mismatches when healthy. Last year represented a big step back in the supporting cast department from a name standpoint, particularly as the offense fell apart throughout the year, though Cousins still had a higher percentage of "open" throws than any quarterback in the league.
What does it all mean? Cousins is not as good as the stats would indicate, though when given the proper weapons, he's shown the ability to orchestrate an offense that gets to the desired final result. The Vikings have the supporting cast to allow Cousins to continue to put up strong statistical seasons.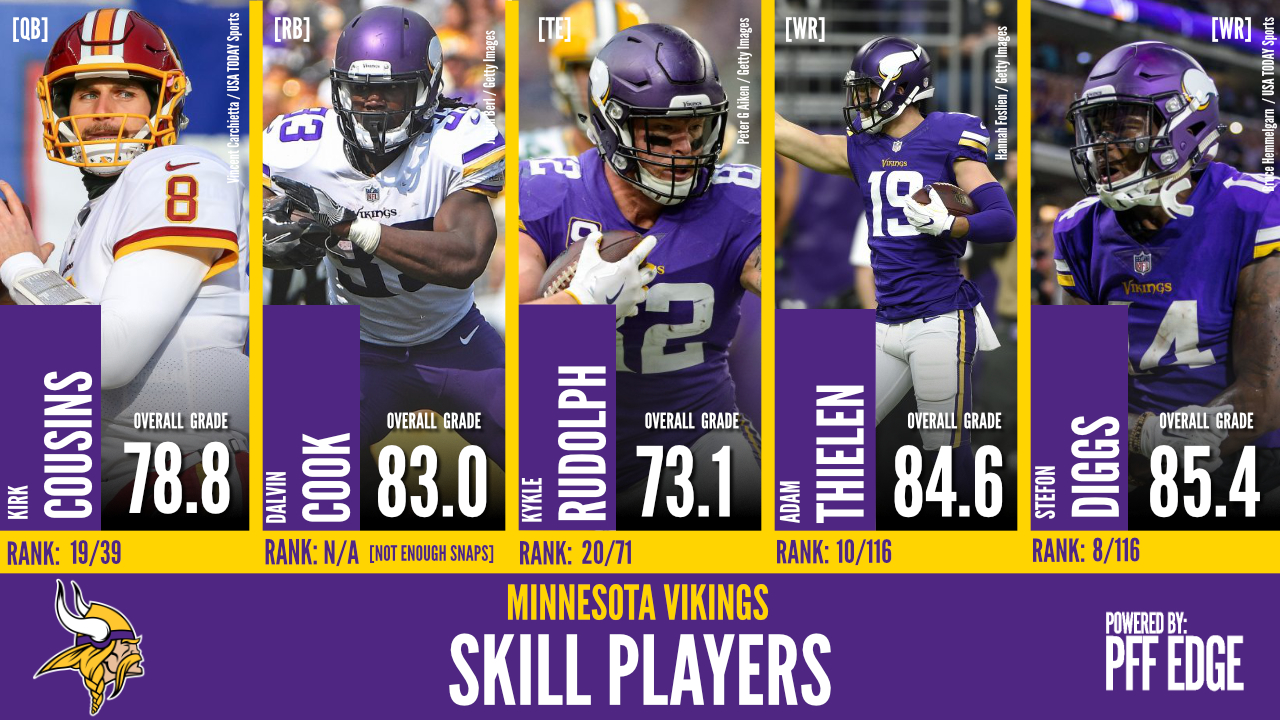 The last four years of quarterback play for the Vikings are best described as being on the conservative end of the spectrum. From Teddy Bridgewater to Sam Bradford, to Case Keenum, the Vikings have had signal-callers who have done an excellent job of taking care of the ball by avoiding turnover-worthy plays, though they've all ranked near the bottom of the league in big-time throw percentage or overall positively-graded throws added to the offense. That style is perfect for keeping teams in games and relying on a strong defense to win games, but Cousins has an opportunity to add even more to the offense. He has a more aggressive nature than his predecessors and he ranked in the top-10 in big-time throw percentage in 2016, his highest-graded season.
If the Vikings want to add a more explosive component to their offense, Cousins has shown capable of getting the ball down the field to his playmakers. That bodes well for wide receiver Stefon Diggs and Adam Thielen, who both ranked among the top six in the league in contested-catch percentage, and they may have more opportunities to create big plays with Cousins.
On the other side is the turnover-worthy plays where Cousins' best year saw him rank 12th in the league at avoiding them (2016), and he generally ranks in the middle of the pack when it comes to avoiding the risky plays. By comparison, the Vikings have three top-10 finishes in that department since 2014, as Bridgewater ranked second in 2014, Bradford was fifth in 2016 and Keenum ranked seventh last season. There's always the chance that the Vikings will look to reel Cousins in just enough to duplicate those turnover-avoiding numbers, though the end result may be a high end that looks like Keenum's 2017 season. Realistically, Minnesota will likely have to deal with Cousins' misreading coverage and turning the ball over more than they're used to in exchange for some of the big-time throws he can bring to the offense that the previous quarterbacks lacked.
Two big questions
How much of Cousins' statistical success was dependent on supporting cast and scheme? The 2017 season was the worst of Cousins' supporting-cast seasons, and his performance reflected it with a No. 19 ranking in PFF grading. For the last two seasons, Cousins has had the highest percentage of "open" throws of any quarterback in the league, a number that is generally more indicative of scheme and playmakers than it is of good decision-making. Cousins is coming out from under the umbrella of a favorable scheme in Washington, so will that affect how many opportunities he has with open receivers running free?
The one other key area that comes in as a question mark is the red zone. Cousins has been well below average inside the opponent's 20-yard line over the last two years, both from a performance and from a statistical standpoint. Whether missing throws or forcing too many turnover-worthy passes, Cousins must do a better job of playing in tight areas in order to maximize his value to the Vikings.
One area where Cousins must improve: red zone.

Has been below league average in both stats and performance over the last two years pic.twitter.com/mqLILvsTA6

— Steve Palazzolo (@PFF_Steve) March 13, 2018
Final Word
The Vikings put themselves in a better position with the signing of Kirk Cousins, though expectations must be clear as Cousins is ultimately a top-15 quarterback who has shown the ability to put up top-10 numbers when his ecosystem is favorable. He's ranked between ninth and 19th overall in PFF grades over the last three years, showing just how volatile his performance can be, though that represents a level of trust that is more secure than what could have been offered by Keenum. In that regard, the Vikings have a higher chance of success with Cousins under center, though there may be a season or two that doesn't look dramatically different from what Keenum offered in 2017.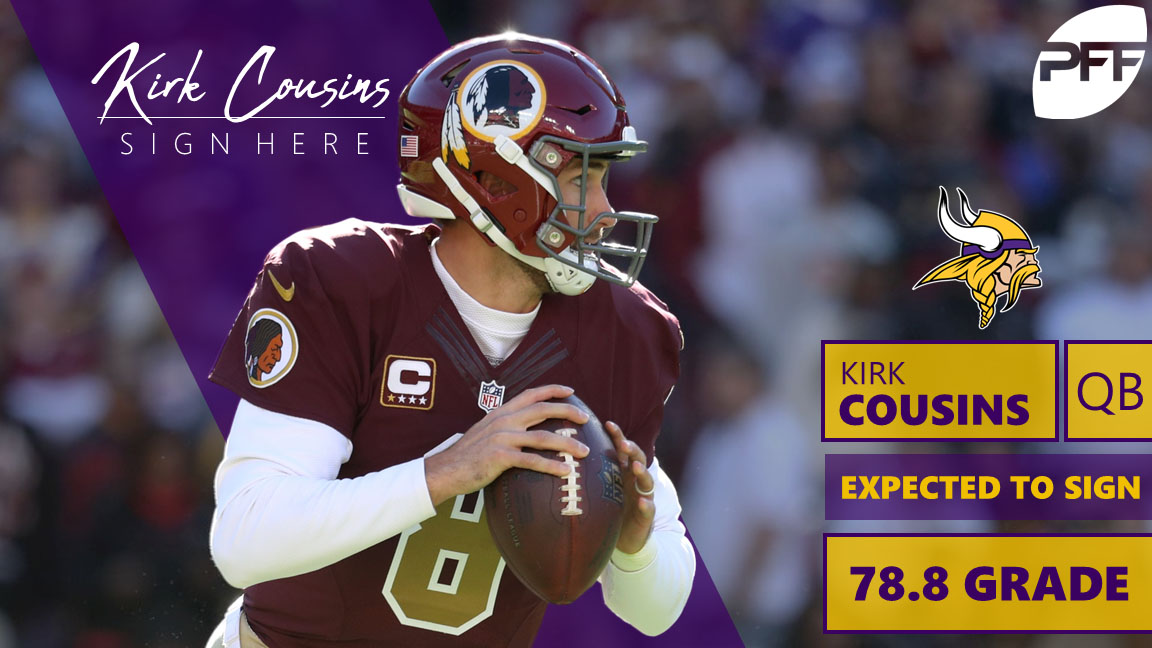 The Vikings are banking on Cousins' high-end play to rise to the top, and his high-end is better than what we've seen from Bridgewater, Bradford or Keenum in recent seasons. Pairing Cousins' ability to get the ball down the field with one of the best group of playmakers in the league should lead to big numbers, though it will come at a cost as Cousins will bring a higher percentage of turnover-worthy plays than the Vikings have become accustomed to seeing. Overall, it's a good move for both Cousins and the Vikings, particularly with the guaranteed money for Cousins and the lack of long-term commitment for the Vikings, and it should keep Minnesota right in the mix near the top of the NFC.