Two 0-3 teams. Monday Night Football. Failing to establish the run. Three combined deep pass attempts. You love to see it.

Coming into Week 4, the Steel City had high hopes of securing their first dub to get one game back in the division at 1-3. They lost their declining starting quarterback Ben Roethlisberger for the season in Week 2 and threw 2018 third-round pick Mason Rudolph to the wolves to replace him and lead the Pittsburgh Steelers in 2019. However, Rudolph has far from received the keys to the team – it looks more like a 16 year old getting his learner's permit and driving with his parent in the passenger seat playing Little River Band rather than getting his license and taking the black and yellow vehicle out for a night on the town. In other words, their offense is conservative.
We all know the Miami Dolphins are tanking for Tua, but it looks like the Cincinnati Bengals are going to give them a run for their money after an 0-4 start. Their offense is missing their best offensive player, their offensive line is full of cupcakes and their defense is failing to continuously keep up with impact plays to make up for it. 
Nonetheless, using PFF's unique grades and advanced database, here are five takeaways from Week 4's edition of Monday Night Football.
Andy needs AJ badly
With Zac Taylor calling the shots under the new regime, the Bengals run a hefty amount of 11 personnel (1 RB, 1 TE, 3 WR). In an offense like this, having a deep receiving unit is essential to passing success. Since Cincinnati's best wideout, and arguably one of the best in the league, A.J. Green is out with an injury, Dalton was left with one of the most underrated wide receivers in the NFL in Tyler Boyd, John Ross and Auden Tate. Those last two are a key reason as to why the Bengals failed to score a touchdown against Pittsburgh in Week 4. 
Nearly 90% of the Bengals' plays were ran out of 11 personnel against the Steelers and they passed the ball on 71.9% of their total plays. Even with Boyd, who is one of the top contested-catch receivers in the league (caught five of eight contested so far), Dalton failed to push the ball downfield with having to rely on Tate and Ross. At the end of last night's blowout, Tate registered a 62.9 receiving grade and a drop while Ross was marginally better with a 69.4 receiving grade, bringing his 2019 season receiving grade to 64.5. He may not have had a drop last night, but Ross' hands are a liability. He has dropped 12 of his 49 catchable targets since 2017.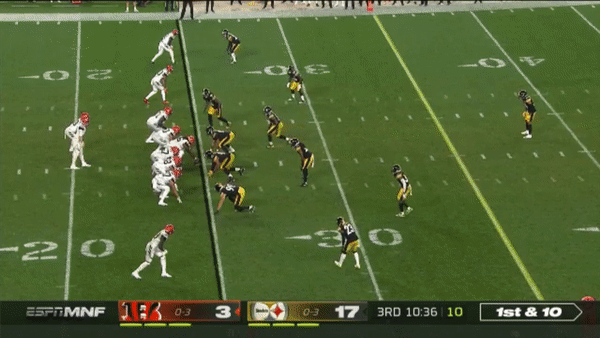 Wait for A.J. at the end – we feel the same disgust at that throw and route ran.
Last season we saw a different Andy Dalton with A.J. Green on the field. Through the first eight weeks of 2018, both fed off each other's success and their grade reflects that. In that timespan, Dalton had an 84.1 grade and ranked eighth among quarterbacks. Green had an 86.7 grade that ranked seventh among wide receivers. After Green went down, Dalton's play clearly declined. He posted two of his worst games of the year before going down with an injury himself.
Since coming into the league, Green has been the third highest-graded wide receiver, produced the fifth-most explosive plays of 15-plus yards, fifth in yards per route run, first in deep receiving yards and the third-most deep catches. If you trade this type of production, it's clear you are folding the next few seasons.
Mason Rudolph needs to air it out
When Big Ben went down, the pass game went with him. Against Cincinnati, Steelers offensive coordinator Randy Fichtner was clearly trying to establish the run out of the gate with 47.1% of their total plays on their first three drives being a run play. On those drives, Pittsburgh averaged 4.4 yards per play and generated -0.432 expected points added (ranks 26th among all teams in Week 4). This is #notgood. 
After the original injury to Ben and being thrown in suddenly during Week 2, Rudolph had free reign and pushed the ball downfield with an 8.4 average depth of target. That week, Rudolph had the lowest negatively graded play rate among quarterbacks. In Week 3, the Steelers pulled back and hardly allowed Rudolph to throw the ball downfield and get into a rhythm with a 6.8 average depth of target. Wait, it gets even better – Rudolph's average depth of target in Week 4 against Cincinnati dropped all the way to 3.0 and had just three attempts traveling 10 or more yards downfield. Again, this is #notgood. 
As professed countless times by PFF, relying on the run is not a viable way to survive as a team in the NFL and leads to low productivity against average teams. Clearly, Cincinnati is not an average team – they are one of the worst in the league. What makes this an even more questionable strategy is the fact Rudolph has an excellent track record as a deep passer. 
First, let's examine his 2019 NFL preseason. With a 12.2 average depth of target during these practice games, Rudolph finished as one of the highest-graded quarterbacks on throws 10 or more yards downfield with a 91.3 grade on such throws. Along with the elite grade, Rudolph threw six big-time throws and zero turnover-worthy plays while throwing nearly a quarter of these passes perfectly according to PFF's quarterback charting system currently led by former NFL quarterback Bruce Gradkowski. Yes, it is preseason, but the man straight toasted second-string defensive backs with his arm and dropped dimes all over the place.
Let's go back even further to his senior season at Oklahoma State back in 2017. During that year, Rudolph was PFF's sixth highest-graded college football quarterback (and fourth-highest in among the Power 5) on deep throws of 20-plus yards with a 94.0 passing grade. On those throws, Rudolph had the second-most deep passing yards at 1,712 and an absurd big-time throw to turnover-worthy play ratio of 25 to three. Additionally, he ranked only behind 2018 first overall pick Baker Mayfield among Power 5 quarterbacks in deep yards per attempt at 19.0 as well as adjusted completion percentage at 51.1%. Not to mention, his go-to deep receiver that season who finished fourth in deep receiving grade for Oklahoma State and ranked first in deep yards and catches, James Washington, is currently on the Steelers roster and carving out a role with the unsurprising struggles of Donte Moncrief.
To recap, the Steelers were inefficient in their scripted run plays to start the game and opted to throw minimal passes downfield with a guy who's deep passing is his greatest attribute. The Steelers were handed some lemons and they made gross, restaurant lemon water.
Steelers pass-rush ate like Kobayashi
As suspect as their offensive game plan was, head coach Mike Tomlin had their defense locked and loaded against the Bengals' hellacious offensive line. Furthermore, they came out firing with blitzing on 45% of Dalton's dropbacks and executing a stunt on 35%. These blitzes and stunts Tomlin and company had dialed up were magnificent, but even without them, this pass-rush had their way with the Bengals and recorded a pressure on 40% of their standard four-man pass-rushes.
Overall as a team, Pittsburgh generated 23 pressures and ended the game with a historic night for the franchise. Last night's pass-rush showing they put on led to a team pass-rush grade of 90.6, which was the highest ever recorded in a game by Pittsburgh in the PFF era (since 2006 – second was 2018 Week 11 at Jacksonville, 83.6 grade). The Steelers' pass-rush feasted, and it was by far the most they've beaten their opponent in the pass-rush.
Looking at their defensive front ahead of the game, one could have assumed this would occur with having two of the top interior defensive linemen in the game in Cameron Heyward and Stephon Tuitt and one of the rising stars at the edge position in T.J. Watt. This trio took the Bengals cookies and then some with combining for 16 pressures and each posting a win rate above 25% (Heyward had a 90.0 pass-rush grade and four pressures, Tuitt had an 84.7 pass-rush grade and six pressures and Watt had an 87.2 pass-rush grade and six pressures).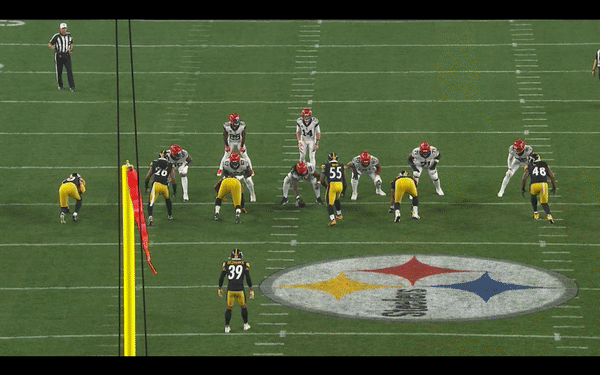 Cincinnati's offensive line is really, really bad
Bengals fans, it's okay. We will get through this section together. The Steelers' pass-rush was successful because of their known skill, but also because of Cincinnati's JV squad on the offensive line. Of the seven offensive linemen to register a snap against Pittsburgh, none cracked a pass-blocking grade above 54.0. From top to bottom, this line was just flat out horrific.
In all seriousness, this was among the five worst offensive line performances we have seen in the PFF era with their offensive linemen taking home a PFF pass-block grade of 21.4, the fourth-worst in a single game since 2006 (by far the worst by a Bengals team – next worst came 2017 Week 9 at Jacksonville at 33.7). No team lost more matchups in a single game in the PFF era than the Bengals did last night, and they also gave up a franchise-record amount of pressures.
Right tackle Bobby Hart finished the nightmare with a 24.1 pass-block grade and allowed seven total pressures (15.2% pressure rate). Right guard John Miller (30.1 pass-block grade) and left guard Michael Jordan (15.1 pass-block grade) were just as guilty as Hart was with those two combining for seven pressures allowed. Oh, and let's not forget 2018 first-round pick Billy Price's brief appearance where he allowed a sack on one of his four pass-block snaps.