Finally, we were all graced with the Thursday Night Football game we deserved: a high-scoring shootout between two of the league's best in the Philadelphia Eagles and Green Bay Packers. It was a back-and-forth affair all night long and just when you thought one team had the momentum to pull away, the other jumped back in front. 

After back-to-back crushing losses in Weeks 2 and 3, Philadelphia was left for dead and found themselves as five-point road dogs to the Cheeseheads – that was until their knight and shining armor, Sir Douglas Irving Pederson, came to save the day once again.
On the other end, the Packers were on cloud nine heading into Week 4, sitting atop the NFC North at 3-0 (the three offenses they beat all rank in the bottom half of the league in regard to PFF passing grade, with two being in the bottom five for what it's worth). Despite the hot start, there were still talks about how this Packers' offense wasn't maximizing their full potential with one of the league's best quarterbacks under center. As a result, all eyes were on Green Bay head coach and play-caller Matt LaFleur to see how he was going to run the offense in this primetime matchup. Nonetheless, his play-calling by the end of the night had a lot of people thinking Peter LaFleur could get this offense to creep back towards average better than Matt Lafleur could.
With that said, here are the key takeaways from Week 4's edition of Thursday Night Football using PFF's unique grades and advanced database.
Doug Pederson, you are PFF's hero
Not even one week into the 2019 season, and Eagles head coach Doug Pederson already won PFF's AWS Decision of the Week with an analytical approach to a fourth-down call against the Redskins that played a big role in their victory. Last night, we saw the same ole' Doug Pederson we here at PFF know and love with a perfectly executed offense and play-calling. 
This play = heart eyes: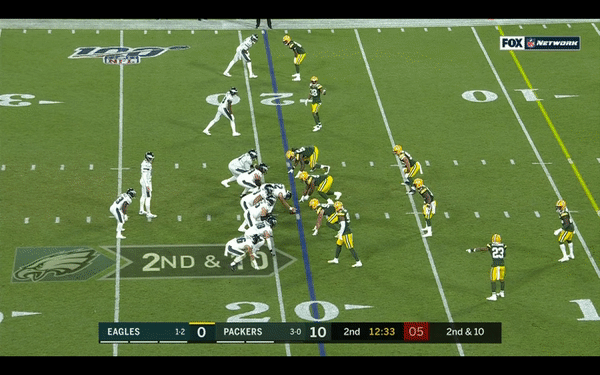 Along with this beautifully executed and designed play, Pederson did something more play-callers need to do – run a QB sneak in short-yardage situations. Since 2014, quarterback sneaks on third and fourth downs with two yards or less to go have converted a first down 84.1% of the time. In those same instances, any designed rush attempt by a running back has resulted in a first down 65.3% of the time. Coach Pederson ran a quarterback sneak on 3rd-and-1 twice last night (both came in the second quarter down 13-7) and converted both times. In other words, sneak the ball and prosper. Oh, and let's not forget the decision of his to go for two following a third-quarter touchdown that put them up 27-20. While the conversion failed, an extra-point would have made it still just a one possession game. A successful two-point conversion would have bolstered their win probability, forcing Green Bay to score on multiple possessions rather than just one. As the great Herm Edwards has said, you play to win the game. And Pederson did just that.
We all know by now that PFF and football analytics Twitter preaches that the usage of play-action is a must in today's NFL. Doug Pederson won us over again here by using play-action on over 44% of their dropbacks against Green Bay. To no surprise, Carson Wentz was lights out on those plays with an 86.4 passing grade, 64.8% air yards and 63.6% of his passes being accurately thrown. With no play-action, Wentz's passing grade fell to 68.3 and accurate pass rate to 50%.
PFF's Ben Linsey broke down earlier this offense how passing out of heavy sets provides a competitive advantage to the offense and, once again, Doug wins over our heart here. Over 45% of their total plays were out of 12 personnel sets (1 RB, 2 TE, 1 WR) and just under 40% of their total pass plays were out it, as well. In regard to PFF's expected points added metric (puts yards gained on a play into context like down, distance, field position to give the best measure of per play efficiency), they generated more EPA per pass play out of 12 personnel (.279 in 12 personnel, .186 in any other personnel package).
Cheers to Doug Pederson – this one's for you.
Kevin King had a career night
After an injury-riddled first couple years in the NFL and an underwhelming performance overall, Kevin King made an absolute statement with an elite 90.3 coverage grade and allowing just two of his six targets in coverage to be caught and allowed a stingy 47.2 passer rating on those. Coming out of the first half, things were tight for both teams. King responded with three forced incompletions in the third quarter alone – and all three were when he was on WR1 Alshon Jeffery. King limited the 6-foot-3 Eagles receiver to just one catch for 16 yards from five targets.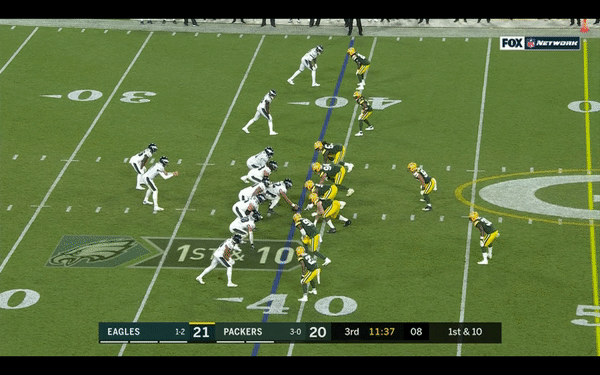 Davante Adams showing again why he is one of the most reliable targets in the NFL
Another day, another elite performance from one of the top-five wide receivers in the NFL in Davante Adams, who recorded a 90.2 receiving grade. Adams was targeted on 15 of his 41 routes ran and caught 100% of his catchable targets. His production on a per-route basis was unreal with 4.39 yards per route run and a couple of explosive receiving plays of 15-plus yards. By the end of the night, Adams had nine targets in which he had two or more steps of separation (in other words, it was pitch and catch between him and Rodgers). Just under half of Adams' 15 targets came when he was up against Avonte Maddox in coverage. Maddox was able to get a couple forced incompletions in that matchup, but Adams came away with the victory in that matchup as he caught five of his seven targets for 84 yards and a passer rating when targeted of 111.6. All five of those catches were under that two steps or more separation category.
The Eagles tight ends flew them to victory
Out of the 26 designated targets quarterback Carson Wentz had, 10 went to a tight end: eight to Zach Ertz and two to Dallas Goedert – and it's clear the Eagles were a far more efficient offense on those 10 targets. On those throws Wentz directed to both Ertz and Goedert, he came away successful with a 133.8 passer rating and averaged a solid 8.1 yards per attempt. According to PFF's QB Charting System currently led by former NFL QB Bruce Gradkowski, Wentz threw 80% of these targets accurately. For perspective, that 80% accurate pass rate to tight ends is the second highest we have seen in a game this season. 
Both Ertz and Goedert didn't let Pederson and the offense down as they both caught every single one of their catchable targets and combined had seven of Philly's 12 first downs and touchdowns receiving. While Goedert did finish with a solid 74.8 receiving grade on the night, Ertz was the star of the show with an ELITE receiving grade of 91.1. Excluding plays negated by penalty, Ertz was targeted on 40% of his routes ran – which is now the second-highest rate he has had in a single game in his entire career – and he made the most of every route ran gathering 3.25 yards per route run. 
As mentioned, the Eagles had a tough task at hand going up against arguably the best secondary in the league that is full of ballhawks. However, this Packer defense had no answer for the monstrous Eagle tight ends. When either Ertz or Goedert was targeted, the Green Bay coverage faltered, giving up .761 expected points added per play and allowed positive EPA on over 90% of those plays. For the layman, Expected Points Added puts yards gained on a play into context (like down, distance, field position) to give the best measure of per-play efficiency. 
Though this doesn't mean the Packers secondary as a whole finally regressed more towards the mean – they were still very much on lockdown when a wide receiver was targeted, allowing -.111 EPA per play and just a 30.8% positive EPA rate. Consequently, Wentz was not nearly the same quarterback on those non-tight end targets. In those instances of going to a non-tight end, Wentz had a 98.7 passer rating and averaged a lowly 4.9 yards per attempt and throwing just 40% of his passes accurately. This just shows once again how instrumental Zach Ertz and Dallas Goedert were in moving the ball downfield for Philly.
One may look at the box score and see that the duo of Zach Ertz and Dallas Goedert only had 81 combined yards receiving and think they had an average game, but you have to put their performance into context like PFF does and as we all know – numbers never lie.