The passing game is more prevalent than ever in the NFL and having top-tier playmakers at wide receiver is vital. Kenny Golladay and Corey Davis are two second-year wide receivers that are transforming from promising young prodigies into dynamic wide receivers.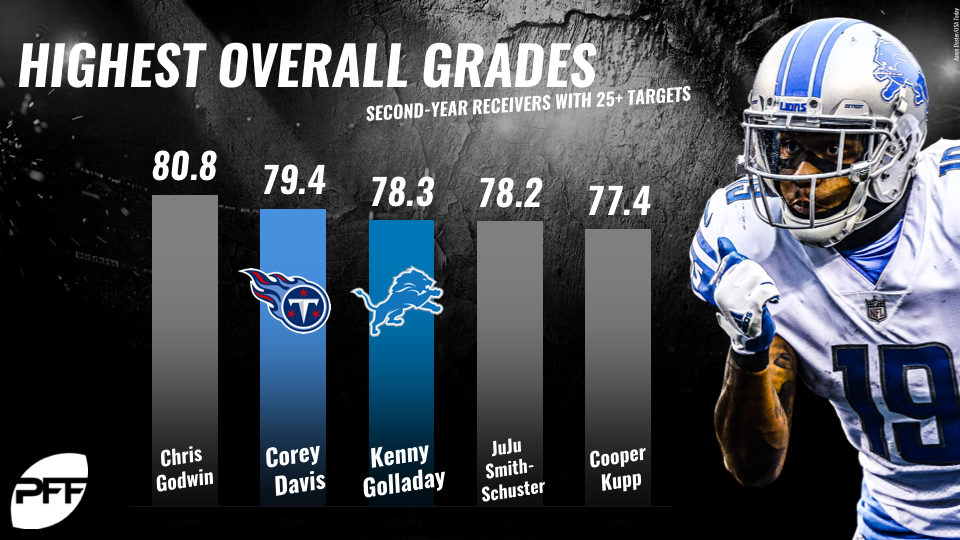 Kenny Golladay towers above many defensive backs at 6'4" and, despite his tremendous size, he can still run by linebackers and safeties with his 4.5 speed. The third-round pick out of Northern Illinois has produced a 78.3 overall grade and a 78.6 receiving grade this season, which rank 19th and 20th among qualifying receivers, respectively. He has also generated a 115.1 passer rating which ranks 12th.
To this point, he has amassed 601 yards and four touchdowns on 39 receptions. Always a threat for the big play, Golladay has averaged 15.4 yards per reception, which ranks 10th among wide receivers with at least 40 targets on the season. Detractors will point to a lowly 66.1 catch percentage and wonder just how good his hands are, but upon further examination, we find that only 42 of his 59 targets this season have been deemed catchable, and he has only been faulted with one drop all season.
The Lions' wide receiver makes great use of his size and is extremely physical when running his routes and at the catch point. On the season, Golladay has reeled in 61.5% of his contested catches, a mark that ranks seventh among qualifying receivers. In the play below, Golladay's physicality with which he runs his routes is apparent, as he completely manhandles the press from the defender en route to the easy touchdown.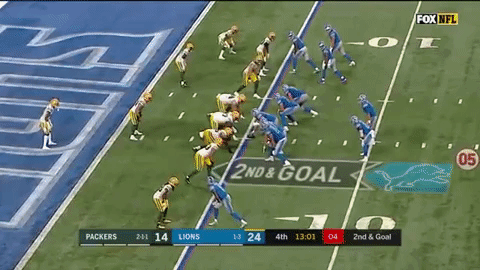 The former Huskies' receiver dominates with his size and physical ability in contested catch situations, but he is also a threat after the catch. Through 10 weeks, Golladay's 5.5 yards after the catch per reception is tied for 15th among receivers with 40 or more targets. In the play below, you can see that even though he doesn't have elite speed, Golladay is still a threat after the catch because he is tough to bring down. He skies to grab the high throw from Stafford and then tip-toes the sideline. He then breaks out a devastating stiff arm and continues marching down the field.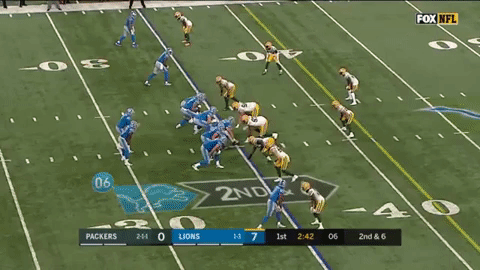 Corey Davis is not quite the gargantuan on the field that Golladay is, but he displays incredible athletic ability, route running and body control that signify elite potential. Davis struggled along with the Titans offense early in the season, which makes his numbers less impressive at first glance. Davis has produced 576 yards and two touchdowns on 43 receptions this season. Like Golladay, a good portion of his 75 targets have been deemed uncatchable (26).
Despite the Titans' early struggles, Davis still has managed to generate a 79.4 overall grade and 79.3 receiving grade, both of which rank 18th among qualifying receivers. Davis has been especially effective from the slot, where he has produced 2.3 yards per route run (eighth among receivers) and both of his touchdowns this season.
While Davis' numbers won't jump off the page or wow you, the plays he makes sure will. With what little time remained dwindling in overtime against the Super Bowl Champion Eagles, Davis came through with a tremendous play to give the Titans the last-second victory. His excellent route running is on display, as he nearly puts the defender in the dirt, creating separation in a seemingly effortless manner. Mariota fails to lead his receiver, but that's no issue for Davis, who uses his strength to corral the jump ball and secure it while fighting off the defender beneath him.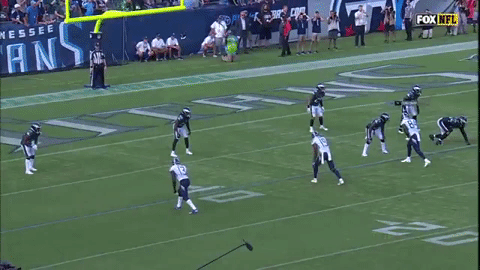 As Mariota has gotten healthier and the offense has begun to find its identity and rhythm, Davis has demonstrated that he can become one of the league's elite receiving threats. No contest showed this like the Patriots game, where he amassed six catches, 98 yards, and a touchdown when matched up against Stephon Gilmore, who is a top-ten corner this season. What is impressive about Davis is his absurd catch radius, body control and balance, all of which are apparent on the play below. It's how he can turn ostensibly uncatchable targets into spectacular plays.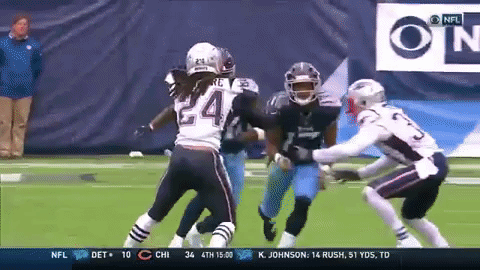 Davis is wide open on the out route, but Mariota puts the ball over his head and behind him. While this goes down as an incompletion for many receivers in the league, Davis somehow manages to contort his body backward and stretch to reel in the off-target throw, despite all of his momentum carrying him the complete opposite way. His stellar performance against the Patriots demonstrated exactly how deadly of a weapon he can be when the offense is clicking and he is given ample opportunity.
Golladay and Davis are on the cusp of the league's top-tier wide receivers. Due to their impressive athletic ability and stellar performances this season, the pair is making tremendous strides toward becoming some of the NFL's most promising receiving options.