Elite play from defensive interiors in the NFL is in abundance in 2018, as Aaron Donald, Akiem Hicks, Damon Harrison, Geno Atkins and Fletcher Cox are all amidst highly productive seasons. Even Detroit Lions rookie Da'Shawn Hand has earned a top-six overall grade (88.2) through Week 10.
A product of the bevy of high-end talent at the position, however, has been the dismissal of Green Bay Packers third-year defensive interior Kenny Clark's career year. The former first-rounder has earned a 90.1 overall grade through Week 10, a career-high mark for the young UCLA product when compared to the first 10 weeks of his rookie (2016) and sophomore (2017) seasons.

Clark's overall grade ranks fifth among the 78 players at his position with 250-plus defensive snaps, but his 90.0 pass-rush grade is one of just three elite pass-rush grades among the group and the more impressive feat by a considerable margin.
Across his 265 pass-rush snaps, Clark has recorded 32 total pressures, including 24 hurries, three quarterback hits and five sacks. As such, he's recorded one more pressure than he did all of last season and 23 more than his rookie campaign in just 10 weeks. His 12.1 pressure percentage also ranks eighth among the 36 NFL defensive interiors with 200-plus pass-rush snaps on the year.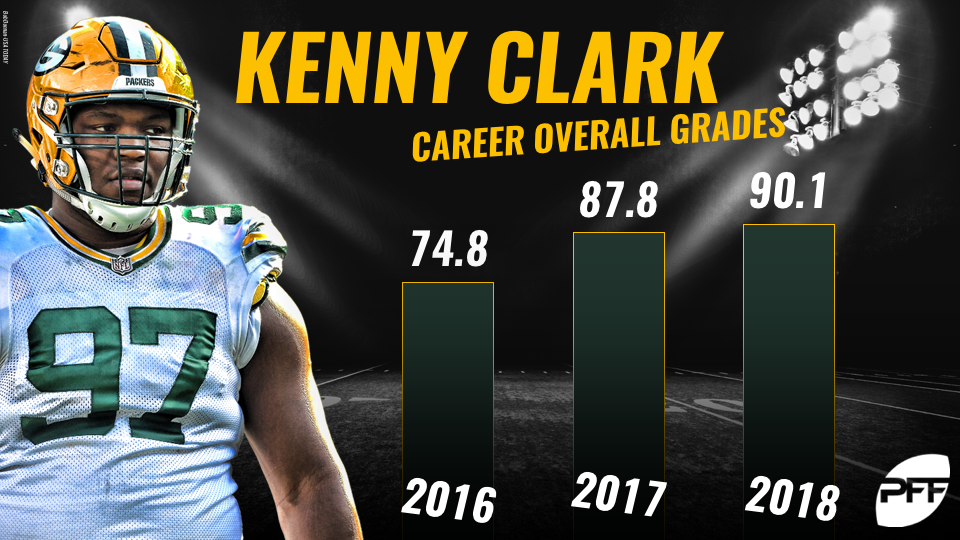 Clark's play in the run game has also followed suit with his career-high marks rushing the passer, as he currently has two more run stops than he did at this time last year and owns the ninth-ranked run-defense grade among defensive interiors with 150-plus run-defense snaps.
Listed at 6-foot-3, 314 pounds coming into the NFL, Clark was knocked for his small stature and short arms, a knock more often tied to dominant NFL defensive interiors than underperforming ones in recent years (e.g., Aaron Donald, Geno Atkins, Mike Daniels). He, like the examples listed, has risen above any concerns regarding his size and, in turn, stands tall as one of the NFL's best at the position.