Joe Mixon's career as a Cincinnati Bengal started off with a slow burn — he produced an uninspiring 72.6 overall grade and 626 rushing yards along with four total touchdowns as a rookie. In his second season, the former Sooner turned up the heat, bumping his grade up to a 78.3 and becoming a bigger part of the offense to the tune of over 1,100 rushing yards and nine touchdowns. 
Now, new head coach Zac Taylor is bringing the successful Los Angeles Rams' outside-zone scheme to Cincinnati, and it's a big reason why PFF's Jeff Ratcliffe tagged Joe Mixon as a top-tier breakout running back in 2019. Zac Taylor's offense will bring out the best of Mixon's game, and because of that, the third-year back Isn't just ready to catch fire — he's primed to explode.
As a rookie, Mixon was able to show flashes of his immense talent but was ultimately unable to produce at a high rate. He managed a 75.0 rushing grade and only 17 rushes of more than 10 yards while averaging a pedestrian 3.5 yards per attempt and 2.43 yards after contact. Mixon was unable to gain extra yardage on his 208 total touches, forcing a meager 22 missed tackles.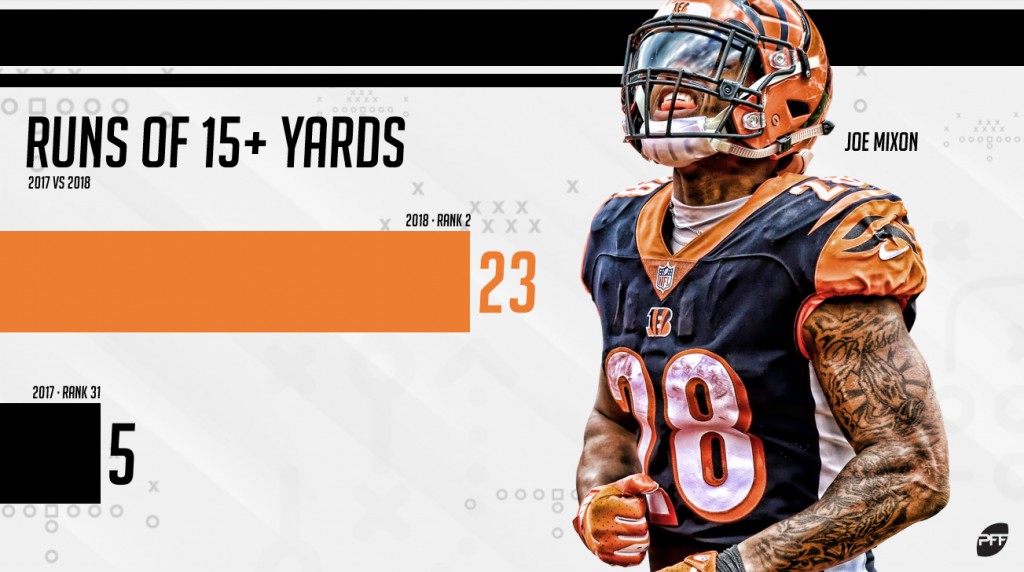 The Bengals' run-blocking grade didn't improve much between 2017 and 2018, ranking 28th and 26th, respectively. What did improve in 2018 was Joe Mixon, and as a result, the Bengals treated him like a bell-cow back. Mixon either rushed the ball or was targeted on 33.6% of his snaps, a rate which ranked fifth among qualifying backs. 
In 14 games, the running back tallied an impressive 1,171 rushing yards, while demonstrating his explosiveness by producing 23 runs of 15 or more yards (second-most among running backs), which was 18 more than he managed as a rookie. Mixon also brought up his average yards after contact (2.76), yards per attempt (5.0) and rushing grade (82.0). The Oklahoma alumnus was at his best when it counted most, producing an 85.0 grade and average of 7.1 yards per attempt in clutch time, both of which ranked first among qualifying running backs. What was even more impressive was his improvement in making defenders miss in the open field, forcing 36 missed tackles on the season. It's how he was able to turn runs like the one below from a negative play into a huge gain.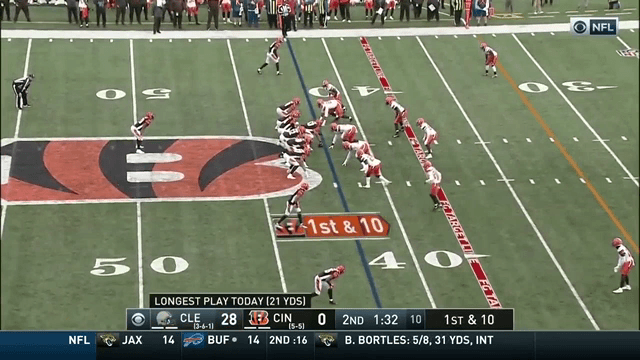 What does this vast improvement paired with one of the league's best rushing offenses mean for Mixon?
Fireworks.
If Zac Taylor's offense reflects that of the Rams', then there will surely be a lot more pre-snap motion to stretch defenders horizontally and challenge them to cover the length of the field. Across the league last season, running backs averaged 4.26 yards per carry on rushing attempts without any pre-snap motion and 4.47 yards per carry on plays that utilized pre-snap motion, which means the added deception of pre-snap motion should translate into improved efficiency from Mixon.
Taylor's offense will also look to utilize the outside zone — a concept that is a staple of the Rams' high-octane offense. Among running backs with at least 100 outside-zone attempts since 2017, Mixon's 78.5 rushing grade on such plays ranks third-best behind only Todd Gurley and Alvin Kamara. The Rams were under center often last season, but whether Taylor chooses to run the ball out of the shotgun or from under center, fans shouldn't be worried. Mixon has produced an 81.0 rushing grade when the offense ran the ball from under center (which ranks ninth among qualifying RBs), and a 76.1 rushing grade when they ran the ball from the gun (5th).
Mixon showed last season that he could excel despite poor line play, and with the scheme that Taylor is implementing, Mixon's best features will be on display and he will be put in a better position to succeed than he was in his first two seasons. The use of pre-snap motion paired with Mixon's strength at executing the outside-zone concept means that the rushing attack for the Bengals could be one of the most threatening in the league. Joe Mixon is a breakout candidate in a perfect marriage between ability and scheme, and because of that the third-year back is ready to erupt.