Running back breakouts happen every year in fantasy football. Scoring one of these players can often be the difference-maker that propels you to a strong finish in your leagues. Of course, identifying and drafting a breakout running back is easier said than done, but the NFL has a way of telling us things without directly saying so.
We don't need to read tea leaves or consult an oracle to figure this stuff out. Breakouts typically happen when opportunity and talent collide in a perfect storm to create big-time statistical output, and correspondingly, fantasy value. So let's take a look at the top candidates who rank outside the top-10 at running back in 2019.
Top Tier Breakouts
As much as we love the rags-to-riches breakout story, most fantasy breakouts only jump a tier or two in their fantasy production. However, in doing so, they offer a major return on their draft day investment. Elite fantasy options rarely emerge from the depth of fantasy rankings. More often, they come from just outside the top-10 at the position. Here are three options who could make that leap this year.
Following a rookie season where he averaged just 3.4 yards per carry, we saw significant improvement out of Mixon from an efficiency standpoint. The Bengals back bumped that number up to an impressive 5.0 and also saw his workload increase to just under 20 touches per game. That's bell cow territory, which is rare in today's NFL.
Unfortunately, the overall state of the Bengals' offense put a cap on Mixon's upside last year. That has the potential to change in 2019 with the new coaching regime in place under head coach Zac Taylor. As a Sean McVay protégé, expect to see similar things out of the Bengals that we've seen from the Rams. That means Mixon will likely be put in a position to succeed from the gate. Mixon still comes with some volatility, but he has the potential to jump up a tier if things break the right way this year.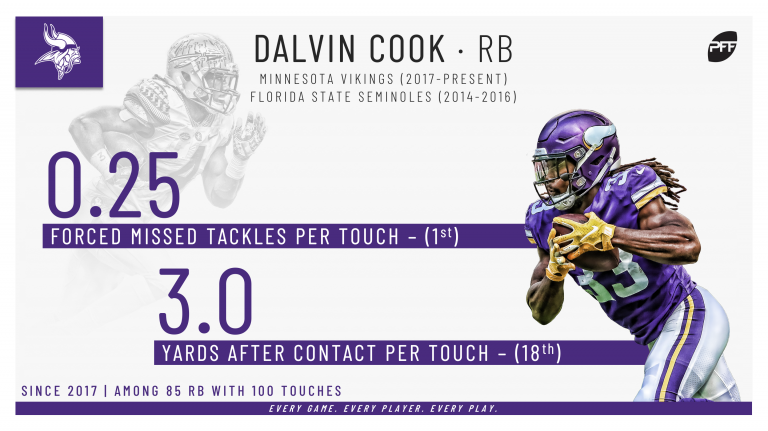 Dalvin Cook, Minnesota Vikings
We've yet to really see what Cook is really capable of for fantasy purposes. The third-year back has missed significant time in each of his two professional seasons with just 16 games played over that span, but there have been flashes of potential. In his rookie season, Cook posted two top-10 fantasy finishes in September before suffering a torn ACL. Last season, injuries plagued him for a good chunk of the season, but he finished strong with top-10 finishes in Weeks 13, 14 and 15.
If he remains healthy, Cook is poised for success in the potent Vikings offense. He has little competition for touches with his only real threat being rookie Alexander Mattison, whom the Vikings selected on Day 2 of this year's draft. That means there's a good chance Cook approaches bell cow usage. That sort of volume coupled with his upside makes Cook a very intriguing breakout candidate. He has the potential to offer a solid return on investment as a likely second-round fantasy selection.  
Derrick Henry, Tennessee Titans
If only the Titans figured out that feeding Henry the ball works earlier in the season last year. Over the first 12 games, Tennessee gave him more than a dozen carries just two times, and he was the No. 39 fantasy running back. Henry had at least 16 carries in each of his final four games of the regular season and was the No. 1 fantasy running back over that span.
It's tough to say whether this volume will continue, but it obviously worked as Henry posted seven scores and an average of 6.7 yards per carry over the final month of the season. It's a huge stretch to expect that level of efficiency, but Henry has the potential to finally break out if the Titans continue to feed him.
Midrange Breakouts
Mixon and Cook are all but locked in as second-round picks in 12-team leagues, and you may have to select Henry in the third round this year. But there are still some interesting backs with tier-jumping potential when we get outside of the first three rounds. These players may not have an elite fantasy ceiling, but any one of them could crack the top-10 in fantasy scoring among running backs.
Aaron Jones, Green Bay Packers
In theory, Jones should be a borderline fantasy stud in one of the league's more explosive offenses. In practice, he's been a boom-or-bust option with the Packers insisting on an illogical committee approach in their backfield. Of course, that was under the previous regime, and Matt LaFleur could see things very differently.
We won't know that for certain until the season starts, but for now, Jones' upside is what we have to go on. Last year, he scored a solid nine total touchdowns and posted three top-10 fantasy finishes. Jones' explosive ability, which clearly separates him from the plodding Jamaal Williams, and potential opportunity make him a breakout candidate for 2019.
Kerryon Johnson, Detroit Lions
There's no denying Johnson's upside. The Lions back flashed major ability with 100-yard rushing performances in two of his first six professional games. But the question that followed Johnson from the college level was whether or not he could handle a full workload.
Detroit fed Johnson 12 or more carries six times through the first 10 weeks. While that wasn't necessarily massive touch volume, Johnson wore down and missed the Lions' final six games of the season. Consequently, there's chatter that his touches will likely be capped in 2019. With that in mind, Johnson is tricky to evaluate for fantasy purposes. However, if he's able to stay healthy and sees reasonable volume, Johnson is a strong candidate to outplay his current ADP.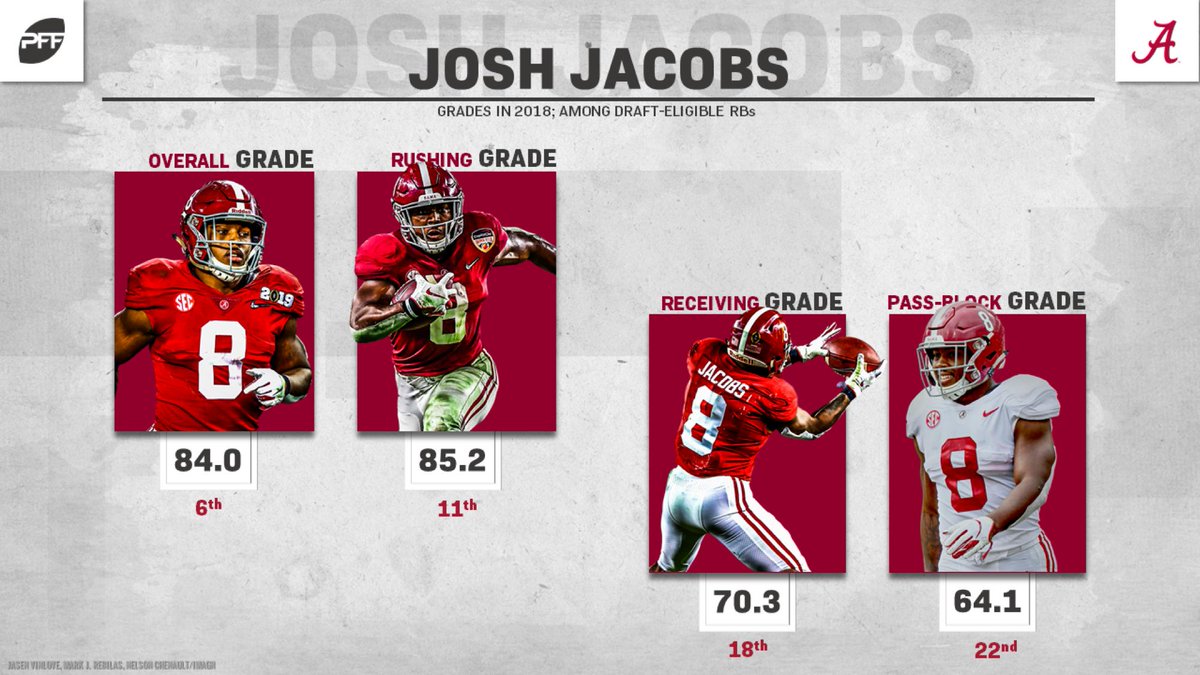 It's always tough projecting how rookies will translate to the NFL, especially when they were lightly used at the college level. But don't read too much into Jacobs' touch volume, as he was part of a loaded backfield at Alabama that included fellow 2019 draftee Damien Harris.
What we do know is that he's a darn good pass-catcher who averaged over 12 yards per catch last season. He also has a prime opportunity to hit the ground running as a three-down player in the Oakland backfield. That prospect plus the likelihood for improvement out of the revamped Raiders offense make Jacobs a very intriguing fantasy option in 2019. He's a sneaky option worth consideration as your second running back selection on draft day.  
Deeper Breakouts
Depending on how your drafts shake out, all six of the above players could be off the board by the end of the fourth round. But there's still some opportunity to be had in Rounds 5 and 6. Like the midrange guys, the deeper breakouts have only a slim chance of producing elite fantasy numbers, but each of these options could very easily outplay their respective ADPs and offer a favorable return on investment.
David Montgomery, Chicago Bears
Opportunity knocks for Montgomery, as the rookie slides into a Bears depth chart that has a major hole after Chicago moved Jordan Howard to the Eagles in the offseason. Unlike Howard, Montgomery brings a true three-down skill set to Matt Nagy's offense. Of course, Tarik Cohen will still be very busy as a receiver, so expect most of Montgomery's damage to come as a runner.
The third-round selection in April's draft led the nation in forced missed tackles last season with a massive 99. That elusiveness bodes well for success in the pro level, as does the chance Montgomery assumes the lead back duties. He's an appealing option, especially if his ADP stays outside of the top 50 players.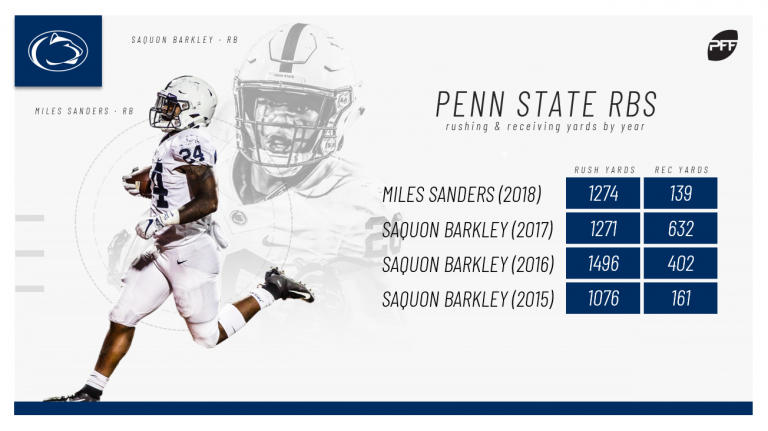 Miles Sanders, Philadelphia Eagles
NFL teams can't lie in the draft, and the Eagles selecting Sanders in the second round suggests they plan on using him fairly heavily in 2019 and beyond. The former Penn Stater spent a good chunk of his college career as Saquon Barkley's understudy. But Sanders put up strong production in 2018 and then blew up the combine with some of the best testing numbers of all the running backs invited.
Sanders has three-down ability, which meshes well with Doug Pederson's offense. Jordan Howard will likely see his share of the work on early downs, but Sanders clearly offers more fantasy upside even in a committee situation. Look for the Eagles to spread the ball around in their backfield, with Sanders being the favorite to lead the explosive Eagles offense in touches. He's a prime middle-round running back target.
Derius Guice, Washington Redskins
It looked like a breakout was inevitable for Guice last season, as the Redskins back burst out of the gate in the preseason. Of course, that all came to a screeching halt after Guice tore his ACL. While it hasn't been the easiest recovery, the second-year man appears to be on track for a preseason return and is primed to lead the Washington backfield.
Last season, we saw Adrian Peterson fare surprisingly well with over 1,000 rushing yards on 251 attempts. There's no doubt that Guice offers more upside than a late-career Peterson, but the question is whether or not he sees that sort of volume. Those uncertainties are baked into his ADP, which Guice could easily outplay if he sees a feature workload in 2019.