When news of Jimmy Smith's four-game suspension broke, it could have been a disaster for the Baltimore Ravens' defense. However, they now get their best coverage defender back while tied for the third-best record in football and ranked second in team coverage grade (86.7). With Smith back on the roster, the Ravens have potentially the best secondary in the NFL, but it will likely come at the expense of playing time for Brandon Carr.
Smith produced a PFF grade of 81.9 in 2017 and allowed an NFL passer rating of just 49.2, both high watermarks for his career. Smith has always been talented, but he has struggled to stay on the field, with injuries limiting him to over 600 snaps in just three of his seven seasons in the league. When he has been healthy, though, he has delivered, and his career grade of 77.7 is the 11th-highest of every Ravens defensive player who has played at least 1,000 snaps since 2011.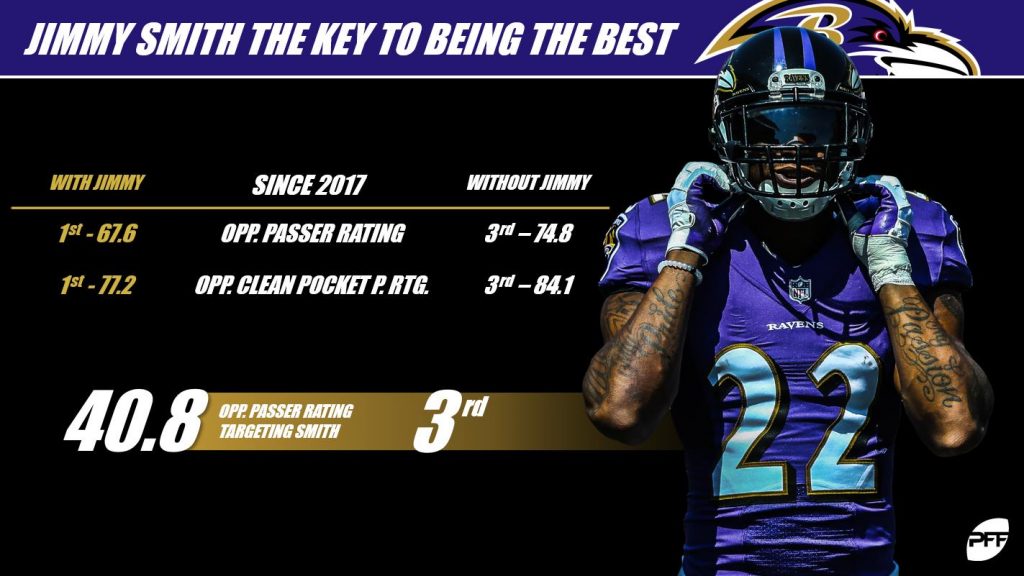 Producing the 13th-highest grade among cornerbacks in the 2017 regular season, Smith allowed just 292 yards in coverage, coming on 23 receptions from 40 throws into his coverage. Even better, he was one of just six cornerbacks to play at least 350 coverage snaps without allowing a touchdown. Smith now hasn't allowed a touchdown since Week 5 of the 2016 season against the Washington Redskins, a streak that stands at 18 games. He also showcased his ability to make plays on the ball, tying a career-high with three interceptions and six pass breakups, which was the second-highest total of his career. All of that contributed to his 49.2 NFL passer rating allowed in coverage, which was the fourth-best mark in the league.
He rejoins a Ravens secondary that has been fantastic so far this season, but teammate Carr might be the odd man out now that he's back. Carr ranked 24th in overall grade among qualifying cornerbacks so far this season, but he has produced a PFF grade of 82.0 or higher in two of the four games, with a poor game against the Denver Broncos dragging his grade down. Through four games, he has given up 12 receptions for 146 yards, with seven of those receptions and 88 of those yards coming in that game against the Broncos. With an interception and four pass breakups boosting his coverage numbers, Carr has allowed the 10th-lowest NFL passer rating on throws into his coverage, which isn't dissimilar from Smith's season number at 53.9 through four games. 2017 first-round draft pick Marlon Humphrey has graded slightly lower than Carr at 70.7, but given that the Ravens have invested in him, it makes sense that he will stay on the field with Smith over Carr, having given up just 107 yards in coverage so far this season.
With Smith and Humphrey the likely starting outside cornerbacks, the next question comes in the slot, currently manned by Tavon Young. While Young's worst game came in primetime, with the Ravens leaving him on A.J. Green when he moved into the slot, Young has actually had a pretty good season so far. On the year, he has allowed just 10 receptions for 131 yards, with six of those receptions and 80 of those yards coming in that game against the Bengals. Take out that game against the Bengals, and he has yet to allow more than two receptions and 40 yards in a game. Young is better suited to the slot than Carr, so it's unlikely that he replaces Young there.
This is a good problem for the Ravens to have, though, as it highlights the depth they have at the position. As our data scientists George Chahrouri and Eric Eager have shown in the past, the importance of strong play at the cornerback position is incredibly valuable to a defense. The return of Smith not only puts the Ravens' top cornerback from a year ago back on the field, but it also strengthens the top four players in the unit, giving them arguably the best group of cornerbacks in the NFL. In a league where passing becomes ever more important by the year, Smith's return should see them well as they look to push for the playoffs and the AFC North crown.