Coming off the best season of his nine-year career, edge defender Jerry Hughes quite rightly received a two-year contract extension with the Buffalo Bills. Over the last couple of years, some members of the Bills Mafia have been questioning Hughes and whether or not he should remain with the team. However, the data shows that Hughes was arguably one of the league's best pass-rushers in 2018 and well deserving of the extension.
Hughes, a 2010 first-round pick of the Indianapolis Colts, had a rough start to his career. In his three seasons with Indianapolis, Hughes posted a 47.8 overall grade in 2010 (93 snaps), a 53.1 overall grade in 2011 and a 62.6 overall grade in 2012.  Deemed by many as a bust after the 2012 season, the Colts traded Hughes to Buffalo — where he has flourished ever since.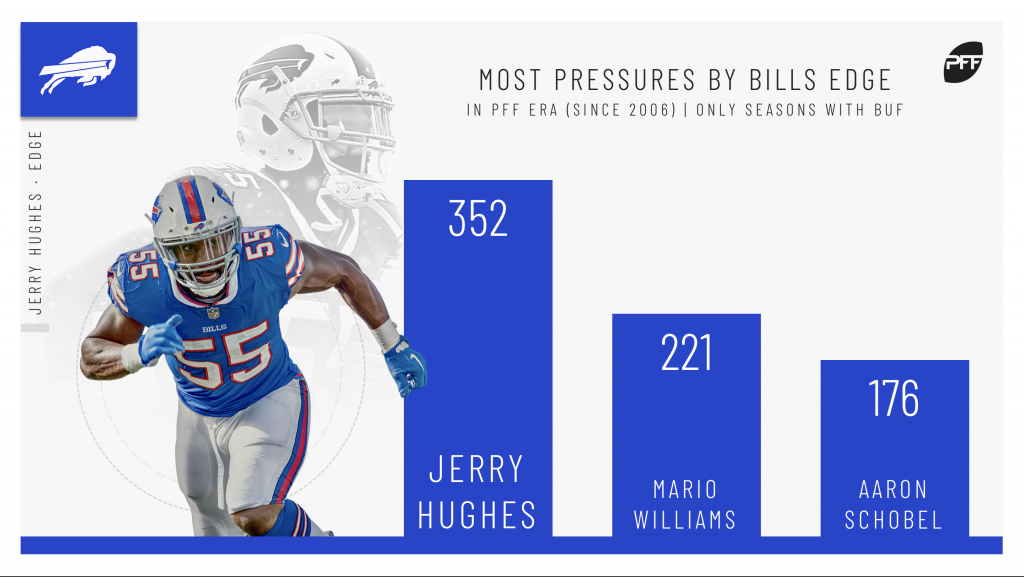 Since joining Buffalo, Hughes has posted an overall grade above 70.0 in five of his six seasons, with 2018 being by far his best. Last year, Hughes earned an overall grade of 88.8 — the ninth-highest grade among edge defenders — and he even tied for the second-highest single-game grade by an edge defender with his Week 3 performance against the Minnesota Vikings, which he finished with a 93.4 overall grade after he produced an incredible 13 pressures on his 40 pass-rushing snaps.
Hughes' pass-rushing performance was truly among the best in the game in 2018. On 397 pass-rushing snaps, he had the second-highest pass-rushing grade (90.4), the highest pass-rush win rate (23.9%) and the league's highest pressure rate (19.7%).
When there was no blitz or stunt executed by the Buffalo defense, Hughes posted a staggering 25.6% pass-rush win rate — by far the best among edge defenders —  but on top of that, Hughes was still at the top when a stunt was indeed executed by Buffalo. His 90.1 pass-rush grade from such plays was the highest among edge defenders, with second-place Demarcus Lawrence far in the rearview mirror, at 85.6.
As mentioned, Hughes has had only one sub-70.0 graded season since joining the Bills in 2013, and that season came in 2016 when he posted a poor 55.3 overall grade that ranked 100th out of 122 edge defenders. Consequently, this underwhelming season had many questioning whether or not Hughes could be an effective edge defender in Buffalo. But after examining Hughes' 2016 performance, there may be a reason to believe this season was more of an anomaly.
During this 2016 season, Hughes played 699 snaps on the left end of the line to only 132 snaps on the right end of the line, which was the polar opposite of what he had become accustomed to playing. So, is it possible Hughes' defective play in 2016 was due to the fact he wasn't playing his natural position?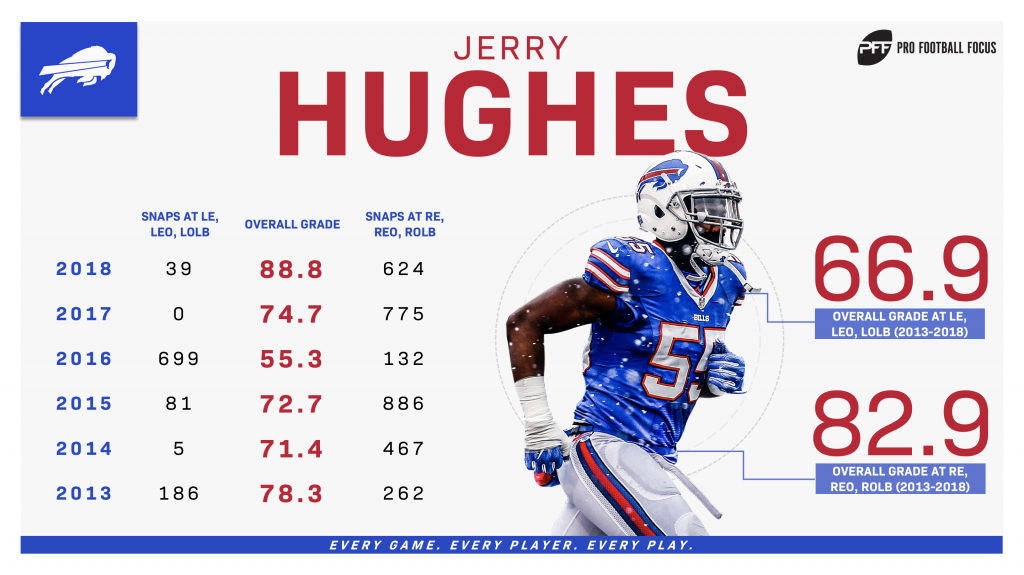 While at Buffalo, Hughes has played 3,146 snaps on the right end of the line to just 1,010 snaps on the left end of the line. In his six seasons with the Bills, Hughes has played more on the right end of the line in every season besides his imperfect 2016 season, and in his career in Buffalo, Hughes has clearly been a better edge defender when playing on the right end of the line. When he was lined up as such, Hughes has recorded an 82.9 overall grade, an 83.8 pass-rush grade, a 15.6% pass-rush win rate and a 13.7% pressure rate. From the left side, Hughes has recorded a below-average 66.9 overall grade, a 76.7 pass-rush grade, a 14.9% pass-rush win rate and a 14.3% pressure rate. With that being said, it's quite obvious that Hughes is a far better player when lined up on the right end of the line, and the Bills have come to recognize that — he has played just 39 snaps on the left end since his disappointing 2016 season.
In 2018, Jerry Hughes was one of the best edge defenders to take the field. In fact, his play this past season was the best by a Bills edge defender in the PFF era (since 2006), and it wasn't even close. His 88.8 overall grade was over 10.0 points higher than second place, which just so happens to be Hughes' and Manny Lawson's 2013 seasons, a season which they both finished with a 78.3 overall grade. For those still questioning Hughes and saying his superb 2018 season is an outlier, his performance in Buffalo collectively has made him the best edge rusher the Bills have ever had in the PFF era: Among every Bills edge defender since 2006, Hughes ranks first in pass-rush grade (85.1) and first in pass-rush win rate (15.0%). Additionally, Hughes has racked up 352 total pressures, which is 131 more pressures than any other Bills edge defender. Because of this, it's safe to say Jerry Hughes is more than deserving of his contract extension with the Buffalo Bills, and the Bills Mafia should be excited to see him attempt to build upon his remarkable 2018 campaign.