Replacing one of the most productive running backs in the last five seasons is a tall task, but Pittsburgh Steelers running back James Conner is making the most of his opportunity so far in 2018. Conner broke out in a big way yet again with his performance against the Atlanta Falcons in Week 5, proving to the Steelers that they can continue feeling confident in their backfield moving forward.
The 6-foot-1, 233-pound second-year back did his best to hush some of the lingering Le'Veon Bell rumors that continue to creep up with a monster performance in Sunday's win, racking up 110 rushing yards and 75 receiving yards on four receptions. He earned the second-highest overall grade (86.1) among running backs with 25-plus carries in Week 5, as well.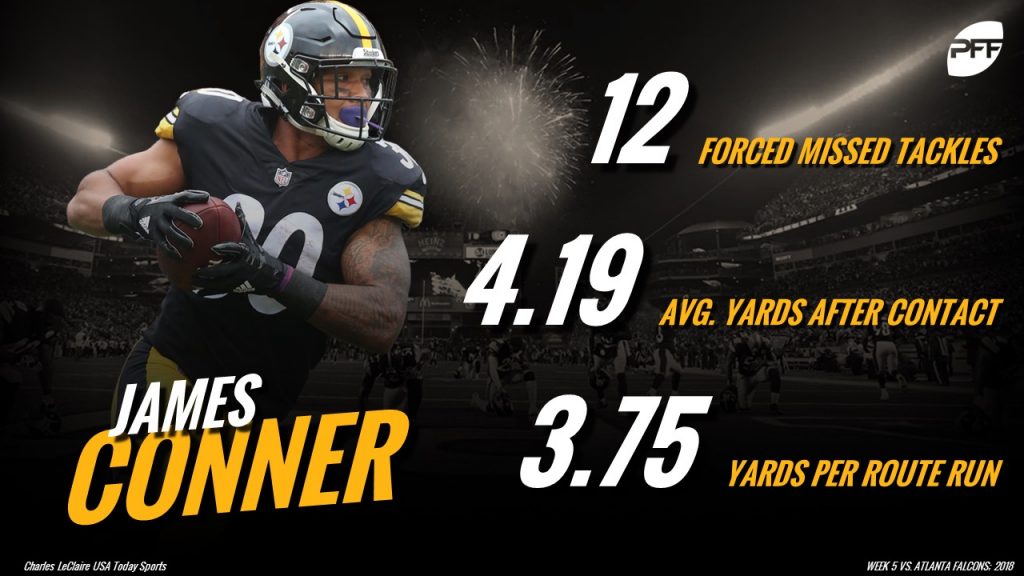 Conner ran with purpose. Taking after Bell, he was patient yet decisive with his cuts, forcing Falcons' defenders to miss tackles all day long. On his 25 total touches in the game, Conner forced a league-high 12 missed tackles and averaged 4.19 yards after contact per attempt, ranking fourth among backs with at least 10 carries in Week 5. As a result, his 201.1 elusive rating led all running backs with at least two total touches this past week.
Through the first five games of the season, Conner has shown a dynamic ability to create yards for himself. He currently leads the NFL in total forced missed tackles and ranks second in forced missed tackles per touch (0.299) among backs with 50-plus touches on the season, forcing 32 total missed tackles across 106 touches. He also ranks 11th in yards after contact per attempt (2.94) among the same group of backs.
Additionally, Conner has averaged 1.46 yards per carry when contacted at or behind the line of scrimmage, ranking ninth among NFL running backs with 40-plus attempts this season. He has also kept his balance through first contact on 30.95 percent of his carries, ranking 11th among the same group of running backs.
In the passing game, Conner has accumulated the fifth-most receiving yards (239), averaging an impressive 2.39 yards per route run and dropping zero catchable passes in the process.
From a production standpoint this season, Conner has been on par, if not better than, Bell's previous career output. Bell has averaged 2.63 yards after contact on the ground and forced an average of 4.2 missed tackles per game throughout his career. Last season, the fifth-year player forced the third-most missed tackles among running backs at 61, but he ranked just 28th in yards after contact per attempt (2.60). By comparison, through the first five games of last season, Bell forced 19 total missed tackles, 13 less than Conner's total thus far in 2018, and averaged 0.86 fewer yards after contact per attempt.
The Steelers have shown they are comfortable looking in Conner's direction out of the backfield just as they've done with Bell in the past. Conner has run 151 routes in the passing game, second-most among running backs, and his 84 total rushing attempts are fifth-most at the position. 
If Bell had been the Pittsburgh man with 106 total touches this season, Steelers' brass would be coughing up roughly $42,877.36 per touch. Conversely, Conner's 106 touches have cost his team just $2,224.56 per touch.
Conner has proven he can indeed be the bell-cow in the Steelers' offense, and a much cheaper one at that. Of course, consistency is paramount in the NFL, and if Conner can't maintain his high-end production, Pittsburgh's future at the running back position will be questioned. However, if Conner keeps proving doubters wrong, the Steelers will sleep easy having stayed away from a long-term contract with Bell.