With the 129th overall selection, the Jacksonville Jaguars selected Will Richardson, offensive tackle from North Carolina State.
During the 2017 NCAA season, Richardson set a PFF College record by being the first ACC offensive tackle in the PFF College Era (2014-present) to allow fewer than 10 total quarterback pressures over 400 or more pass-blocking snaps.
Richardson had one of the best seasons we at PFF have seen since we started grading college football four years ago. With only four total quarterback pressures allowed, including zero sacks, Richardson had a pass-blocking efficiency (PBE) of 99.3.
His pass-blocking efficiency of 99.3 in 2017 set the PFF College record for Power-5 tackles who logged 400 or more pass-blocking snaps.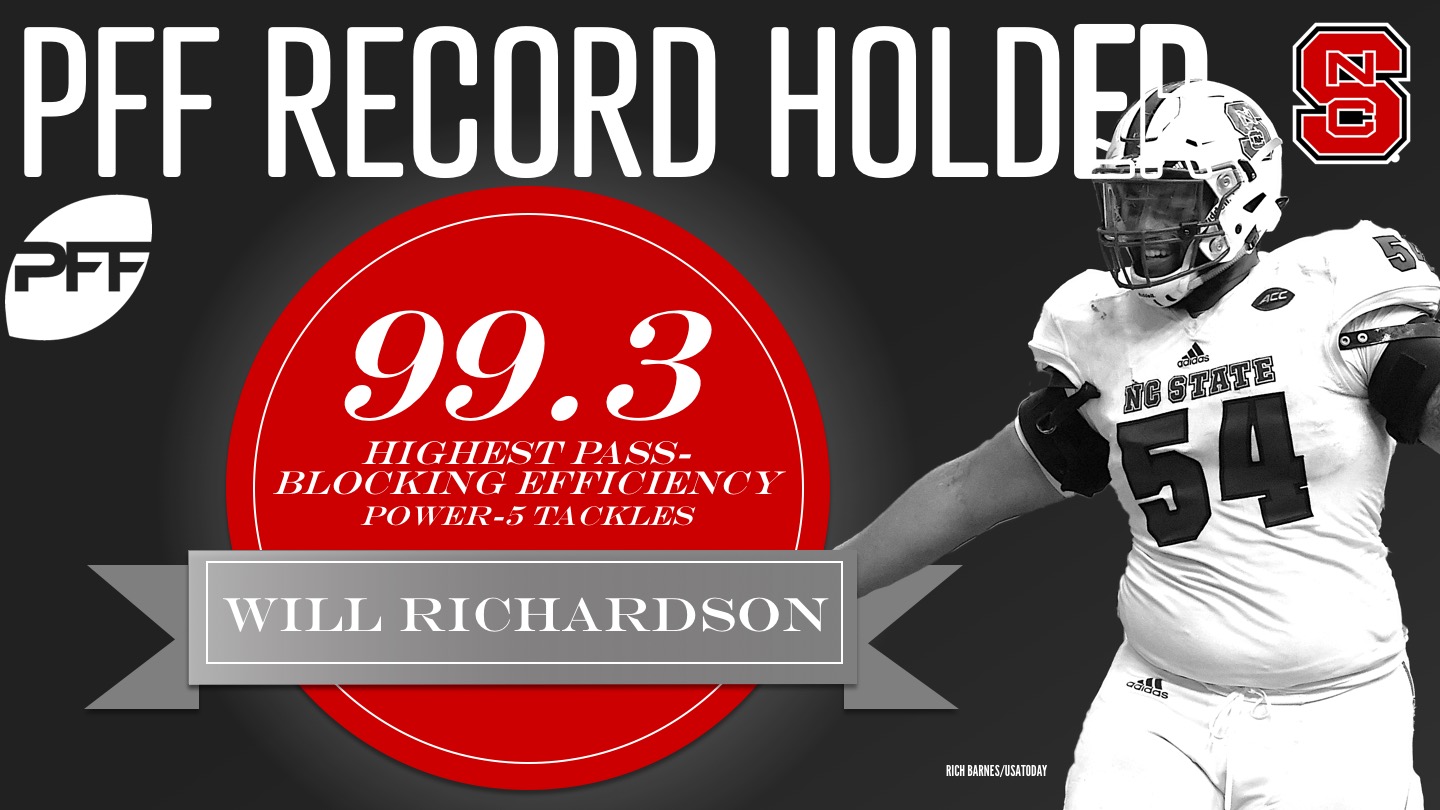 In fact, if you expand the list to look at all offensive tackles who played at least 400 snaps in a season for a single team over the last four years, you will find only one player who rivals Richardson. That player is current Los Angeles Chargers guard Forrest Lamp, the former Western Kentucky tackle who in 2016 also allowed just four pressures on 403 pass-blocking snaps. Lamp's 99.3 pass-blocking efficiency ties Richardson's number as the highest-ever pass-blocking efficiency in PFF's four years of college grading.
Seemingly on the Jaguars radar of skillsets to notice, Richardson progressed steadily throughout his three-year career with the Wolfpack. During his freshman season in 2015, Richardson allowed 17 pressures in limited opportunities. The following season, Richardson increased his PBE from 95.3 to 97.1, which was good for 44th in the country among tackles during the 2016 season. To finish his college career, he played at his record-breaking level a season ago, one that saw him vault up draft boards and culminated with his selection by Jacksonville in the fourth round.
Off-the-field concerns may have pushed his name down draft boards for some teams, but Richardson, who ranked 101st on the PFF Top 250, was taken by the Jaguars with the 129th overall pick.
From the 2018 NFL Draft Guide, Richardson's primary strong suit is clearly his pass protection:
Long, lean tackle with requisite build to hold up on the edge in the NFL.
Explosive at the point of contact. Regularly rocks back edge players and widens point of attack.
Tight splits of the offensive linemen at NC State often masked some of his agility deficiencies.
Waist bending is a serious concern with him. Often out over his toes and easily gets off-balance.
Gets good depth and mirrors well in his pass sets. Feet never stop moving.
Patient in pass protection. Doesn't go searching for the first punch and lets the defender come to him.
Despite Lamp's entrance into the NFL a season prior, his rookie season was cut short due to an injury sustained in training camp. With that, the two PFF record holders who share the highest ever college pass-blocking efficiency will share the field this fall, putting to test their great college success against some of the league's top pass-rushers in the AFC.