With little help—and three different QBs throwing him the ball—Terrelle Pryor has 290 receiving yards through the first four weeks of the season. That's more than Brandon Marshall, DeAndre Hopkins, Allen Robinson, and Jordy Nelson, among others, and represents the kind of strides Pryor has made over his position switch from quarterback to wide receiver.
Many were skeptical about how that shift would work, myself included, but when I saw Pryor at the Browns' training camp this summer, I was impressed with how natural he looked at his new position. He could run smooth, technical routes, and looked fluid in his movements. He looked like a natural—a guy that had been playing receiver for years, not months. The only issue I saw that day was a few dropped passes, which I was concerned could limit his effectiveness once live action started, but so far this season, he has dropped just one pass, so perhaps I just caught a bad day at the office when it came to his hands.
This isn't the first season Pryor has played wide receiver. Last year, he had already made the position switch, but saw a total of six passes thrown his way, all coming in the final three weeks of the season, and five of the six in the final game. He had just one catch for 42 yards, and was only on the field for 92 snaps all year, having been cut and then re-signed early December when an injury opened up a roster spot.
Back in 2013, Pryor had been a QB for the Raiders, and then tried to find his way back into the game after Oakland traded him to Seattle, who subsequently cut him. After the Raiders moved him, Pryor either worked out or signed for six different teams—one of them twice—as a QB, before ultimately accepting that the NFL saw no future for him at that position, announcing that he was open to the position switch to wide receiver.
The single-biggest lesson to take from Pryor is that freaky athletes in college remain freaky athletes at the NFL level. The level of competition goes up with the jump to the pros, but not really at the top end when it comes to athleticism. The difference between the college level and the pros is that there's nobody in the NFL walking on between their engineering classes and playing safety. The bottom-end athletes in the NFL are all legit, but if you were embarrassing the best your conference had to offer in the NCAA, you're still likely on a level above the rest in the NFL once you make that step up.
We saw that even when Pryor was playing QB for Oakland.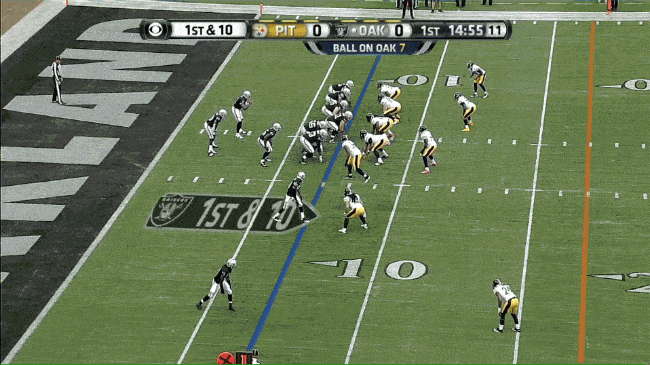 His iconic play at that position was a simple read-option run in which the Steelers blew their run fits and Pryor ran 95-yards for the touchdown. Given the lousy defense from Pittsburgh, it's difficult to talk him up too much on the play, except to show how easily he ran away from the entire team, including some of the fastest guys on their roster in the secondary.
That is elite athleticism on display in one clip. It's still there at wide receiver. Take a play from the preseason as an example.
Yes, it's only a preseason snap, but before we dismiss it as a play against future practice squad players, this came against Atlanta's Desmond Trufant—not just a starter, but one of the league's better cornerbacks. Trufant was in man coverage on Pryor, with the Browns' receiver running right past him for a 50-yard touchdown.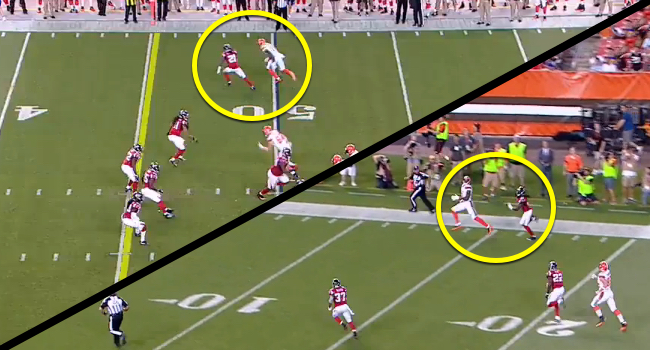 Trufant didn't get any kind of contact on Pryor, and was just unprepared for the raw speed the big wideout can muster, effectively underestimating the kind of athlete he was dealing with. From being level and in-phase on the release, he was trailing by 3 yards by the time Pryor was looking for the ball, and even turned to look for it himself in the vague hope that an underthrown pass would rescue him and allow him to make a play on the ball, because he had no hope of making a play on the receiver at that point.
The rest of the league has already taken notice. After electing not to have big-money free-agent CB Josh Norman track either Antonio Brown or Dez Bryant (at least until the fourth quarter), Washington then used him to follow Odell Beckham Jr. in Week 3, but also gave the same treatment to Terrelle Pryor in Week 4. Seven of Pryor's eight targets came against Norman, and he caught four of them for 42 yards and a touchdown. It wasn't exactly a dominant performance from him, but that is against one of the league's best cornerbacks with a rookie third-string QB throwing him the ball, and he did win on a few plays.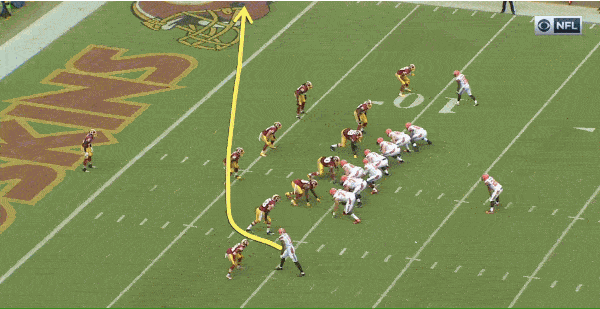 On the touchdown, in particular, he effectively beat bracket coverage from Norman and the safety who came down onto his crossing route from the middle of the field, but couldn't prevent the catch. Pryor again simply ran away from the two defensive backs, and Cody Kessler was able to put the ball where it needed to be for the score.
It's definitely true to say that Pryor's athleticism and physical tools are the defining feature of his play at wide receiver right now, but it's not all he has going for him. He has shown both good hands and the ability to separate from defensive backs with subtle contact and footwork.
The next thing on the list for Pryor's game is to expand the variety of ways in which he is used. He runs a pretty simple route tree, with 29 of his 34 targets this season coming on just four routes (slants, hitches, crossers, and go routes). While some of that is a product of the offense Cleveland has been running—50 percent of RG III's pass attempts were targeting the same four routes, as were 54 percent of Josh McCown's, and 51 percent of Kessler's—it's an area in which he can expand and improve on in future, and one that he needs to in order to be a truly unstoppable force.
Pryor's transition to wide receiver has already been a success. He has gone from a roster bubble afterthought to Cleveland's No. 1 receiver, good enough to make the Browns forget about Josh Gordon and think about moving on from him entirely. Pryor, in fact, looks a lot like Gordon at times on the field, with the ability to just run away from people that are a completely different size and speed combination.
Pryor has elite physical traits and the ability to make elite-level plays, and has already had success against top cornerbacks, but he can't quite be counted among the game's elite receivers just yet, because he isn't as well-rounded. The Browns have found a player with an incredibly high ceiling, and so far, he has excelled at every aspect of his transition. He should remain productive and effective even in the limited role he has within that offense, because he is their best receiver and best athlete, and can continue to make plays against even the game's top coverage. There is no reason that he can't become the well-rounded receiver that would instantly catapult him into the echelon of top players at that position—the only question is how long it will take for the Browns to try and make it happen.