We are a year away from Solomon Thomas being the No. 3 overall pick of the NFL draft, and already he is staring down the barrel of a make-or-break season for the San Francisco 49ers.
Thomas was a force in college for Stanford, dominating in his final season of Pac-12 action, generating 47 total pressures and 46 defensive stops. That latter figure led the nation among all interior defenders and the former was tied for sixth-best.
He earned one of the best overall PFF grades we have given to a defensive lineman – a 92.7 including run-defense and pass-rush grades of at least 86.8. His grades were comparable to DeForest Buckner, Joey Bosa and Jonathan Allen, each of whom has had some level of immediate success at the NFL level. Thomas though, struggled badly in Year 1, earning an ugly-looking overall PFF grade of 53.2, including a pass-rush grade of 46.5. He rushed the passer 401 times in his rookie season, and affected the quarterback only 30 times for one of the worst pressure rates of any defensive linemen in the game.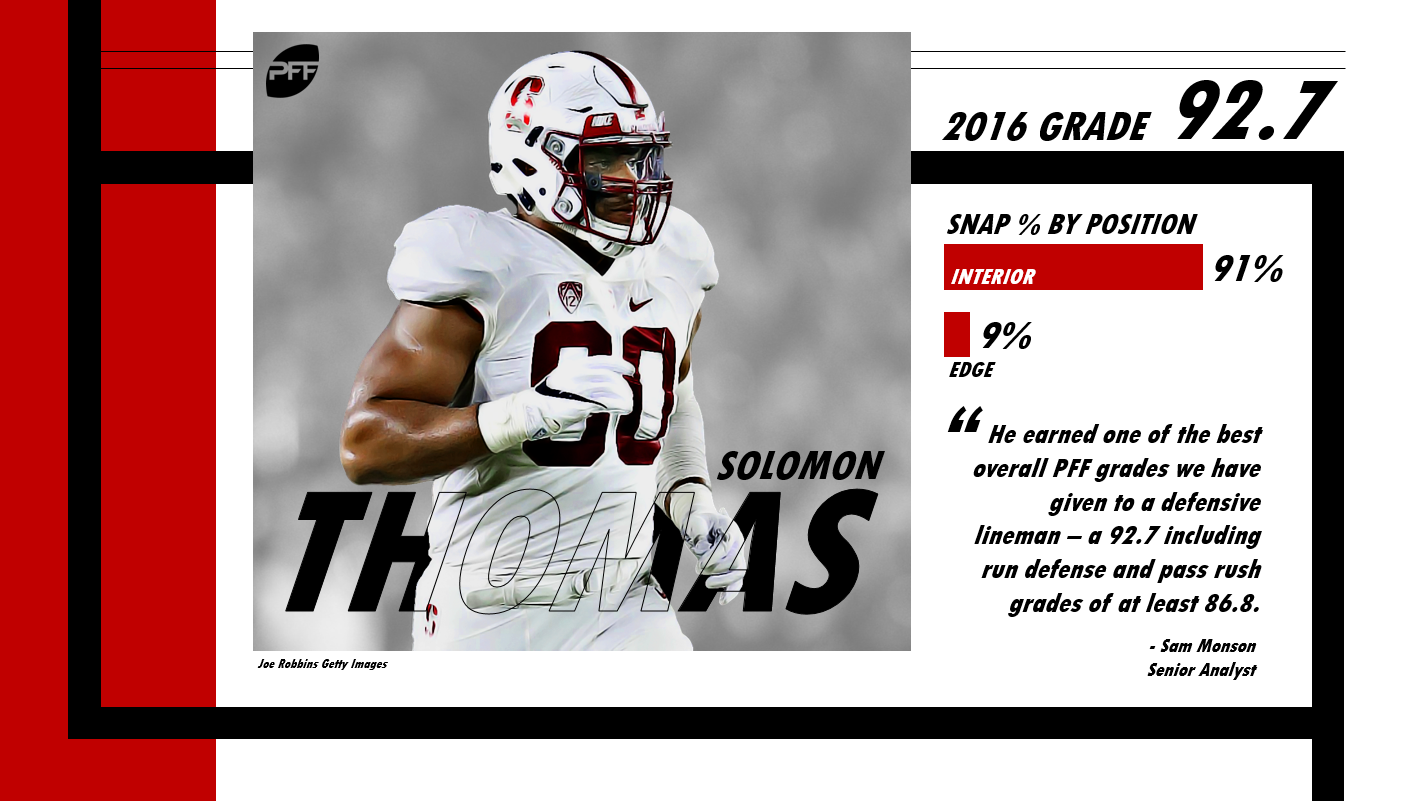 So, what went wrong?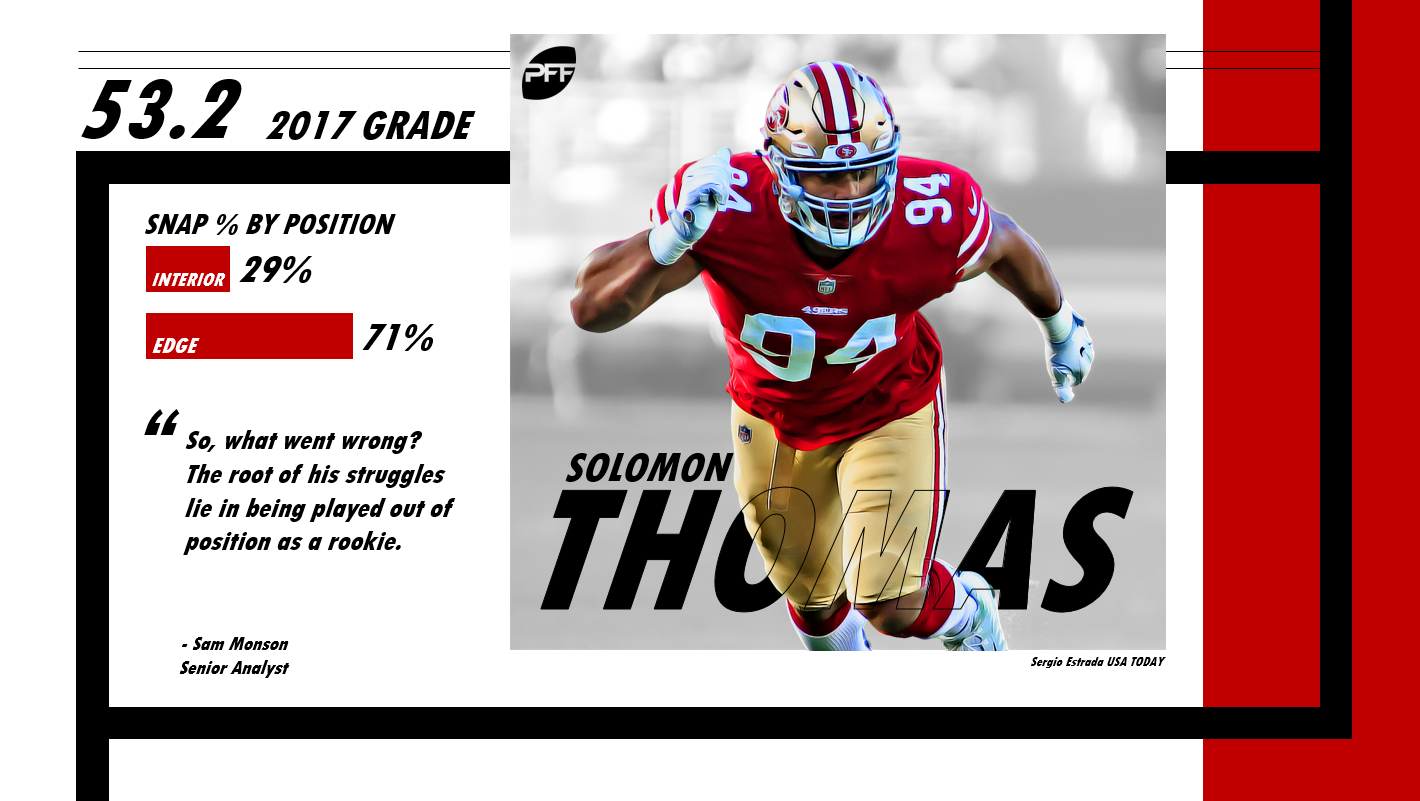 The root of his struggles lie in being played out of position as a rookie. Thomas is something of a tweener when it comes to body type (just 273-pounds at the NFL combine), but is fundamentally an interior lineman not an edge rusher. In his final season at Stanford, he played a true edge alignment on fewer than 10.0 percent of his snaps (9.4), but that number became 71.1 percent in 2017.
The 49ers had previously spent first-round draft picks on Arik Armstead and Buckner, both of whom were ostensibly interior linemen as well, so attempted to cheat their alignment puzzle by shoehorning Thomas into an edge rushing spot as the player most likely to handle that role.
It didn't go well.
We don't need to get bogged down in just how 'not well' it went, but being able to identify the problem is great news for both Thomas and the 49ers going forward. Simply by adjusting his position on their defensive line, we should see an immediate jump in production and a completely different player.
We have the college data referenced earlier to show that Thomas is a formidable interior lineman, but we can also see the same story within his rookie season if we isolate his production by alignment, albeit in extremely small sample sizes. There is very little in the way of 'true' interior alignment from Thomas as a rookie – almost everything was over or outside of the tackle – but he was significantly more productive on the few snaps he did align inside, generating pressure once every 4.3 pass-rushes compared to just 14.5 when lined up on the edge. Only three edge rushers in the entire league had a worse rate of pressure than that overall, but those few snaps aligned on the inside hark back to the player he was at Stanford.
When we use analytics to evaluate our own data, in particular how it projects from the college to the pro level, one thing that has been a consistent theme has been that the correlation is stronger when the position a player is deployed in is the same between the college and pro ranks. That holds true for both run-defense and pass-rushing when it comes to interior linemen and edge rushers. College grades translating to NFL success are more predictive if the player isn't asked to switch positions during the transition. Thomas obviously was asked to, and his grade took a nosedive. That isn't to say that the position switch alone will lead automatically to a return of the same dominant force he was in college, but it does increase that likelihood.
The concerning thing for Thomas is that the 49ers did not attack their edge rusher problem hard in the offseason in the midst of what was an admittedly awful market for pass-rushers. Free agency presented few viable options and it was not a strong draft for proven edge rushing production at the college level. That's not to say the 49ers didn't have opportunities –they passed on Harold Landry, PFF's No. 1 ranked edge rusher – as just one example, but they weren't working in a buyer's market to fix their problem position.
A season ago, Thomas was the square peg being forced into a round hole because of precisely the same deficiency on the roster. On paper, the spot doesn't look any better heading into 2018, and he runs the risk of being the most likely interior lineman to have any kind of success on the edge.
For his and the team's sake, we can only hope they have an alternate plan, because his true potential lies as a disruptive interior force.