The Oakland Raiders managed to draft a first-round talent in the eyes of PFF (No. 3 overall on our final Big Board) in Maurice Hurst with their fifth-round selection. The massive dip in his draft stock came from health concerns about his heart and while much has not been disclosed about the issue itself, teams were worried enough to warrant his fall.
The Raiders ultimately halted his slide in the fifth round, landing a player who finished his final college season with an overall PFF grade of 96.8. After the pick, general manager Reggie McKenzie made it clear to reporters that Hurst will not be held back this offseason and will be full-go from Day 1.
What does a player of this caliber bring to the Raiders defense?

Well, to put it simply, Hurst could very well become the best defensive player this team has drafted since Khalil Mack in 2014. Hurst brings with him the sort of dominance and playmaking ability that is unheralded.
From the 2018 NFL Draft Guide:
"Hurst is the cream of this defensive tackle crop. There isn't another interior player that can come close to his production as a pass-rusher in college and everything on tape suggests it will translate to the NFL. His size will give teams pause, but at no point in his college career was it ever a serious issue against the run – he still ranked 14th nationally in run-stop percentage. Hurst is a consistently dominant force whose only real question marks have little to do with his on-field performance."
What Hurst managed to accomplish as a starter in three years at Michigan is tremendous. The pass-rusher accumulated 15 sacks, 31 quarterback hits, and 67 hurries. To add some context behind his performance, Hurst finished his final college season as the highest-graded interior defensive lineman since PFF started grading college football in 2014, beating out players such as Leonard Williams and DeForest Buckner, who have gone on to dominate in the NFL. Being able to rush the passer as an interior d-lineman the way Hurst did in college is rare and he flashed his dominance time and time again throughout college.
Since being drafted in 2014, Mack has consistently graded out as one of PFF's best edge rushers in the NFL but has too often lacked help around him. His combination of size and strength is phenomenal and must be accounted for by opposing offenses on every play. Despite the Raiders having Mack's services as a pass-rusher, 2015 was the only year since Mack joined the team in which the Raiders finished better than 24th in total sacks.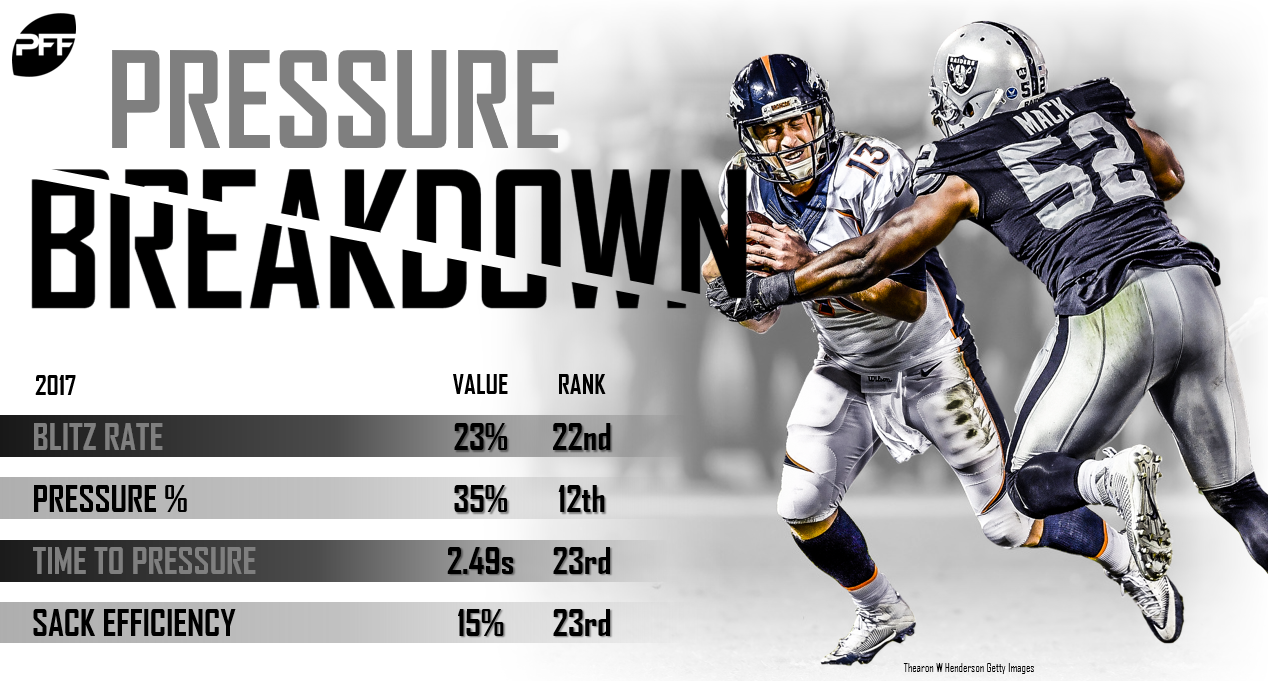 In fact, Oakland ranked 12th a season ago in total pressure percentage, getting home with a pressure on 35 percent of their pass-rushes yet managed just 220 total pressures as a team, ranking 19th in the league. 2016 saw the Raiders rank fifth in pressure percentage, but unable to bring down quarterbacks with sacks, recording the league's lowest sack efficiency among the 32 NFL teams. Just 11 percent of all their total pressures resulting in a sack.
Oakland has struggled to record quick pressures on the quarterback as well during Mack's tenure, recording the league's 23rd-fastest average time to pressure a season ago. They ranked 28th in such a metric in 2016 and 22nd in 2015.
So, despite having a premier player on the edge, the team has been unable to become a consistent force when it comes to getting home to the quarterback in a quick and timely manner.
While the Raiders signed Bruce Irvin two years ago in aims of remedying this problem by adding another edge rusher, it arguably hasn't worked as well as they had seemingly hoped. Irvin has certainly been a serviceable player, but last year finished with only 40 total pressures which had him tied for 36th overall among edge defenders.
Furthermore, Oakland interior defensive lineman Denico Autry led the team with a pass-rushing productivity score of 6.9, good enough to rank 26th among the NFL's defensive interior players. These numbers articulate the same problem: Oakland has lacked a staple in the middle of their line. A player that won't allow opposing quarterbacks to step up in the pocket once the edge rushers put the pressure on.
Hurst is more than capable of being that player for the Raiders.
If Hurst's college dominance translates to the NFL, something our data scientists have proven he would be more likely to do if he maintains his same position on the defensive line, this Raiders defense has a chance to really improve along their defensive front. Not only that, but this addition could help elevate Mack's play to a level that has yet to be seen.
Whatever happens, there is certainly reason for Raiders fans to be excited for this upcoming season.