There are numerous qualities that make up a game-changing NFL quarterback. And while the absolute purists among the league's backroom staffs will argue that the most important is the ability to stay in — and produce consistently from — the pocket, one of the most underrated qualities is the ability to make plays on the move, whether it's by design via bootlegs and designed rollouts or via a scramble away from the oncoming pass-rush.
Let's take a look at the five highest-graded quarterbacks outside the pocket. To make this list, the quarterback must have attempted 50 or more passes on designed rollouts and scrambles over the last three seasons, including the playoffs.
Mahomes has played in only 19 games over the last three seasons, but he still finds his way to the top of this list thanks to a position-high 20 big-time throws from pass attempts outside the pocket. On such plays, Mahomes has completed 92-of-166 attempts for 1,325 yards, 17 touchdowns, four interceptions and only three turnover-worthy plays.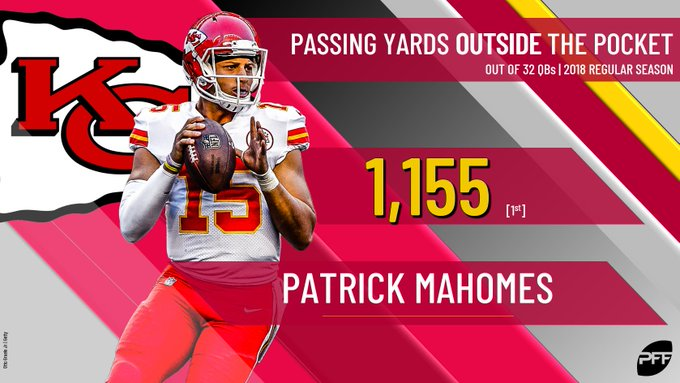 He may not have seen as much action as other signal-callers on this list, but his work across a small sample size has been steller nonetheless. Leading this group in passer rating on outside-pocket throws with a mark of 122.0 (the only quarterback over 120.0), Garoppolo has completed 34-of-50 such pass attempts for 381 yards, seven touchdowns, four big-time throws and zero turnover-worthy plays.
The outside-the-structure-of-the-play master, Rodgers has attempted 293 pass attempts outside the pocket since 2016, second to only Russell Wilson in that span. He's completed 138 of those attempts for 1,959 yards, 25 scores and six interceptions. Nineteen of those throws earned the big-time throw tag, while just eight of them earned the dreaded turnover-worthy play designation.
Houston's franchise quarterback has averaged an impressive 7.8 yards per attempt on his 141 career outside-pocket throws. He's tossed 10 scores, eight turnover-worthy plays and racked up 1,094 yards in the process.
Mayfield has attempted only 66 pass attempts from outside the pocket, but his results have been astonishing. He's completed 38 of his attempts for 601 yards, six scores, three interceptions and four turnover-worthy plays. His 16.7% big-time throw rate ranks second to only Patrick Mahomes among the 44 quarterbacks on this list, while his 99.4 passer rating is good for seventh. This is all despite the fact that his average depth of target on these throws was an impressive 13.9 yards downfield.