Interior pressure is all the rage in today's NFL, and everyone wants their own game-wrecker on the inside in an age where the line between run downs and passing downs has blurred significantly. The ability to anchor the line of scrimmage while wreaking havoc on pass attempts and taking attention away from edge defenders is at an all-time premium. In his fourth year in the NFL, Grady Jarrett is posting career-best numbers and realizing his potential as one of the league's incredibly disruptive interior defensive lineman.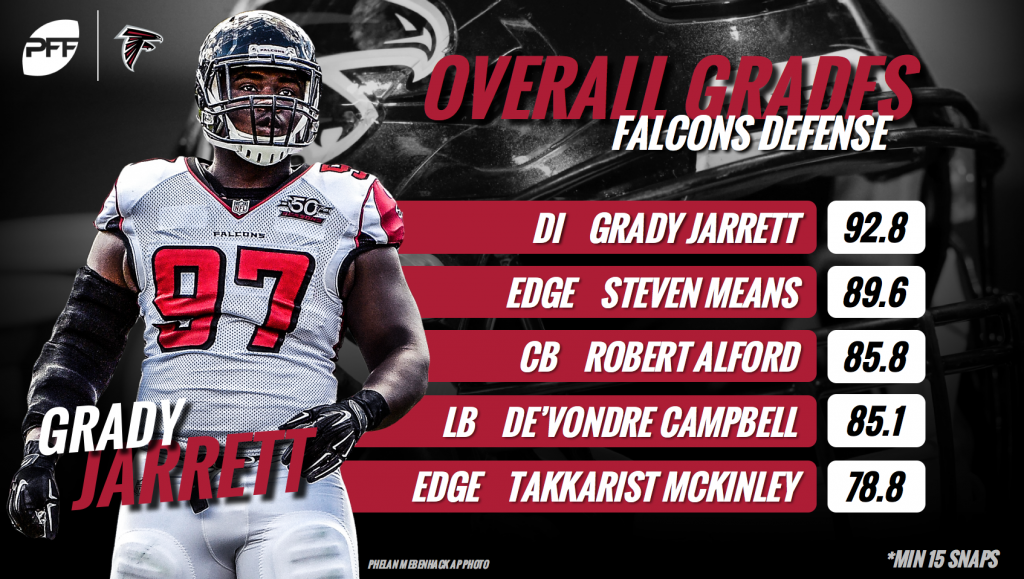 Against the Arizona Cardinals on Sunday, Jarrett posted his best numbers of the season, earning season-high overall and pass-rushing grades. He harassed Josh Rosen all afternoon, totaling six pressures, which was tied for the fifth-best among qualifying interior defensive linemen in Week 15, amassing two sacks (tied fourth) and four hurries (tied second). The Clemson product also generated a pressure percentage of 17.2, which ranked tied for seventh among qualifiers. Jarrett also demonstrated his effectiveness against the run, where he recorded a run-stop percentage of 11.8.
This season has been the most impressive of Jarrett's career thus far. He has racked up six total sacks on the season, tied for the 11th-most among defensive interiors this season. He's generated an impressive 44 total pressures and a pressure percentage of 12.5, both of which rank seventh-best at his position.
Looking at his advanced stats, Jarrett's season becomes even more impressive. Among interior defensive linemen with 150 or more pass-rushing snaps, Jarrett's win rate of 17.0 ranks sixth-best. The former Tiger has also produced an early down win rate of 15.3, which ranks seventh, and a pressure percentage of 12.9 that ranks sixth. His effectiveness on early downs demonstrates his value when rushing the passer on snaps where runs are a strong possibility and passing attempts have been typically less frequent. On third-downs, where passing is much more likely, Jarrett has produced an exceptional win rate of 20.5, a mark that ranks third among qualifying interior defensive linemen this season.
The Atlanta Falcons' defensive tackle has been one of the league's best at the position against the run this season, as well. Among 115 qualifying defensive interiors, Jarrett's 9.8 run-stop percentage and 20 run stops rank 19th and tied for 13th, respectively.
Looking at his numbers this season compared to the rest of his career, Jarrett is primed to set season-highs in a plethora of categories. He's producing the highest overall grade and pass-rushing grade of his short career, and he has tied his career-high in sacks (six), which he has two games left to surpass. He is also on pace to set career-highs in hurries and total pressures despite playing the least amount of snaps in his career since his rookie year, demonstrating his improved ability to get after the passer and make his pass-rushing snaps count.
As capable and multi-dimensional interior defensive linemen are becoming even more important, Jarrett is having a career year and is fast-approaching the status of one of the league's most intimidating defenders in the league, able to affect both thrun gameme and the passing game like only few can.