The New York Giants went on a major free-agent spending spree this past offseason, and while each addition has had his moments and provided an upgrade to the roster, none has had as big of an impact as cornerback Janoris Jenkins.
Jenkins ranks inside Pro Football Focus' 10 highest-graded cornerbacks through Week 14, is having comfortably the best season of his career, and is coming off a game in which he just dominated Cowboys WR Dez Bryant and QB Dak Prescott in the Giants' most important game of the season.
Jenkins was targeted in coverage eight times by Prescott on Sunday Night Football; he surrendered only two catches for 17 total yards, while notching an interception. That's an average of just 2.1 yards per target over 41 snaps in coverage.
The former Rams cornerback spent the majority of his time covering Bryant, which in years past, would have been a recipe for a big play for the Cowboys somewhere along the line, but it never came in Week 14. Bryant was the intended target on seven of those passes, and Jenkins caught as many (one) as he allowed Bryant to bring in.
For the game, Jenkins allowed a passer rating of 0.0 into his coverage—which is 39.6 points worse than just throwing the ball into the dirt every snap.
As if all of those numbers weren't enough, on the one catch he did surrender to Bryant, Jenkins forced a fumble after the catch, turning the ball over and effectively sealing the win for the Giants late in the fourth quarter.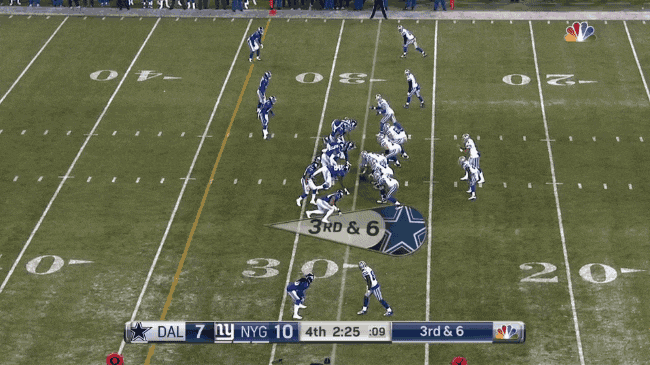 This was Jenkins' best game of his 2016 season, but the truly notable thing about his short tenure with New York has been the real absence of ugly play. But for a two-game blip earlier in the season, Jenkins has been remarkably consistent, eliminating the busted big plays that have typically plagued his career. Heading into this season, he had never allowed a lower passer rating into his coverage than 81.3, dating back to his rookie campaign. In two of the other three years, that number had been over 114.0, and he surrendered at least five touchdowns every single season.
In 2016, Jenkins is allowing a passer rating of only 65.3 into his coverage, and the completion percentage he has given up has dropped from a career-best of 61.7 to just 50.0 percent entering Week 15.
There have been glimpses of the player still capable of giving up a big play—Jenkins surrendered a 70-yard reception to Baltimore in Week 6—but the frequency with which they have come, as well as his down-to-down play on either side of them, has been vastly improved.
The Giants have had at least one good corner for awhile now, with Dominique Rodgers-Cromartie playing well for multiple seasons. In today's NFL, however, you need to go deeper than that, and Jenkins has allowed the team to be far tougher on the back end, with Rodgers-Cromartie manning the slot, Eli Apple holding his own as the third corner, and Landon Collins proving to be a real matchup weapon in coverage against backs and tight ends now that he lines up closer to the line of scrimmage than he did as a rookie a season ago.
Jenkins is being paid like one of the top corners in the game, and in the 2016 season, he is realizing that potential, having spent a career so far only threatening to do so before undoing his good work with negative plays.
The Giants did themselves a big favor by beating Dallas last night, and this defense—even without edge defender Jason Pierre-Paul—has proven to be one of the better units in the league. If Janoris Jenkins continues to play at this level, he could pay New York's offseason investment back in a major way.