Morale is low in San Francisco, as the 49ers dropped to 1-3 with their loss against the Los Angeles Chargers in Week 4 and have minimal hope for a rebound with the team's $137.5 million quarterback, Jimmy Garoppolo, sidelined for the remainder of the season. Keeping morale from dipping any further, however, is the second-year tight end, George Kittle.
Kittle has caught 18-of-28 targets for 316 yards and one touchdown through four games, ranking second among all NFL tight ends in total yards and fourth in yards per reception (17.6). The former Iowa product currently leads all qualifying tight ends in overall grade (90.0) and receiving grade (90.7), as his five forced missed tackles (second), and 13 first-down receptions (fourth) have pushed him atop the league through Week 4.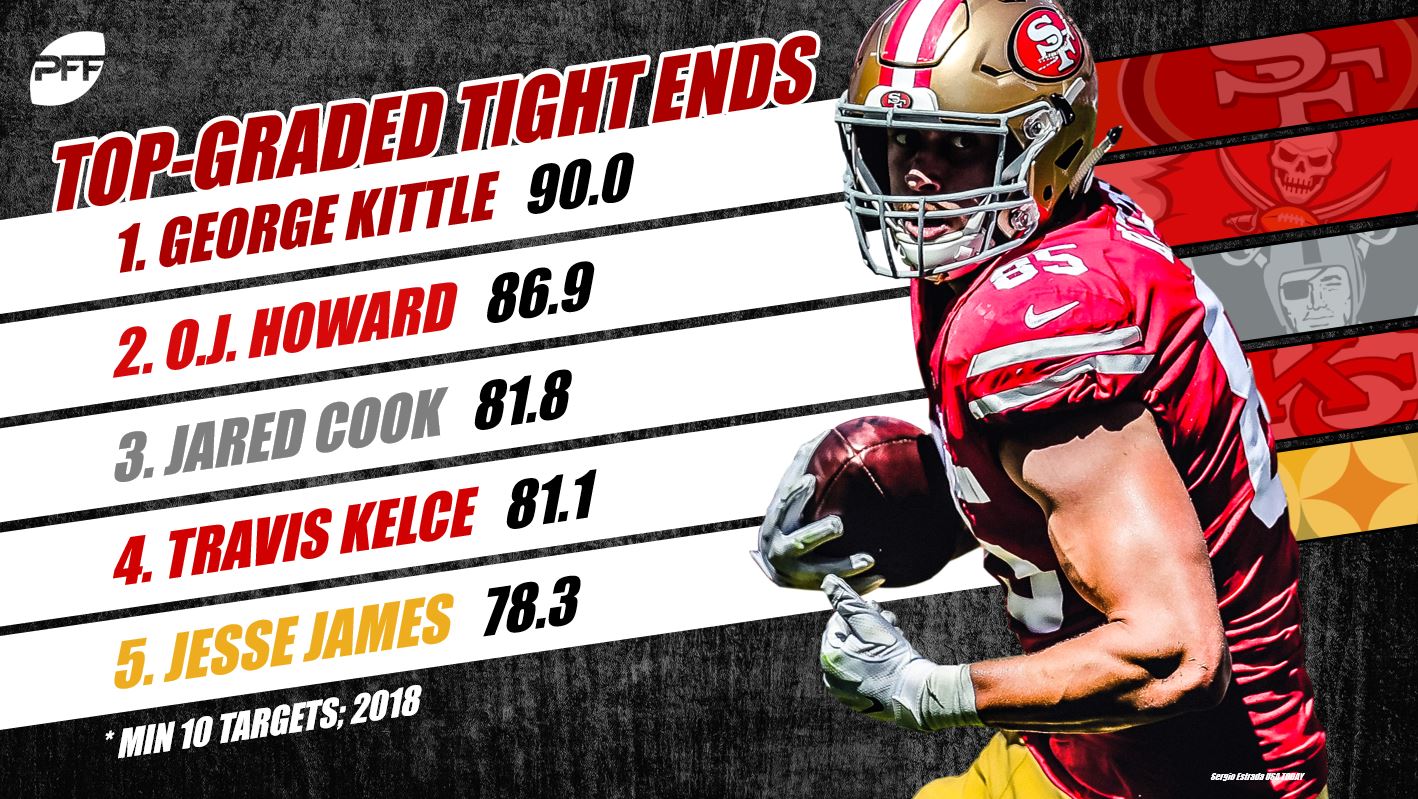 Most recently, Kittle and his former college teammate, C.J. Beathard, connected on six-of-eight targets for a career-high 125 yards. Kittle had four first-down receptions and 85 yards after the catch, most of which came on his 82-yard touchdown late in the third quarter. He burned the Bolts' secondary after catching the wide-open pass on the 49ers' 40-yard line and went untouched for the score.
Kittle rebounded after a costly drop in the 49ers' Week 1 loss to the Minnesota Vikings, as he's caught all 18 of his catchable targets since letting the ball hit the turf on a would-be touchdown pass from Garoppolo. His sure-handedness after the season opener has helped him become one of the most efficient tight ends in the NFL, as he ranks second among league tight ends with 10-plus targets in yards per route run (2.87). Only Tampa Bay Buccaneers' O.J. Howard (2.88) ranks ahead of him, and Kittle has run 33 more routes than Howard.
If he maintains similar efficiency through the end of the 2018 season, Kittle will finish the season with 1,263 receiving yards, which would be a franchise record for receiving yards by a tight end for San Francisco.
Kittle has been at his best against cornerbacks and linebackers, as he's caught 11-of-12 targets for 173 yards and seven first downs when either a cornerback or linebacker was the primary coverage defender. Safeties, however, have been a different story in terms of efficiency, as he's caught just seven of his 16 targets against safeties for 143 yards, four first downs, and one touchdown. Without his 82-yard reception against Chargers safety Jahleel Addae, Kittle would have just six receptions for 61 yards against safeties.
Vikings' Harrison Smith blanketed Kittle in coverage in Week 1, holding him to zero receptions on the three targets where Smith was the primary defender. Detroit Lions' Quandre Diggs and Kansas City Chiefs' Eric Murray then limited him to just 40 total receiving yards in Weeks 2 and 3.
The sample size, of course, is still too small to say safeties are Kittle's Kryptonite, especially after Addae and rookie Derwin James let him run wild for 103 yards, three first downs and a touchdown in Week 4. Look for Kittle to build on his strong start to his sophomore season in the NFL at home against the Arizona Cardinals in Week 5, where he'll likely see a lot of safeties Antoine Bethea and Tre Boston.