With the 2019 NFL Draft coming to a close over the weekend, 254 players realized their dreams of getting "the call" by an NFL team to start the next phase of their careers. But for every first-round pick, countless players go undrafted and must beat the odds to earn a spot on an NFL roster. Over the years, many of those undrafted free agents have gone on to have long, productive careers in the league, but few have had as much success as Seattle Seahawks wide receiver Doug Baldwin.
After the departure of safety Earl Thomas III this offseason, Baldwin and linebacker K.J. Wright are left as the longest tenured Seahawks, but while Wright joined the team in 2011 as an early fourth-round selection out of Mississippi State, Baldwin was left undrafted out of Stanford and found his way onto the Seattle roster to become one of the most prolific undrafted free agents in NFL history.
However, at the age of 30, that storied career may be coming to an end as Adam Schefter reports that even though Baldwin wants to continue playing in the NFL, the myriad of injuries over the past few seasons may force Baldwin into hanging up his cleats.
Despite entering the NFL as an undrafted free agent, Baldwin made an immediate impact on a passing attack that ranked in the bottom half of the league in team receiving grade in four out of the five seasons prior to his arrival. Since 2011, the Seahawks have earned a top-10 receiving grade six times in eight seasons.
Over that time, Baldwin has been the epitome of consistency, and he is one of only four wide receivers who has played at least 500 snaps and earned a grade of 70.0 or higher each year. Continuing with the theme in his career, Baldwin has earned at least 3.00 yards per route run in a game 21 times, and he has earned 25 single-game grades of 80.0 or higher – both of which rank in the top 10 among active wide receivers. Among receivers with at least 2000 snaps in their career, only Jordy Nelson's 118.0 career passer rating when targeted is higher than Baldwin's impressive 114.5.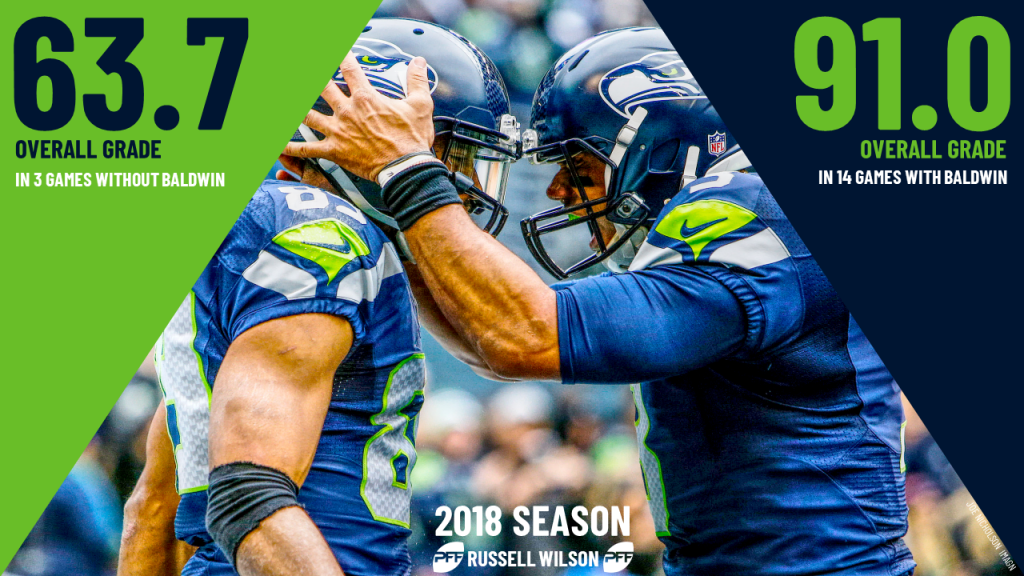 Even though Baldwin has benefited from being tied to a quarterback that could very well don a gold jacket when all is said and done, Baldwin has stood out above the rest of Russell Wilson's pass-catchers in Seattle. Baldwin has earned a 91.0 receiving grade when targeted by Wilson compared to an 82.1 receiving grade for all the other wide receivers combined.
The evidence was loud and clear this past season when Baldwin missed games for the first time since 2012. Wilson was affected in a big way, and his overall grade dropped from 91.0 in games with Baldwin to just 63.7 in the three games without him. That was accompanied by a passing grade that plummeted over 31 points from 90.4 to 59.1 without his number one receiver.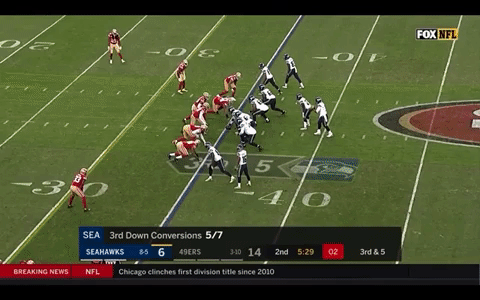 Since Day 1, Wilson has depended on Baldwin in the important moments of a game: moments like crucial third downs or whenever he has had a defender barrelling down on him in the pocket. Whenever Wilson targeted Baldwin in these situations, he earned a passer rating of 141.9 with 71.8 completion percentage, six touchdowns, and no interceptions. When you compare that to the much less impressive 90.4 passer rating and 41.5 completion percentage when targeting other wide receivers, you can see that there is an undeniable comfort level between Wilson and Baldwin; the two make each other better when both are on the field.
One of the reasons for that comfort level could be the security blanket that Baldwin's hands have been. Baldwin has a drop rate of only 4.0% since Wilson entered the league: 21 drops on 520 catchable targets. But the rest of Seattle's wide receivers have nearly double that with a 7.0% drop rate since 2012.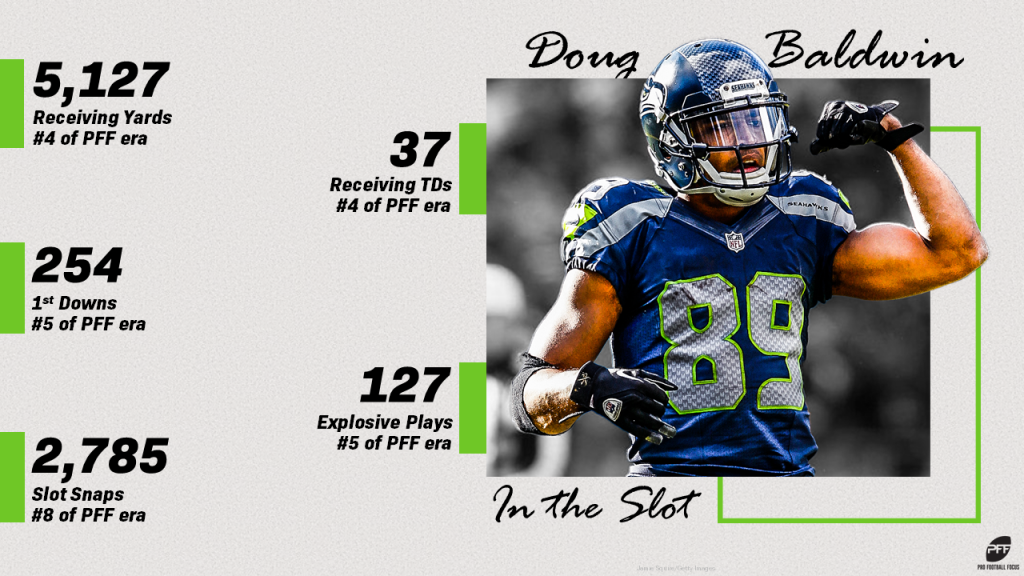 Throughout his time in the NFL, Baldwin's bread and butter has been his high-level slot performance. In total, Baldwin has accrued 5,127 receiving yards, 37 receiving touchdowns, 254 first downs, and 127 explosive plays from his work in the slot, while his 90.5 slot-receiving grade is tied for third among wide receivers with at least 500 snaps in that span.
If the 2018 campaign was Baldwin's final stand in the NFL, the Seahawks will lose one of the most productive undrafted free agents the league has seen. Even with the emergence of Lockett and the addition of rookie D.K. Metcalf with the final pick of the second round, there is not much established NFL talent on the depth chart. Baldwin has been the catalyst of the Seattle passing game and Wilson's go-to target for the better part of their careers. If Baldwin does indeed hang them up, the 2019 season could be the beginning of a new era in the northwest for Wilson and the Seahawks alike.