Throughout their college career and draft process, some players pick up red flags. Injury concerns, character issues and poor athletic testing at the combine are among the risk factors that might pop up, putting a dent into their draft stock. These red flags also provide the opportunity for teams to get value in the draft, though; a player whose talent and performance on the field that warranted a top-10 selection may slide into the second round or beyond due to off-the-field concerns. These five teams took risks on these sorts of players in the draft, and the early returns show that they paid off.
[Editor's Note: To view more of Pro Football Focus' advanced stats and grades for draft-eligible players, check out our 2019 NFL Draft Guide. All EDGE and ELITE subscribers already have access to the guide, and for those who don't, you can get your copy for as low as $9.99!]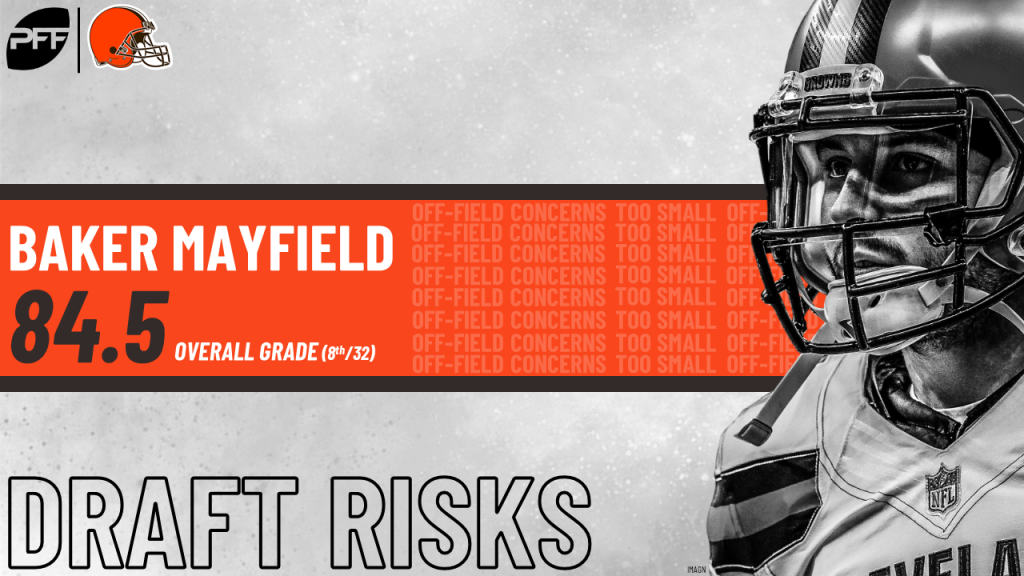 Nearly every mock draft or big board out there leading up to the 2018 NFL Draft, especially early in the process, did not have Mayfield as the top quarterback. There was a sense that he was too short – that his height would be prohibitive at the next level. His predecessor in Norman, Kyler Murray, is dealing with the same questions about his physical stature heading into this year's draft. There were also legitimate concerns about his off-field and on-field antics while at Oklahoma. He was arrested and charged with public intoxication, disorderly conduct and resisting arrest in 2017. On the field, he played with a competitive fire that some viewed as crossing the line at times, such as the game against Kansas his senior year in which he took the absence of handshakes personally and proceeded to torch their defense, letting them know what he thought of the snub through gestures to their sideline.
Pro Football Focus, on the other hand, did have Mayfield as the top quarterback and the top overall prospect throughout the draft process. In college, he was simply dominant. Mayfield led all quarterbacks in overall grade in 2016 (93.8) and 2017 (94.6) while trailing only Jared Goff in 2015 (91.7). Clearly, the Browns had him as their guy as well, and they'll be glad they did after taking him first overall. In his rookie season, Mayfield took over for the opening starter, Tyrod Taylor, and posted an overall grade of 84.5 (8th among the 32 quarterbacks with the most snaps played). That was the second-highest grade ever received by a rookie quarterback with 500-plus snaps since PFF began grading in 2006, trailing only Russell Wilson in 2012. He finished third in the NFL in total big-time throws (39) despite his 486 attempts ranking only 17th in the league. Quite simply, Mayfield is the reason for all the optimism in Cleveland nowadays, and the "risk" in taking him first overall isn't looking all that risky.
Maurice Hurst was a sure-fire first rounder leading up to last year's draft. He finished as the highest non-quarterback on the PFF big board, trailing only Mayfield and Sam Darnold at third overall. That first-round status began to waver, though, as Hurst wasn't able to work out at the combine due to a heart condition. Hurst was cleared for his Pro Day and football activities, but the concern stuck to him. Would this be an issue that returns and prematurely ends his football career? As the results of the 2018 NFL Draft show, the heart condition played a significant role in his draft stock. Hurst ended up going to the Raiders in the fifth round at pick 140.
In his rookie season, the heart condition didn't stop him from being a solid contributor to the Oakland defense. Hurst played 472 total snaps and ended the season with a 72.4 overall grade. That was the third-highest grade on a struggling Raiders defense, trailing only Karl Joseph and Erik Harris at safety. Among interior defensive linemen, Hurst's 72.4 overall grade ranked 46th out of 112 qualifiers at the position. All in all, not a bad opening campaign for the fifth-round pick out of Michigan. If Hurst's college production is anything to go by – grades of 88.6 in 2015, 90.2 in 2016, and 94.4 in 2017 – he is primed to take a big step forward next season. Even now, though, the Raiders' decision to take the risk on Hurst has shown promising early returns.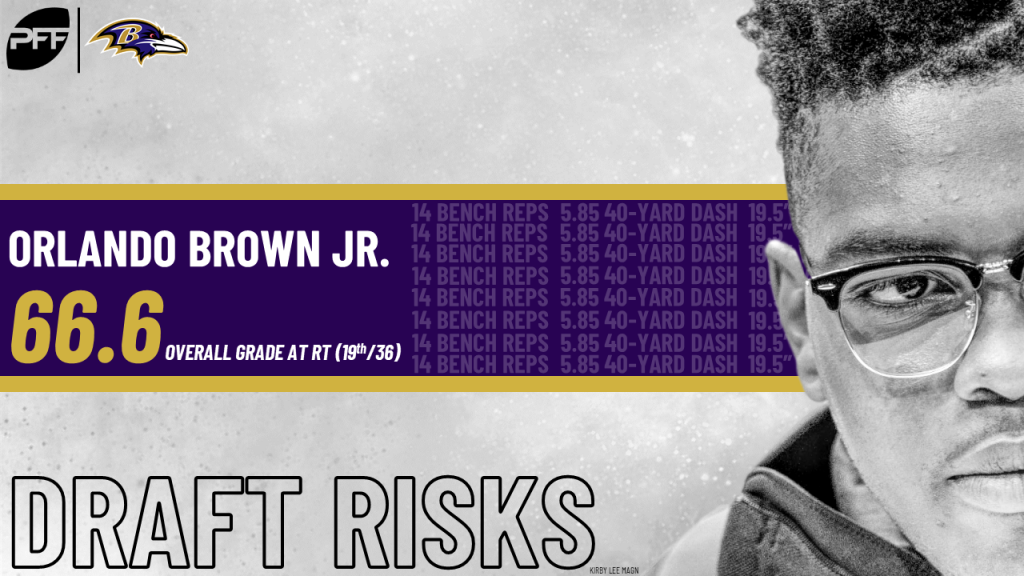 Brown Jr. was coming out of Oklahoma with three seasons of improving play, culminating in a 90.8 overall grade in 2017. Though Brown possessed ideal size and length for the position to go along with that strong tape, his combine results were…less than stellar. His 40-yard dash came in at 5.85 seconds, and he ranked dead last among offensive linemen in broad jump (6'10"), vertical jump (19.5") and bench press (14 reps). Those results took a sledgehammer to his draft stock, as teams were just unsure that he would be good enough of an athlete to perform at a high-level on Sundays. As a result, the Ravens picked up Brown Jr. in the third round of the draft – a far way to fall for a tackle of his physical build and pedigree.
An injury to right tackle, James Hurst, opened the door for a starting role for the rookie tackle, and he didn't give it up once he took it. Brown ended the season with a 66.6 overall grade lined up at right tackle, ranking 19th among 36 qualifiers at the position. He was particularly impressive in pass protection; in 378 pass-blocking snaps including the playoffs, he only allowed 18 pressures. That pressure rate allowed of 4.8 percent finished eighth-best among all right tackles. Coming from a third-round rookie tackle, that performance is promising for his future development. The Ravens were able to look past his abysmal combine results, and it appears that they'll be glad they did.
In his only full college season in 2016, Alexander was excellent, picking up an 87.7 overall grade and 90.0 coverage grade across 846 defensive snaps. He picked off five passes and broke up another 10 while allowing fewer than half of the 60 targets into his coverage to be caught. He looked like a legitimate NFL-caliber playmaker in the secondary. The problem is that injuries limited him to just 314 snaps the next season, and there were concerns over whether Alexander would be a constant injury risk given his history and his small 5'10", 196-pound frame. When he was on the field in 2017, Alexander continued to shut receivers down in coverage. On 21 passes targeting him, Alexander allowed a passer rating of just 19.9 while breaking up four passes and picking off another. That was enough for the Packers to take a chance on him with the 18th overall selection in last year's draft.
Alexander ended his rookie campaign with 761 defensive snaps – primarily at outside cornerback – and an overall grade of 72.4 that ranked 31st of 123 qualifying cornerbacks and third among rookie cornerbacks behind only Levi Wallace and Denzel Ward. In total, he allowed a passer rating of 94.0 on 79 targets into his coverage. To finish near the top-25 percent of cornerbacks as a rookie is no small feat, but it was his Week 8 performance against the Los Angeles Rams that showed Alexander's potential as one of the best playmaking cornerbacks in the league. In that game, he was targeted nine times and broke up a massive five of those passes. Those five pass breakups were more than any other cornerback had in a single game last season. In this case, it appears that the reward has been greater than the risk early on for Green Bay.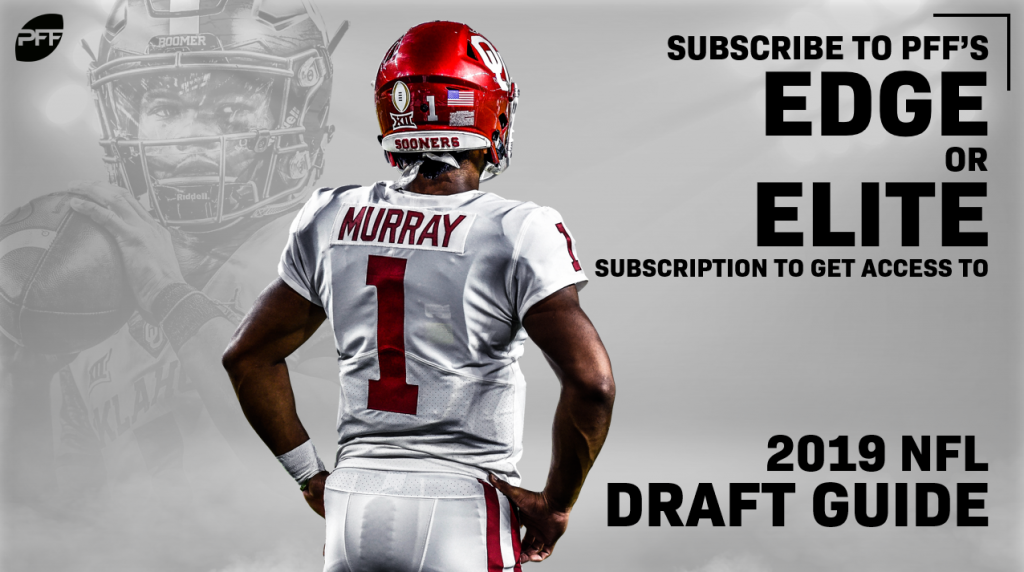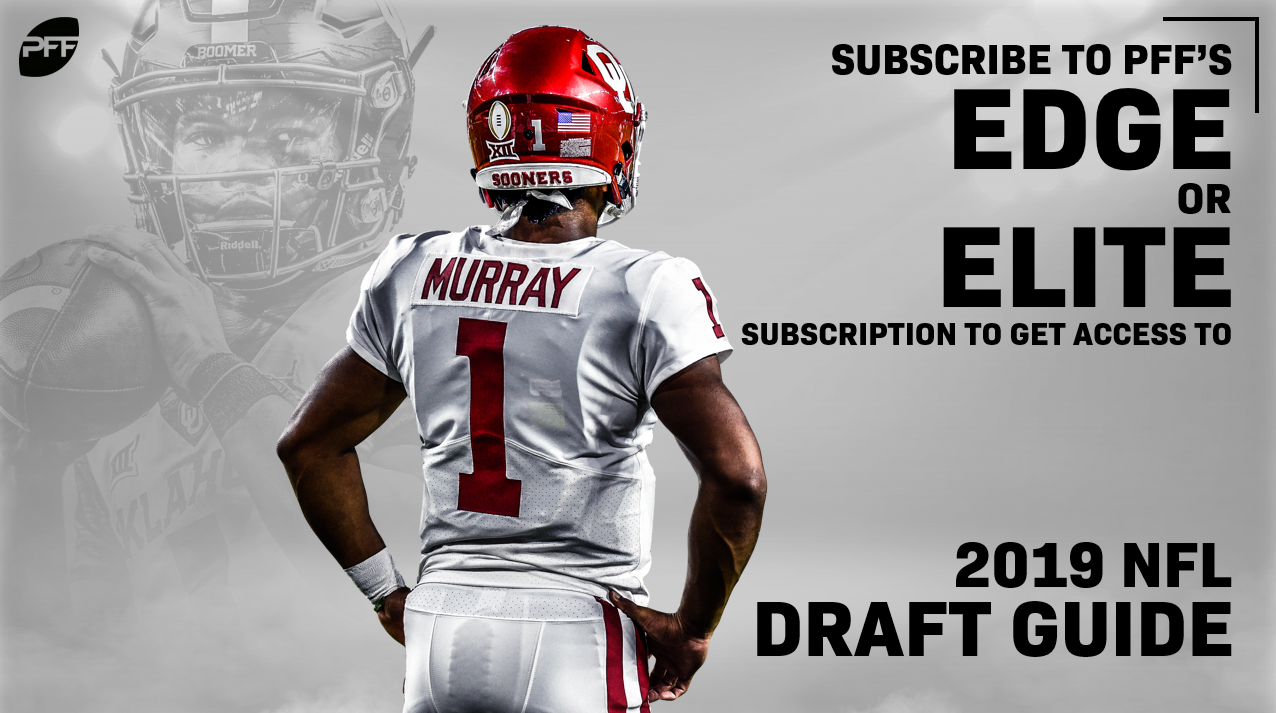 In their ideal world, the Ravens would have a roster composed of entirely tight ends. Jokes aside, for a team that has put significant draft capital into the tight end position in recent years, the Ravens are still lacking a true field-stretching receiving threat at the position. They took two in the first three rounds of last year's draft trying to find just that – Hayden Hurst in the first round and Andrews in the third. There is risk associated with spending two premium draft picks on the same position, especially a position such as tight end that has already seen a surplus of players cycle through in Baltimore. However, Andrews appears to finally offer a long-term receiving option at the position.
He ended the season with an overall grade of 73.6 and a receiving grade of 75.5. Among 70 qualifying tight ends, Andrews' overall grade ranks 13th and his receiving grade ranks 11th. His 199 receiving yards on passes 20-plus yards downfield finished behind only Travis Kelce, as Andrews offered a legitimate field-stretching threat for a run-centric Ravens offense. He was one of only five tight ends with 30 or more targets to finish the season with 2.0 or more receiving yards per route run, as well. He has used in-line and in the slot, but Andrews spent more time in the slot with 213 snaps there compared to just 163 in-line. The Ravens realized his value comes as a receiver, and that is how they've used him thus far. It appears they have finally found a tight end to stick on.