CLEVELAND, OH - AUGUST 10: Tight end Josh Hill #89 of the New Orleans Saints blocks defensive end Myles Garrett #95 of the Cleveland Browns during the first half of a preseason game at FirstEnergy Stadium on August 10, 2017 in Cleveland, Ohio. (Photo by Jason Miller/Getty Images)
NFL teams make their first-round selections every year in the hopes of finding an impact performer to add to their roster. Each week PFF will review the performance of each of the first-round draft picks from this year's NFL draft.

The first glimpse of Myles Garrett did not disappoint, as he looked capable of dominance across just fifteen snaps, resulting in an  80.7 overall grade. Garrett was particularly impressive against the run, which had been the weaker area of his game throughout college, and what he showed in his NFL debut should excite Cleveland fans for his prospects as a pro.
Trubisky made his debut just before halftime and closed out the Bears first preseason game with the second unit.  Trubisky ranked fifth of 52 qualifying quarterbacks with a mark of 90.9 adjusted completion percentage. He had an adjusted completion percentage of 100.0 when throwing from a clean pocket.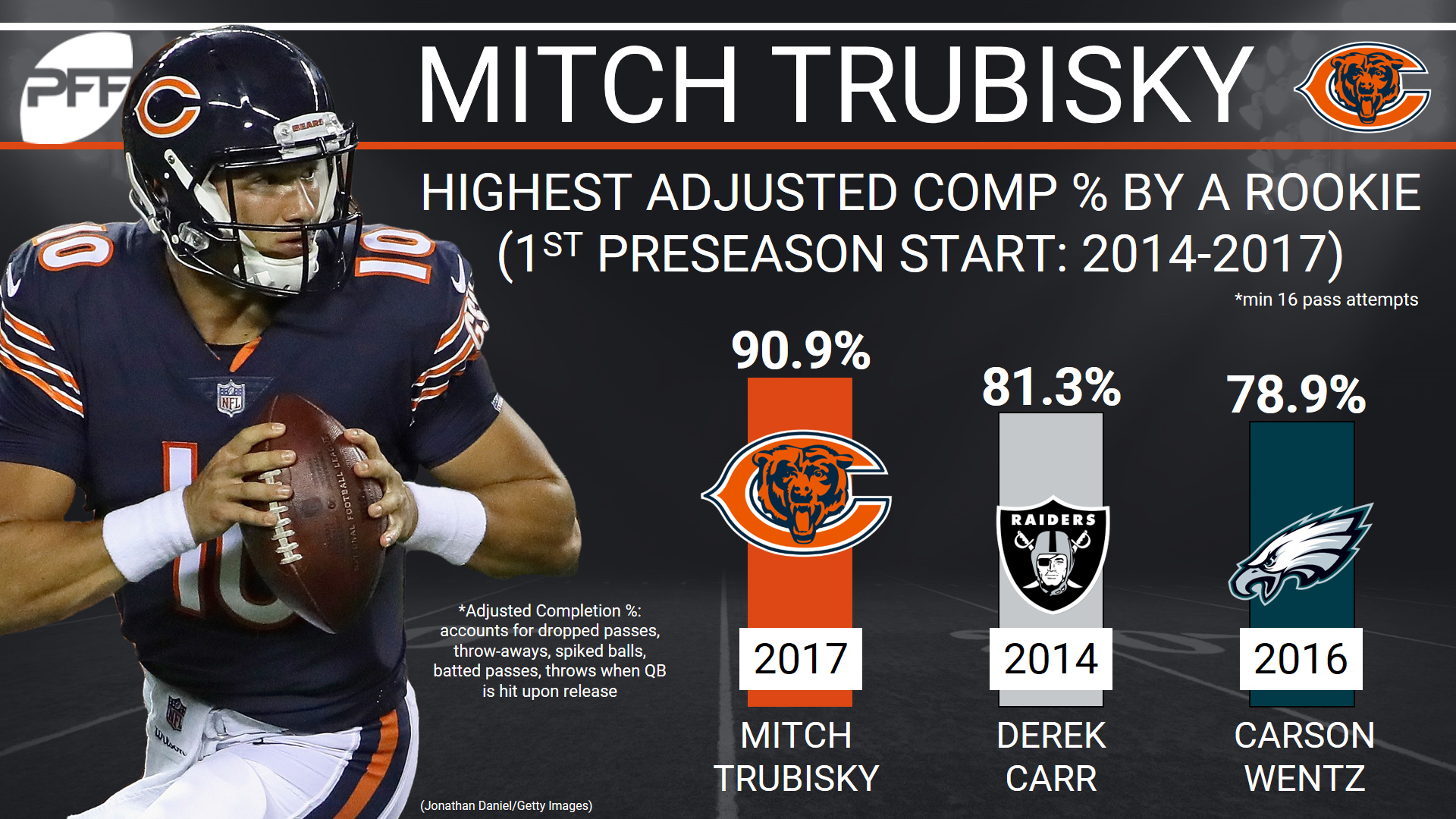 Playing with both the 49ers starters and the second unit, Thomas led both teams in San Francisco's first preseason game with an 87.5 overall grade. He tallied three total pressures on 17 pass-rush attempts, two of those came from the left side while one came on the right. Thomas was awarded PFF's Game Ball for his performance in his debut.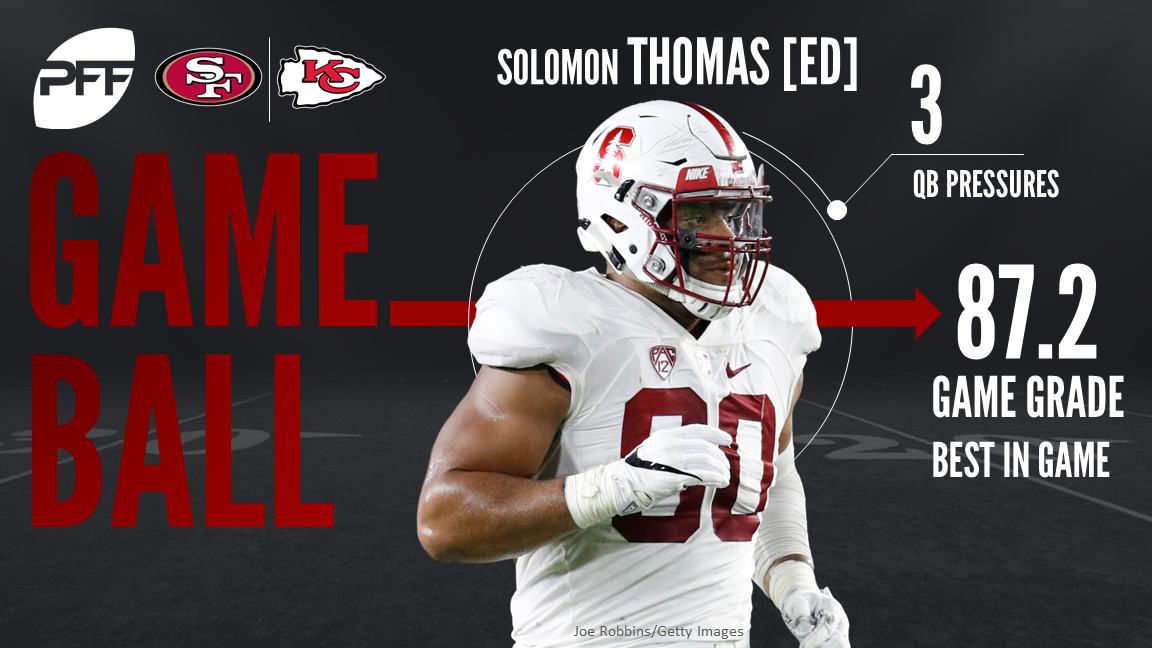 Mixing in with the first team offense, Fournette tied for last among rookie running backs (and all running backs for that matter) with a 0.0 elusive rating (measures a runner's success beyond the point of being helped by his blockers); Fournette averaged just 0.89 yards after contact per attempt (which ranked 28th out of 29 rookies) and did not force a missed tackle on any of his nine carries, but did punch the ball into the end zone for a score.
Did not play: limited due to a hamstring injury, in which he is listed as 'week-to-week' but progressing nicely according to his head coach.
Adams was on the field for just 10 snaps – all in the first quarter – but even in such a small sample his versatility was on display. Adams lined up twice as a linebacker, three times as a slot corner and five times as a safety.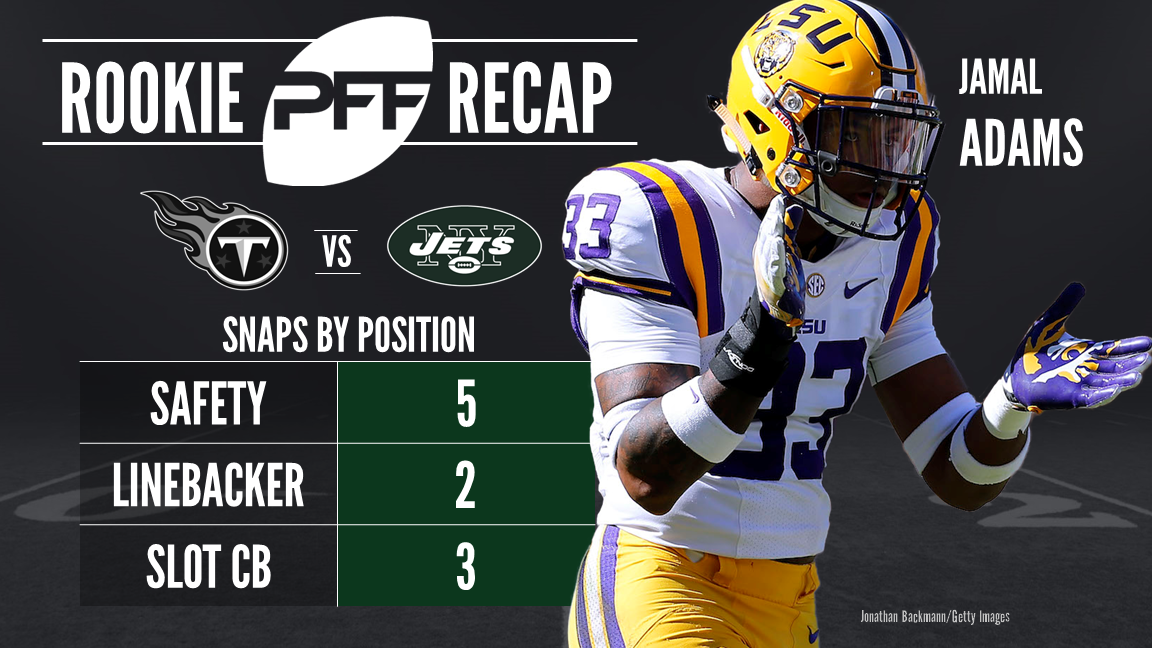 Did not play: recovering from a herniated disc. The Chargers have recently stated they are hoping for an October return for the former Clemson wide receiver.
Panthers – and football fans in general – are curious as to how McCaffrey's unique skillset will be put on display this season. In the team's first preseason game, McCaffrey – who played throughout the first half – was strictly used out of the backfield, taking all 12 of his snaps from the running back position. He logged three snaps as a receiver out of the backfield, but was not targeted. At least for now the creativity envisaged for McCaffrey is under wraps.
Did not play: recovering from offseason labrum surgery and participated in his first full practice with the team this past week.
Mahomes took control of the Chiefs offense on their final drive in the second quarter and closed out the game with the second unit, Mahomes was a perfect 6-of-6 on throws outside of the numbers for a total of 65 yards and a touchdown, but his college propensity for playing almost entirely outside the structure of the offense was on show, and he averaged almost three seconds per pass attempt (2.83).
Did not play: a minor knee injury put Lattimore's debut on hold as he was able to practice earlier this week for the first time in two weeks.
Watson on throws that traveled fewer than ten yards in the air: 11-of-14 for 88 yards and a 92.8 passer rating. On throws that traveled 10 or more yards in the air: 4-of-12 for 91 yards and a 61.5 passer rating. The Rookie led Houston's second unit from the second quarter through the start of the fourth, and had a game of ups and downs.
After registering two stops against the Cowboys in the Hall of Fame game, Reddick recorded no stops on 14 snaps against Oakland while playing with the first team, and was almost entirely anonymous, with his only grade coming on a mild overpursuit against the run.
Primarily playing with the second unit, Barnett ranked fifth out of 40 rookie edge defenders this week with a 21.9 pass-rush productivity rating (PRP measures pressure created on a per snap basis with weighting towards sacks) after he compiled four total pressures (including two sacks and a hit) on just 16 pass-rush snaps.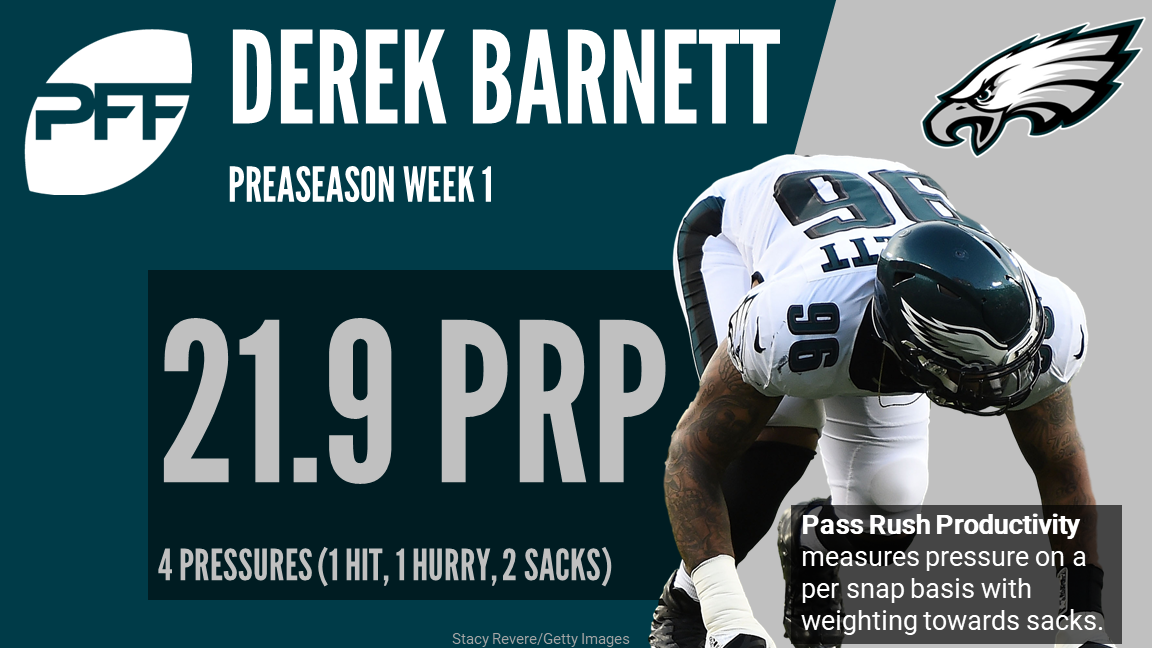 Colts fans got a taste of their new center fielder in Indy's first preseason action as Hooker spent 15 of his 18 defensive snaps as a deep safety. Hooker was on the field for chunks of the first and second quarters with a mix of starters and backups on the field, but wasn't involved in much of the play.
Did not play: Humphrey hadn't practiced since August 2 due to  undisclosed reasons but is back with the Ravens as of this week.
Playing with both the starters and the second unit, Allen ranked second this week (tied with Bronson Kaufusi) among 116 qualified defensive interior players with a 19.2 PRP; Allen recorded three total pressures (the full variety pack; a sack, hit and hurry) on just 13 pass-rush snaps.
Playing primarily against backups with the second unit, Jackson was targeted just once in coverage and he surrendered a 14 yard catch on the play. He also recorded three tackles (one of which was a run stop) without missing a tackle and had two punt returns with a long of seven yards.
Running with the first team offense, Howard had a fairly quiet preseason debut, receiving zero targets in the passing game. Howard lined up as a tight end on 17 of his 21 snaps, in the slot on three snaps and out wide for one. He showed his blocking ability in line, often tasked with handling defensive linemen on the edge of the formation.
Not the best debut in pass protection for Denver's first-round pick: Bolles surrendered a pressure on an outside move by Mitch Unrein and then was beaten in pass protection two plays later by an inside move from Willie Young, but the ball was gone before pressure got there. Bolles was in on just six pass protection snaps as he just played in Denver's first two drives before giving way to the backups.

Davis finished an uneventful preseason debut with a 52.9 overall grade after not doing much with his 14 defensive snaps, all coming in the first quarter. The Lions had Davis in against eight passing plays and they dropped him into coverage on all eight of them.
Mixing in with both the starters and the second unit, Harris ranked ninth among rookie edge defenders this week with a 15.0 PRP, he accumulated four total pressures (including one hit) on 20 pass-rushing snaps, all coming against Daniel Brunskill, a rookie who played just one year of college tackle after being converted from tight end.
If the Giants have extensive plans on running Engram out of the slot this season, they did everything to not tip their hand in their first preseason game: Engram spent 19 of his 23 offensive snaps lined up as either a tight end or fullback as he played all throughout the first half. At least in this game he wasn't overcome as a run blocker in those situations.
Did not play: Conley has missed practice and his preseason debut with a heavily disputed injury to his shins. Whether their shin splints or not, Conley's debut is still unknown.
Mixing him in with the first team defense, the Browns used Peppers almost exclusively as a deep safety in their preseason opener, lining him up back there on 14 of his 16 defensive snaps, and running contrary to most people's pre-draft expectations. Peppers also returned one kickoff (for 27 yards) along with a punt (13 yards, he also had another which he called for a fair catch on), Peppers was the second highest graded returner in the FBS last season, trailing just Adoree Jackson.
Did not play: recovering from offseason shoulder surgery, Falcons head coach Dan Quinn has stated he wants McKinley to be a full participant in practice before making his debut, but is hopeful he can play against the Steelers on Sunday.
Playing in just the first two series, White was on the field for nine defensive snaps. He spent eight of them lined up as the left corner with the ninth coming from the slot. White surrendered one catch on two targets for five yards and recorded one stop in the game.
Charlton followed up a nice debut in the Hall of Fame game (75.4 overall) with an even better performance in his second dose of preseason action, finishing the night with an 82.9 overall grade. Charlton started the game and continued to mix in with the second unit as he looked especially effective as a pass-rusher, beating Pace Murphy with an inside move to record a sack and prior to that he got on Andrew Whitworth's inside shoulder and just missed a pressure in the red zone.
Did not play: Njoku has been suffering from a back injury that held him out of the Browns first preseason contest, but the rookie from Miami (Fla,) has been back at practice as of this week.
Watt led all players in the Steelers game against the Giants with an 87.1 overall game grade his 62 snaps played last week were the fourth most among all rookies. Watt tied for the rookie lead among edge defenders with six total pressures this week, and though he found himself with some beneficial situations to record his sacks, he finished well.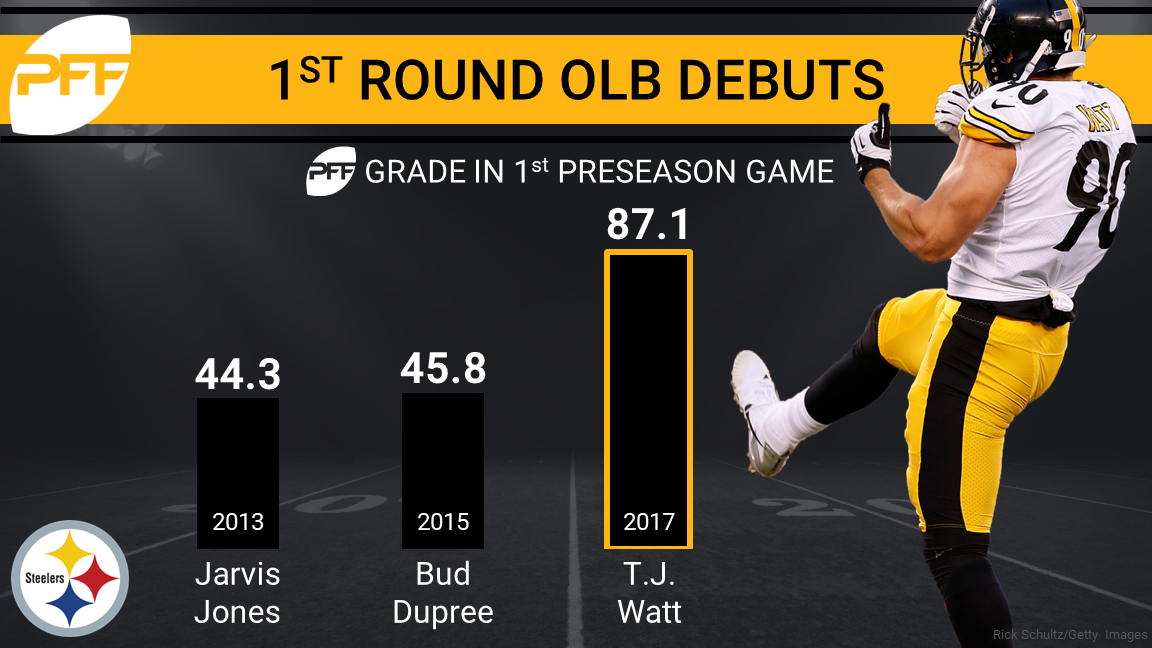 Foster put up an 81.4 overall grade this week against the Chiefs. While playing the entire first half, showed off his ability in coverage with a nice pass breakup on an Alex Smith throw over the middle in the red zone. Foster could prove to be a jackpot draft selection for the 49ers that needed a significant injection of defensive talent.
Did not play: Ramczyk had been all but penciled in to be the Week 1 starter before an undisclosed injury held him out of the Saints preseason opener. He should be slated to play in their next game, against the Chargers.