One of the NFL's best interior pass-rushing talents got paid like one on Monday.
Per ESPN's Adam Schefter, the Atlanta Falcons beat the Monday deadline for franchised players to sign long-term extensions and reached an agreement on a four-year, $68 million with star interior defensive linemen Grady Jarrett. At $17 million in average annual salary (AAS), Jarrett now ranks third at his position behind Aaron Donald ($22.5M) and Fletcher Cox ($17.1M) in AAS heading into the 2019 season, per Over the Cap.
PFF data scientist Kevin Cole, who is currently working on projecting WAR using PFF data and historically similar players, released his value calculations for Jarrett shortly after the deal was announced. His projected value based on WAR is the $14 million AAS range, per Cole.
Though Atlanta may have overpaid slightly from a value standpoint, Jarrett is an ascending player that should live up the value of his deal in Years 2 and 3 when others at his position reset the market in the coming years.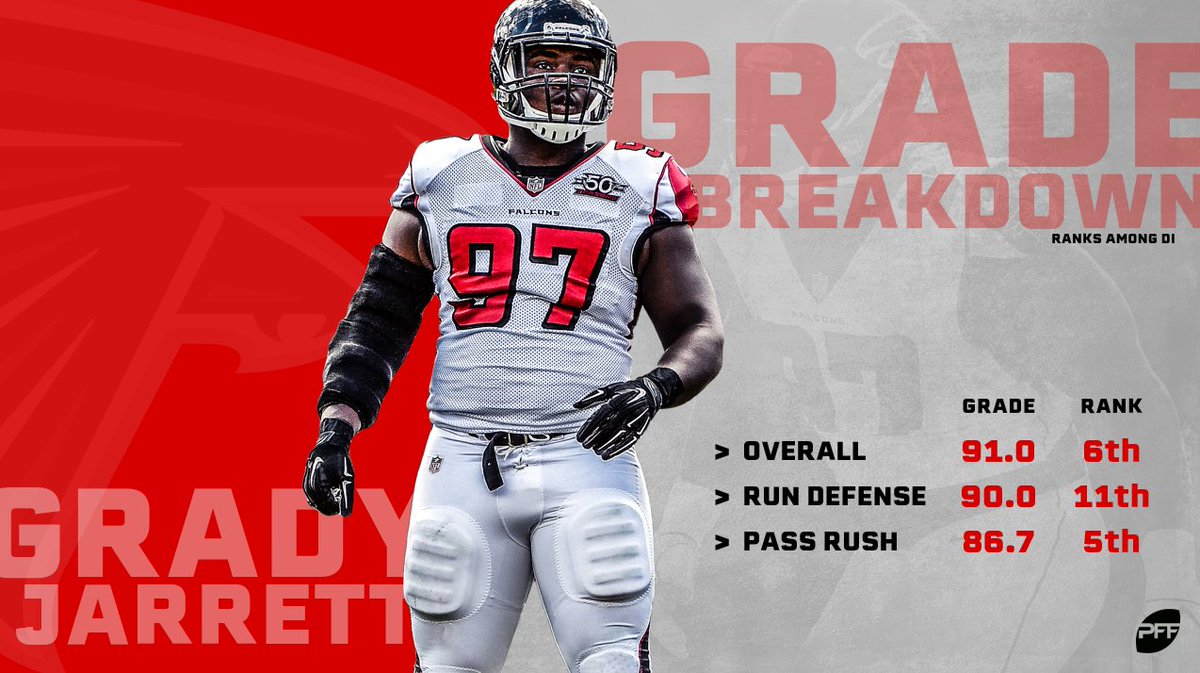 Jarrett finished what was his career-best season ranked tied for fifth in overall grade (91.0), 10th in run-defense grade (90.0) and fifth in pass-rush grade (86.7) among the 86 at his position with at least 400 defensive snaps played in 2018. He was also one of four interior defensive linemen to earn an overall grade above 90.0 and pass-rush and run-defense grades above 85.0 in 2018. Only Jarrett, Donald, Cox and Kenny Clark laid claim to the feat a year ago.
What really drove up his average annual salary was Jarrett's profound pass-rush ability. In addition to his fifth-ranked 86.7 pass-rush grade, Jarrett finished the regular season ranked fourth in pass-rush win percentage (16.6) and sixth in pressure percentage (12.3), recording 71 pass-rush wins and 53 total pressures in the process. His pass-rush ability on third down was particularly impressive, as he recorded the third-ranked win percentage (21.8) and second-ranked pass-rush grade (90.1) on third downs throughout the regular season.
At just 6-foot, 305 pounds, Jarrett was knocked as an undersized interior defensive lineman coming out of Clemson and fell to the fifth round as a result. But it's his small stature and above-average athleticism that allow for him to beat opposing offensive linemen quickly off the snap and win pass-rush reps quickly, as we saw all throughout his 2018 campaign. Some of the league's best at the position (i.e., Geno Atkins, Donald, Clark) all weigh in closer to 300 pounds than 340 in today's NFL. Bigger, heavier defensive tackles rarely blossom into elite pass-rushers, which now takes precedence over run defense with how offensive success is so dependent on passing success.
And his size has done nothing to keep him from dominating against the run, either.
Jarrett ranked inside the top-10 in run-stop percentage (9.7%), percentage of run-defense snaps where he was the first to make contact with the ball carrier (14.4%) and run-defense grade (90.0). He avoids blocks with the best of them largely because of his burst of the snap and violent hand technique.
We at PFF aren't surprised by Jarrett's recent successes. Considered a first-round talent by our analysts at the time, Jarrett wasn't doubted for his size or lack thereof but rather praised for his efforts both as a pass-rusher and run defender at Clemson. He finished his 2014 season with the Tigers ranked first in overall grade (92.3) and run-defense grade (93.5) among qualifying Power 5 interior defensive linemen. He also earned a 79.9 pass-rush grade that season, which ranked fifth among the same group of qualifiers.
Now 26 years old, Jarrett should anchor a Falcons defense lacking in pass-rushing talent for the next four years, if not longer. And though his $17M average annual salary may be a bit high for the 2019 season, he'll appear underpaid at his position soon enough if the market rate continues to trend as it has in the NFL.