Heading into the 2019 NFL season, there's a whole lot to like about this Atlanta Falcons offense. They're set to enter the season with one of the league's best quarterbacks in Matt Ryan, and they're on the cusp of signing Julio Jones to a long-term extension that will effectively make him, one of the best wide receivers of recent memory, an Atlanta Falcon for life.
Add in Calvin Ridley, who showed flashes of immense promise last year on his way to a 68.8 overall grade; Mohamed Sanu, who has graded above 70.0 in each of the past three seasons; a re-tooled right side of the offensive line and a returning Davonte Freeman, and this offense has the makings of a high-powered unit that's capable of contending with anyone in the NFL.
But in the shadow of the very many spotlights is fourth-year tight end Austin Hooper, who may not garner the same kind of attention that surrounds the aforementioned names, but is still very much a key cog in what is primed to be an electric offense.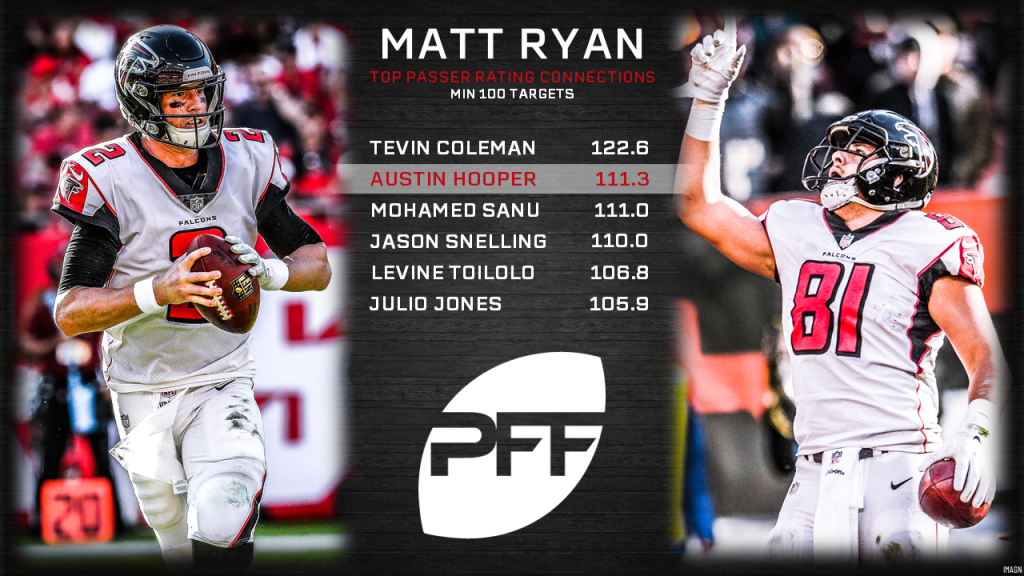 Earlier this week, former NFL tight end and current Falcons tight ends coach Mike Mularkey had high praise for the fourth-year Stanford product.
"He is a threat in this offense," Mularkey reportedly told The Atlanta Journal-Constitution.
The praise didn't stop there. Per the AJC, head coach Dan Quinn also had plenty of good things to say about his tight end.
"Hooper, the improvement just keeps getting better. Now, he's ready to go to another level, and I'm looking forward to seeing him make that growth. The addition of having Mike [Munchak] here, he's done everything that Mike has asked in terms of getting him ready. That connection has been good."
Hooper is fresh off a 2018 season that saw him earn career-high marks in receiving grade (67.5) and drop grade (87.3). He caught 71-of-86 targets for 660 yards, four touchdowns and 26 additional first downs, recording 11 contested catches and 13 explosive plays (gains of 15 or more yards) in the process — tied for fifth and tied for 13th, respectively, among the league's tight ends.
Now three years deep in his NFL career, Hooper has proved to be incredibly efficient across his 189 targets, and the chemistry that he's so obviously built with Matt Ryan is a huge reason why. Over the course of his career, Matt Ryan has thrown at least 100 regular-season passes to 14 different players; among those players, Austin Hooper ranks second to only Tevin Coleman in passer rating when targeted (111.3), beating notable names like Julio Jones (105.9), Tony Gonzalez (99.8) and Roddy White (92.9).
Hooper and the Falcons can owe that figure to his incredibly promising downfield display over the last three years. When targeted 10 or more yards downfield during his career, including the postseason, Hooper has hauled in 32-of-49 passes for 673 yards, six (of his 11 total) touchdowns and 22 additional first downs. Among the 40 tight ends who have seen at least 30 targets of 10 or more yards downfield over the last three seasons, Hooper's 122.7 passer rating when targeted ranks eighth — just behind Rob Gronkowski (123.5) — and his 65.4% catch rate ranks fourth.
Hooper has also proved to be a productive red-zone threat, catching 22 of his 30 red-zone targets for 129 yards, nine touchdowns and five additional first downs over the first three years of his career. Over the last three seasons, including the playoffs, 14 tight ends have seen at least 30 red-zone targets. Among that group, Hooper's first-down/touchdown percentage (46.7%) ranks third, his contested-catch percentage (55.6%) ranks fifth and his passer rating when targeted (120.7) ranks second.
According to PFF's fantasy projections, which are made available to all EDGE and ELITE subscribers as part of PFF's fantasy suite, Hooper is projected to catch 61-of-78.1 targets for 644.7 yards — the ninth-most among the league's tight ends — making him a prominent fixture of what should be a top-tier offense.
As the Falcons' brass has alluded to, there is certainly room for growth for the fourth-year tight end: he's yet to record a receiving grade north of 70.0 and he's yet to finish among the top-15 tight ends in yards per route run. But all the makings are there and the early signs have been positive, so if he can indeed take that next step in 2019, he could very add the final, polishing touch that's needed to take the Atlanta Falcons back to the postseason.