Matt Ryan leads the National Football League in passing yards, is second in passing touchdowns, and is quarterback of the league's most potent offense. The Falcons hold a commanding league in yards per game, points per game, and yards per play.
So, what's behind this surge in Ryan's performance? Well, I'm not even sure Ryan is playing better than he was a year ago at all.
Right now, the Falcons' quarterback owns an overall grade of 84.9, which is only good enough for ninth in the league. This time a season ago, that mark was 84.3—pretty much the same.
The Atlanta offense has certainly been more dominant, and the play of some of the Falcons supporting cast has meant Ryan's numbers look a lot healthier, but I'm not sure he's actually playing any better individually.
The key thing about Pro Football Focus' grades, especially when it comes to QBs, is that we are grading every snap a player takes, not simply the result of that play. In the box score, a touchdown pass is a touchdown pass, but we're looking at whether it was a screen that the WR took the distance, whether it was a perfect deep bomb, was the ball location good, or did it lead the receiver into trouble that it didn't need to? Did the QB need to escape pressure initially to even make it happen? As with anything in the game, there are so many nuanced details that can tweak and change a grade, and we try to apply as much context to the play as possible.
Ryan has always been a frustrating player to evaluate.
Matt Ryan makes just enough really bad plays to make it really hard to defend how good he typically is.

— Sam Monson (@PFF_Sam) October 23, 2016
In a world that deals in black or white absolutes, Ryan has always been the definition of shades of gray. He has never really threatened to elevate himself into the true elite echelon of QBs, but neither has he ever really flirted with true mediocrity. Ryan has always been a "good," top-10 quarterback prone to some very bad mistakes. He is just as capable of winning a game for his team with an outstanding drive or two late in the contest as he is losing it with a key and costly mistake.
Week 7's game against San Diego was typical Ryan. It wasn't any one thing—there were some fantastic throws in there, and some disastrous ones, including one that effectively threw the game away late. It was also an unusually good example of Ryan being slightly off, and Julio Jones, primarily, bailing him out, making the QB look a little better than he really deserved from the passes he threw.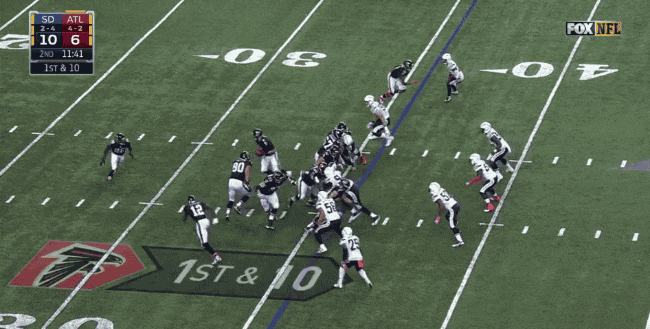 With Ryan, you even get good and bad inside of the same play. This play early in the game was a pretty good example of that: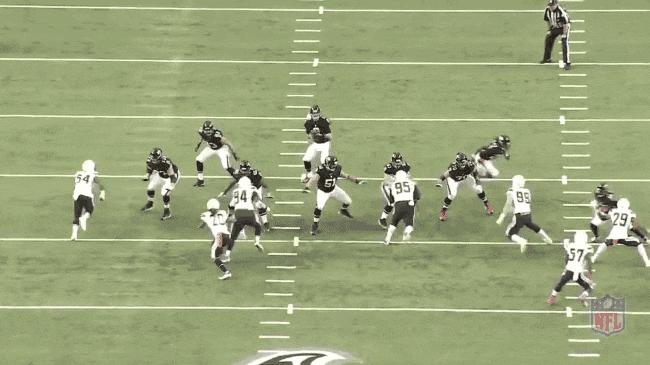 On 3rd-and-9, Ryan sensed the pocket collapsing in on him from his right side, and he slid away from it before resetting and finding Julio Jones, who had adjusted his route inside. There was all kinds of contact on the play, and CB Casey Hayward gets flagged for defensive pass interference, but the throw location was just a little bit off. Having done much of the hard work—subtly moving in the pocket, finding the right throw to make—Ryan left the ball too far inside and required some ridiculous work from Jones to take the ball away from the defensive back to rescue the throw.
As it turns out, it would have been rescued anyway by the penalty, but if the throw had been a couple more feet out in front of his receiver, Jones would have had a far easier catch—and Ryan's share of the credit for those yards would have been far more equitably earned.
It's easy for this to come across as a major slight on Ryan, but that isn't the idea. This is extremely high-level stuff, and most quarterbacks can't do it consistently. But it's also what separates the Tom Bradys from the Matt Ryans. And Julio Jones making a run of those plays for him is what creates a skew in the statistics that suggests Ryan is playing a lot better this season than last year, when really we are looking at the same player making the same throws and just getting slightly different results.
We see a similar thing with the touchdown to Jacob Tamme mid-way through the second quarter.
Ryan has Tamme open on a post route against a two-high look from the defense. This is a green light for this ball to fly because the middle of the field is open, one of the QB's first keys when he reads a defense. Ryan knows exactly what he's looking at, keeps his eyes left as he drops back so as not to lead the safeties to his receiver, and then fires a touchdown pass as Tamme breaks inside towards the post.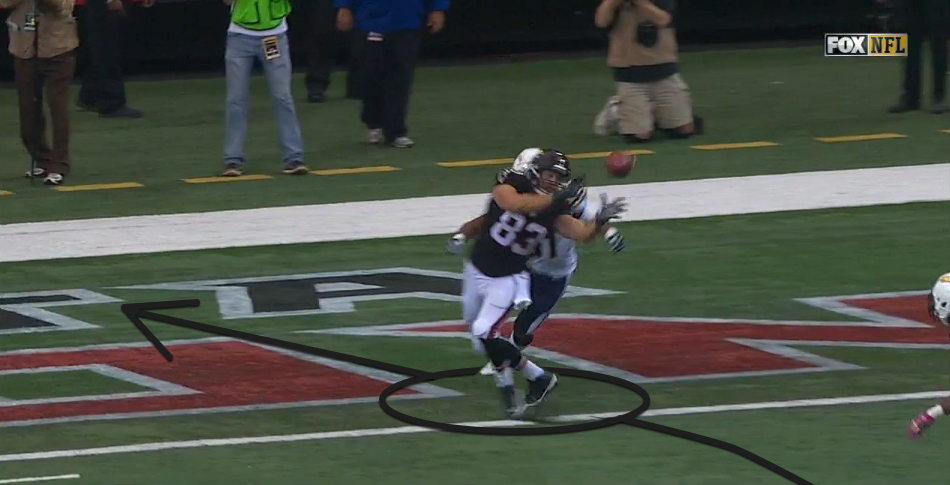 But if you look at the ball location, it was again behind him with no reason to be, and it forced a very tough adjustment from the tight end to even make the catch. This goes down as a 17-yard touchdown pass for Ryan, but given the adjustment he forced from Tamme, it could easily have been dropped or broken up by safety Adam Phillips, who shouldn't have had any involvement in the play had the pass been accurately thrown. On 3rd-and-13, that isn't just an adjustment in Ryan's passer rating if the ball isn't brought in, but it's the difference between three and seven points for the Falcons' offense (assuming they make the field goal attempt).
Again, we are dealing with fine margins, but when a series of these all break in one direction, the resulting numbers can begin to look a little out of line with the quality of play.
Much of the criticism of Ryan last year came from turnovers, but some of those were botched snaps that get charged to the QB by default. He has definitely cut down on the number of interceptions this season, but as we have seen, the ball has been in harm's way, and just hasn't been picked off as regularly.
Overall, Ryan has cut down on the very poor plays. His "turnover-worthy play" percentage—the lowest-graded plays we give—this season is 0.9 percent of his snaps compared with 2.1 percent a year ago. At the other end of the scale, he has made more big-time throws—the higher-graded plays—up a full percentage point from 1.8 to 2.8 percent.
Some of that is offset by more of the slightly off-target passes we have looked at previously, but the change in his grade distribution has likely been a net gain for the offense and his stat line, even if it hasn't resulted in a major upward swing in PFF grade, especially because Jones and the rest of the Falcons' receivers are doing a better job this year of rescuing some of those slightly off-target passes.
Ryan has made some spectacular throws, but it would be a mistake to look at the box score numbers and assume that he has played dramatically better than a season ago. He wasn't as bad as much of his press in 2015 indicated, and he isn't nearly as good as much of it in 2016. As seems forever the case with Matt Ryan, the truth lies somewhere in the middle. He is once again a top-10 QB, nothing more, nothing less.