The 2019 Washington Redskins running back group has taken shape over the past two weeks with the re-signing of Adrian Peterson along with head coach Jay Gruden's proclamation that Derrius Guice is expected to be full-go by training camp after several reported setbacks in his recovery from a torn ACL.
Washington spent a second-round pick on Guice in 2018 to be an early down back with the potential to also eat into incumbent Chris Thompson's longstanding third-down role. Instead, they were forced to turn to the veteran free agent Peterson, who rewarded them with 16 starts and an overall grade of 76.8, highest of any 2018 Washington offensive player and his best since 2013.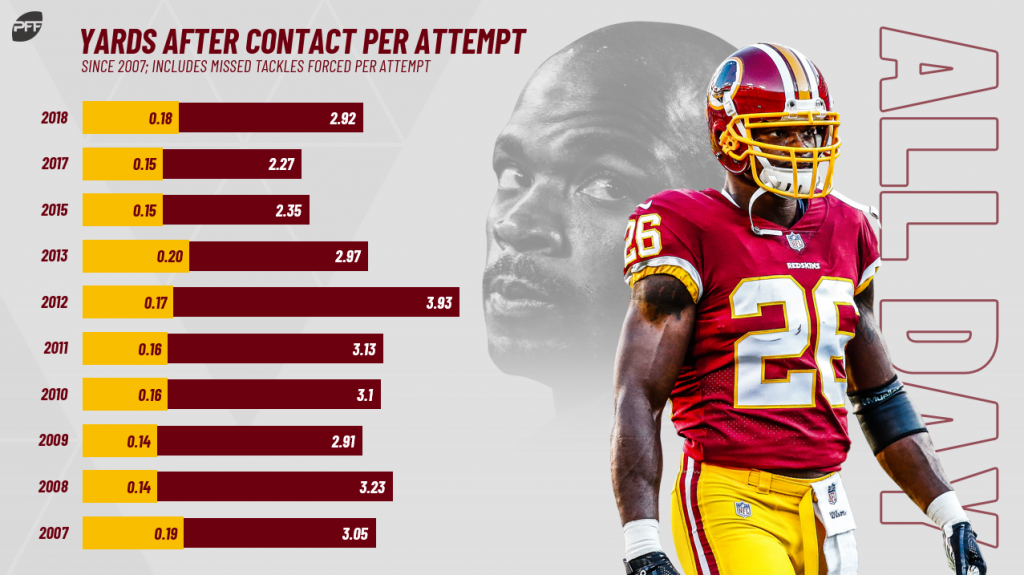 What we saw from the future Hall of Famer in 2018 was a vintage AP performance on the ground, where he tied for the league lead with 45 forced missed tackles. He also produced a solid 2.92 yards after contact per attempt, good for 20th in the league placing him in between younger building blocks Dalvin Cook and Aaron Jones. 
However, what typically accompanies these positives with Peterson is a lack of impact in the passing game where he is often taken off the field in part due to his poor pass blocking.
This is where Chris Thompson has long filled the third-down back role in Washington. After a career year in 2017 where he averaged 13.1 yards per reception and posted an 89.9 receiving grade, he reverted to production that was much more in line with his career averages, while also missing six games due to injury.
It also is not easy to trick a defense when the run/pass tendencies are so clearly defined based on certain personnel groupings. While Peterson and Thompson can still factor in effectively, they should be considered insurance this upcoming season.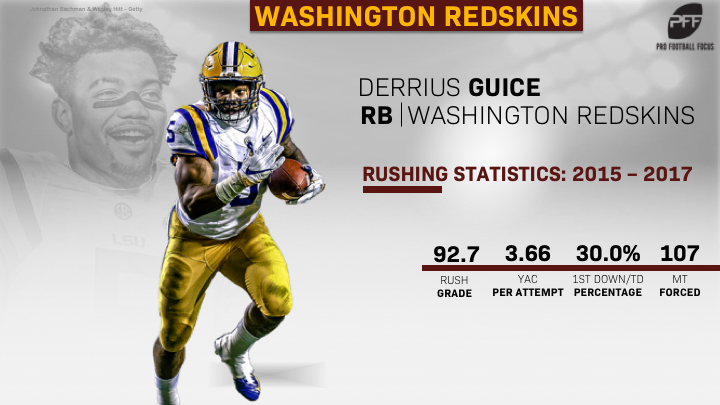 Enter Derrius Guice, who the Redskins hope is the same player as he was pre-injury, and who was expected to handle a full load this past year. The former LSU Tiger averaged north of 4.00 yards after contact per attempt during his Freshman and Sophomore seasons and flashed as a big-play threat throughout his college career, earning 1,499 yards on breakaway (15 or more yards) runs from 2015-2017 – the 13th most amount among all FBS running backs in the three-year span.
Looking ahead, the Redskins are "running back" their running back room in 2019, with hopes that Guice can boost them to the next level by keeping defenses off balance while avoiding the myriad second and third-and-long scenarios they faced in 2018.