It's not something that should really impact the Pittsburgh Steelers' season unless something goes wrong, but the battle to be the backup quarterback in Pittsburgh is one of the closest position battles in the NFL right now, and could have a huge impact on the potential for either Joshua Dobbs' or Mason Rudolph's path to a starting job either in Pittsburgh or elsewhere in the future. So how is the battle shaking out through the opening two weeks of preseason?

Rudolph started the Steelers' second preseason game against the Chiefs, coming off of a two-touchdown performance against the Tampa Bay Buccaneers the week before. He wasn't quite as impressive against the Chiefs but still posted a solid 74.0 PFF grade, going 10-for-15 for 77 yards, with one of those incompletions coming as a result of a drop. His best throw of the game came on 3rd-and-11 with 13:15 left in the second quarter, hitting wide receiver James Washington downfield for a first down.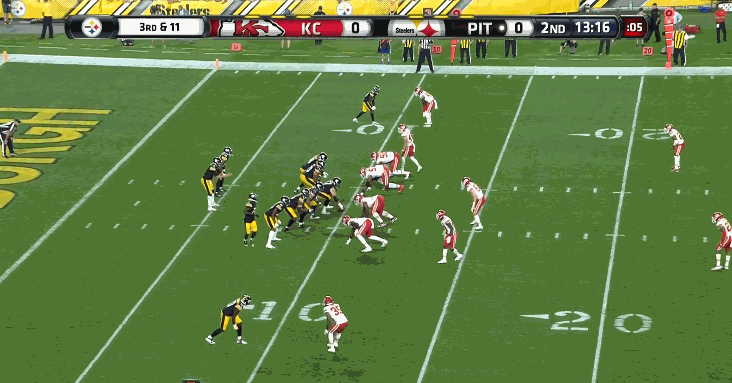 He has attempted just three passes 20-plus yards downfield so far this August, with none of them resulting in a completion. But he has looked good in the 10-20 yard range, going 6-for-10 for 67 yards and a pair of touchdowns. One area he could stand to improve upon. though, is his play against pressure. On an admittedly limited sample size of six dropbacks under pressure this preseason, he has completed just two passes.
Rudolph posted consistently impressive PFF grades in college at Oklahoma State, with PFF passing grades of 91.9 in 2015 and 2016, and 86.9 in 2017. In his final season as a Cowboy in 2017, he ranked second in the nation with 1,712 yards on throws 20-plus yards downfield, and third with 17 touchdowns on those throws.
The best thing about Rudolph so far is that we're seeing a progression from where he was a year ago when he posted a PFF grade of just 49.3. At 85.2 through two games, he is currently the sixth-highest graded player at the position among quarterbacks with at least 20 dropbacks.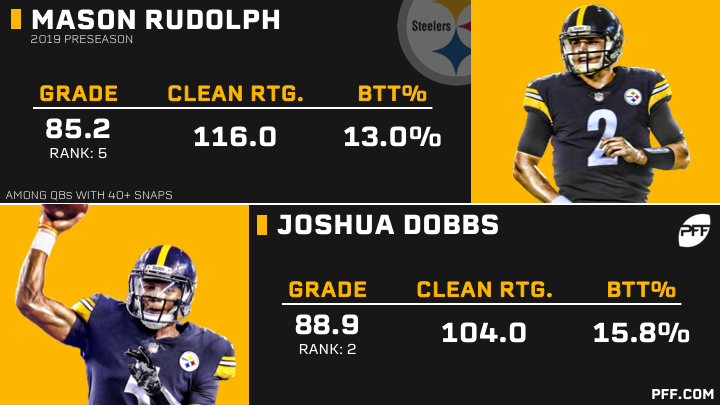 This is Dobbs' third season in Pittsburgh and, like Rudolph, we're seeing his best work in preseason so far. His 88.9 PFF grade ranks fourth at the position among those quarterbacks with at least 20 dropbacks, and he has made plays both with his arm and his legs on three quarterback scrambles.
He's had more success than Rudolph throwing the ball downfield, going 4-for-8 on throws 20-plus yards downfield for 130 yards, with all four completions coming between the numbers. Like Rudolph, though, he has struggled to pass under pressure, going 1-for-4 for 13 yards and an interception, compared with going 10-for-15 for 167 yards when kept free from pressure.
Where Dobbs offers something different though, is that he has shown the ability to use his legs to get away from pressure. He has scrambled three times through two games, with all three resulting in a first down. On 3rd-and-5 with 0:47 left in the third quarter of the game against the Chiefs, Dobbs forced two missed tackles on the scramble before cutting upfield for the first down.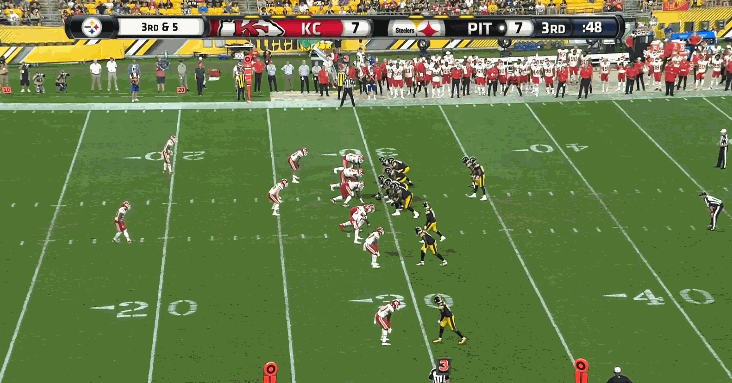 Dobbs has dropped back to pass just 14 times in the regular season, and that is 14 times more than Rudolph in his career so far. We're going to see who can stake their claim to being the top option behind starting quarterback Ben Roethlisberger over the next two games, but as of right now it would be a decision between the higher graded passer in Rudolph or the player who has shown the ability to make some plays with his legs when things have broken down.
[Editor's Note: All of PFF's advanced stats and grades for every NFL player are made available in PFF's ELITE subscription. Subscribe today to gain access!]