When the Washington Redskins drafted Dwayne Haskins with the 15th overall pick of the 2019 NFL Draft, they got themselves a quarterback who graded well and looks, for all intents and purposes, like an NFL-ready quarterback. At Ohio State last season, Haskins led the Buckeyes to a 13-1 record and the 19th-best team passing grade (84.2) in the country. But of course, he couldn't have done it without his receiving weapons, and he had plenty of them.
Before the draft, Haskins asked his future team to draft one of his receivers from Ohio State if they were to pick him. Parris Campbell is the most recognizable name among Haskins' receivers last year, but the Redskins missed out on him because he was drafted by the Colts in the second round. However, the Redskins answered Haskins' wishes when they drafted Terry McLaurin with the 76th overall pick in the third round.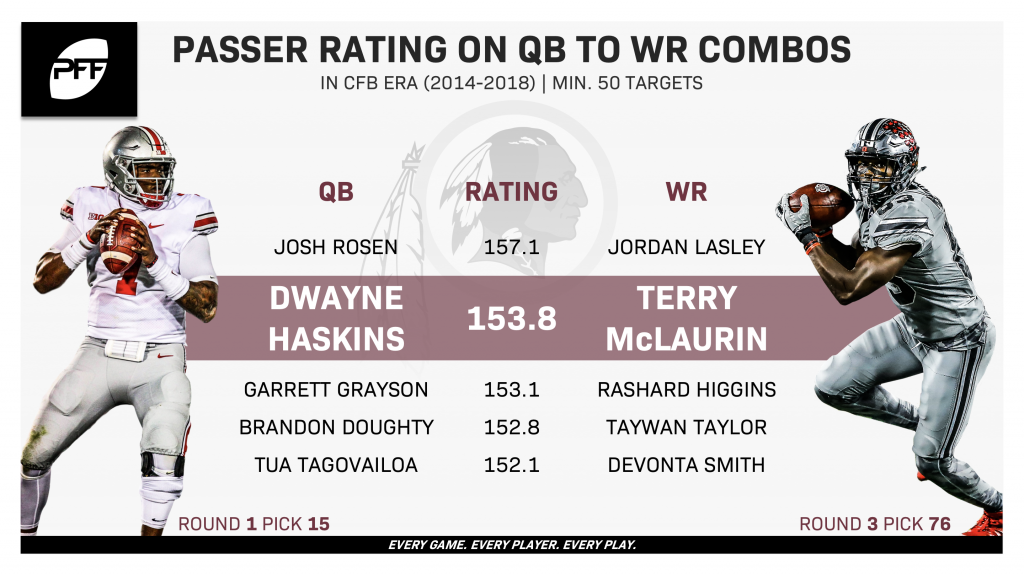 McLaurin may not have been Haskins' most productive receiver, but the pair were extremely efficient when working together. In total, Haskins targeted McLaurin 50 times throughout his career, which resulted in 36 receptions for 696 yards and 10 touchdowns. When targeting McLaurin, Haskins had a passer rating of 153.8, which is better than any other connection that Haskins shared with his teammates.
In addition, not only did the Haskins-to-McLaurin connection have the best passer rating at Ohio State last season, but they also generated the second-best rating of the PFF College era (2014-present), trailing only Josh Rosen and Jordan Lasley (157.1). Part of the reason that the Haskins-to-McLaurin connection was so great is that when they did connect, they picked up huge chunks of yardage, which is evidenced by McLaurin's average of 19.3 yards per reception when targeted by Haskins — 41st out of 957 qualifying pairings between quarterback and receiver since 2014. Among the 40 pairings who rank higher in yards per reception, Haskins and McLaurin actually have the best catch rate (72%).
Part of the reason that Haskins and McLaurin mesh so well on the field is that they are both good at the same thing: go routes. Haskins threw for 721 yards, 13 touchdowns and just one interception on go routes last season, all good for a passer rating of 121.5 that was 26.5 points higher than the NCAA average. McLaurin — who ran a blazing 4.35 40-yard dash at the combine — is also pretty good on go routes, as he averaged a whopping 41.3 yards per reception on such routes last season; he also caught three touchdowns and generated a passer rating of 143.8 — 52 points higher than the NCAA average.
For quarterbacks and receivers, having someone you can trust and have great chemistry with is a huge plus. Think of pairings like Manning to Wayne, Brady to Gronk and Wilson to Baldwin — couples that understand what each other is thinking and can instantly find themselves on the same page.
Haskins and McLaurin are far from that kind of level at this point in their careers, but that kind of pairing is what Haskins wanted when he asked for his future team to draft one of his receivers, and the trust he has in McLaurin should pay dividends for the Washington Redskins in 2019.