For the first time in NFL history, a defending Super Bowl champion will roll out a Week 1 starter at quarterback with zero regular-season pass attempts in his career. Trevor Siemian, the former seventh-round pick and second-year player out of Northwestern, gained Gary Kubiak's trust to take over a Denver offense with talented playmakers all over the field, aided by a defense poised to be tops in the NFL yet again. What does Siemian need to do in order for this offense to move the ball effectively and ultimately give his team a chance to win games? Let's take a look.
Play to his strengths
It doesn't take long to see that Siemian possesses a quick, accurate arm, with the ability to drive the ball down the field and outside the numbers with good zip. He displays some good athleticism and movement skills, and throws accurately on the run, generally making sound decisions when rolling out of the pocket.
The Broncos' passing offense holds precedence on pre-snap decision-making with quick timing and rhythm passes, and a good mix of the bootleg/play-action game to counter a strong running attack. When breaking down Siemian's game, you see a lot of the traits Kubiak likes in a quarterback to run his offense.
Dating back to his Northwestern days, the area where Siemian is most comfortable (and shows the greatest understanding) is getting the ball out with quick timing and rhythm passes in the short-to-intermediate passing game, specifically outside the numbers. His preseason line of 19-for-23 for 132 yards and a TD on throws that traveled less than 10 yards show his pre-snap smarts and accuracy, often giving his receivers catch-and-run opportunities. It's worth noting that 74.4 percent of his dropbacks this preseason have seen the ball leave his hand in 2.5 seconds or less (tied for the sixth-quickest time out of the 83 qualifying QBs).
The Broncos' commitment to the running game will draw a lot of eight-man boxes and single-high safety looks on early downs. Siemian will have an opportunity to get in rhythm with simple, half-field reads, taking advantage of one-on-one routes on the outside and making the throws he has shown to have success on thus far.
The best news for Siemian is that he has two elite short-to-intermediate one-on-one route runners at receiver in Demaryius Thomas and Emmanuel Sanders. Thomas' physicality at the catch point gives Siemian the trust to make these timing throws, where Sanders' separation at the top of the route can give him confidence to see the separation and let it rip.
It will be up to Siemian to own this part of the game and make the easy reads/throws with accuracy when the opportunities are there to keep the flow of this offense going.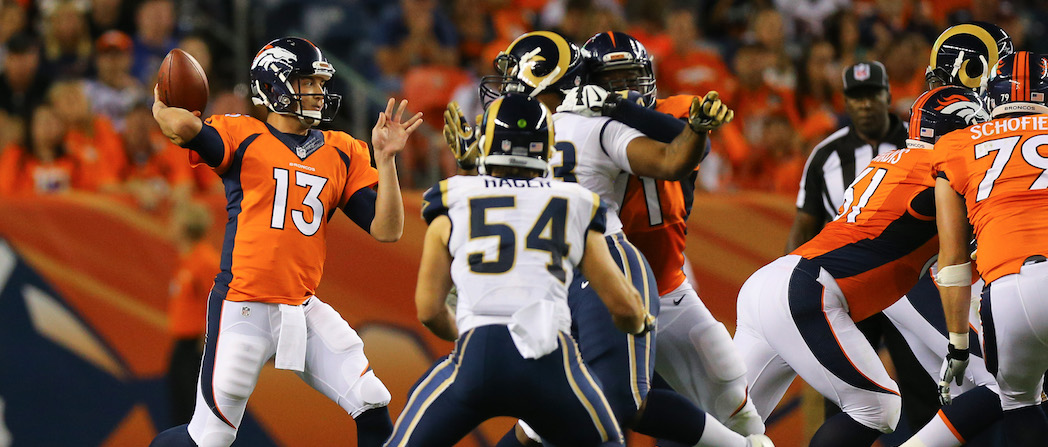 Know his weaknesses
Siemian gets uncomfortable the longer he is forced to hold the ball. While he has shown sporadically the ability to scan the field and read multiple defenders when given great protection, too many times a poor decision and forced throw (usually over the middle of the field) has been the result when he holds the ball late in the play. No stat signifies this more than when you look at his time in the pocket numbers from his senior season at Northwestern (2014). Siemian ranked 85th out of 86 qualifying QBs with a 39.6 QB rating on plays where he released the ball after 2.5 seconds.
While he has good mobility outside of the pocket, the numbers reflect the biggest question mark with his game: the lack of ability to feel the rush in the pocket and reset his feet to make accurate throws. This has shown up the majority of the time on tough passing downs when targeting the middle of the field. With an offensive line that ranks 28th in our preseason offensive line rankings, there will be plenty of times when he will be required to move off the spot in the pocket. Play calls on 3rd-and-7+ distances, when longer developing routes are required, will be something to watch for with Kubiak likely simplifying reads/route combinations to help Siemian and the offensive line in this regard.
Although it is expected that Kubiak will dial up a large amount of short-to-intermediate and play-action bootleg pass calls, taking shots over the top of the defense will be vital. Siemian has shown that he's not afraid to challenge defenses down the field on go routes when the opportunity presents itself. However, this preseason, he was one-for-six for 43 yards and one interception on go routes. Too often he has not allowed his receivers to make plays due to throwing a flat ball with little trajectory where pinpoint accuracy is required. He'll need to get air on these throws to allow his guys outside to go up and make plays, and most importantly, keep defenses from sitting on routes underneath.
Bottom line
It's no secret that Siemian's sole purpose—the reason he was chosen to take the reigns over his competitors—is to take care of the football. Kubiak is widely known as one of the best play callers in the game, and will protect Siemian as much as he can from being in the uncomfortable positions.
If he can play to Siemian's strengths of making quick/sound decisions and accurate throws in the short-to-intermediate passing game, use his legs on the bootleg/play-action game, and find a way to make a couple tough plays per game when things break down, Kubiak will give this offense a chance to move effectively. When in the pocket, Siemian is best-suited to have a quick clock in his head, knowing things are likely not going to get better—sometimes taking a sack and punting the football away will be the best option.
Let's keep in mind that the Broncos won Super Bowl 50 with some less-than-stellar quarterback play for much of the year, but both Manning and Osweiler displayed the ability to make tough throws at key times. With one of the most talented rosters in the NFL and a Super Bowl-caliber defense again, the Broncos will likely be in a lot of close games in 2016. Can Siemian make tough throws on key third downs or find a way to score touchdowns in the red zone? We'll find out soon enough.