Last week, we debuted our 2018 NFL Draft Quotable series and have taken a look at both the NFC and AFC East, the AFC and NFC South and the AFC North, a series derived from watching hours of post-draft press conferences that alluded to bits of insight the coaches and executives unwittingly let slip about their drafted players.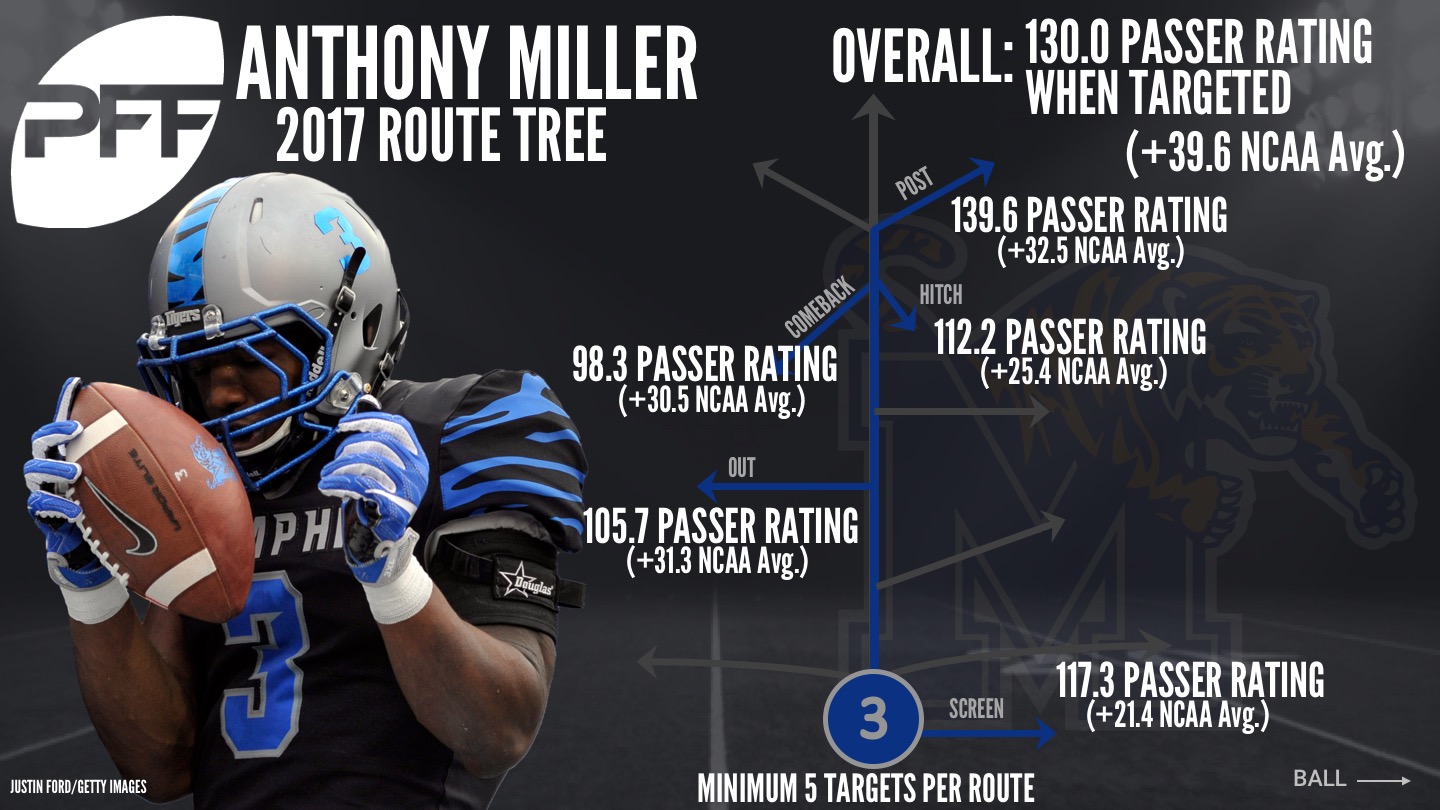 General manager Ryan Pace: "Competitive, tough, route quickness … A lot of these college wide receivers, don't run the full route tree, so [the fact that Miller did] is part of it. Also run after the catch ability. Immediate burst, immediate acceleration, [getting] quickly down the field."
Pace: (When asked if Miller's foot injury is why he fell in the draft.)"Yeah, we feel fortunate getting him where we did. That's why we moved up to get him. I'm not sure that's why he fell, but we're happy that he did."
Pace: (When asked how important it was to find a wide receiver in the first two rounds.) "[We're] not trying to force these things."
PFF's Take:
Miller finished as the sixth ranked receiver on PFF's draft board and certainly displayed all the attributes above. His 19 broken tackles were eighth-most in the FBS. One thing Pace didn't mention though was Miller's hands. He had 12 drops on 108 catchable passes this past season and nine drops on 104 catchable in 2016.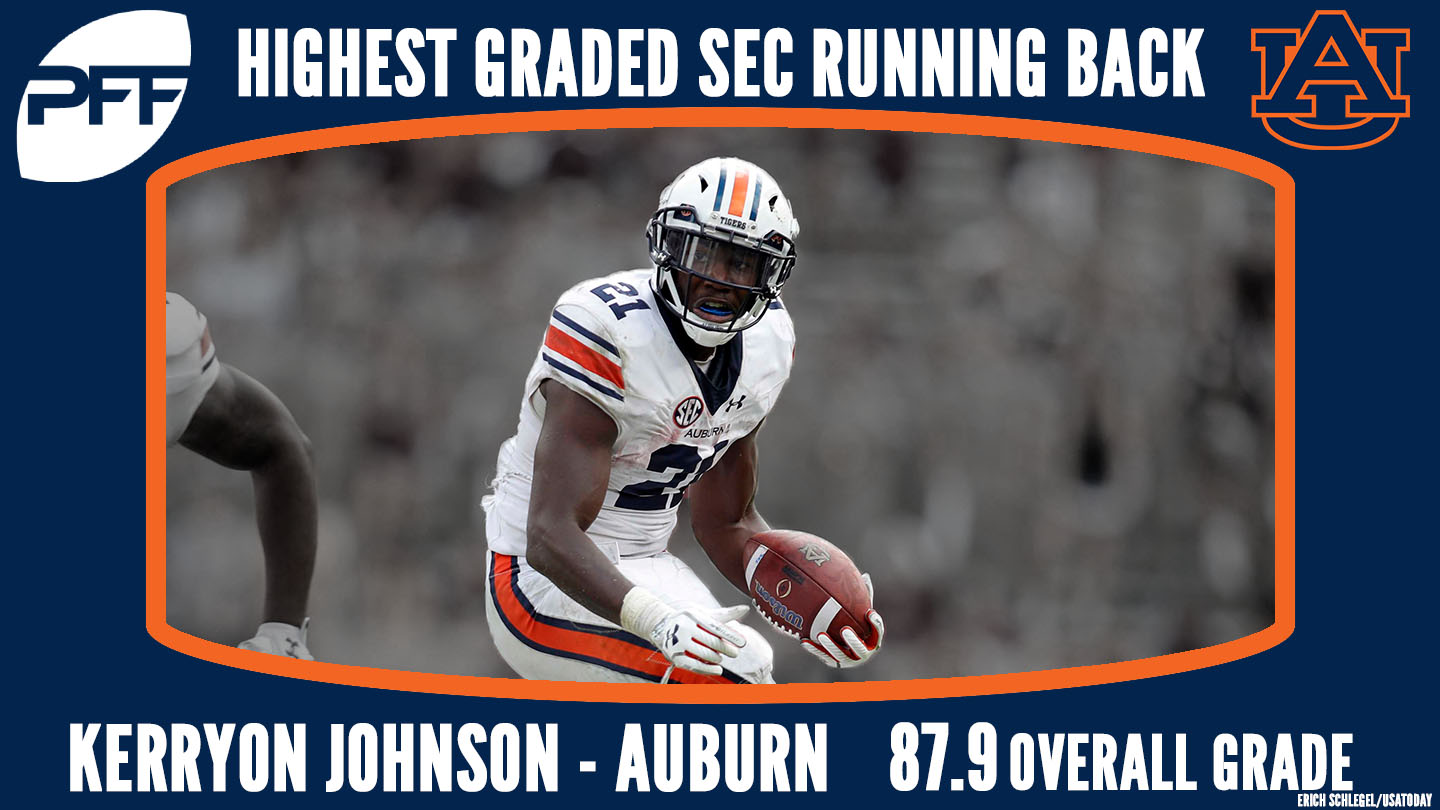 General manager Bob Quinn: "You know in the second round we traded up for Johnson. Felt really good about that pick. He's a guy that we kind of targeted at the start of the day. We were hoping he was going to fall to us, but you know, we couldn't say for sure … We knew there was going to be a run on running backs in the second round, and he was the one we wanted, so that's why we made the trade."
Quinn: "I wouldn't say there was a huge drop off (at the position), but he was the guy we wanted … Ameer's [Abdullah] here, he was here this week, we're going to let all those guys compete. This isn't a one-back league … We're not a one-back team. It's a RBBC (running back by committee) league. We'll probably have three of them active every week, and every one of them is going to have a role in our offense."
Quinn: "He runs a lot between the guards, but I think we'll use him more to run outside … No issues with his durability for us."
Quinn: (When asked if the running game was a focus this offseason) "Definitely a priority."
PFF's Take:
Johnson was PFF's ninth ranked running back heading into the draft. It's curious Quinn didn't mention Johnson's receiving ability as that was one of his biggest positives for us. He dropped one pass in his career on 56 catchable targets and broke 15 tackles after the catch. As far as running between the tackles goes, 54 percent of Johnson's yards came on such runs.

The Packers went heavy on the defensive side of the ball to start their draft and selected their first offensive player, and only skill position player, when they drafted WR J'Mon Moore from Missouri in the fourth round. Not much has been gleaned about Moore's role within the Packers offense but with the departure of Jordy Nelson this offseason, the need for a pass-catcher became more than apparent.
PFF's Take:
Moore had an up-and-down career at Missouri but blew up at the Senior Bowl this spring. Over his career with the Tigers, Moore forced a total of 26 missed tackles on 159 career receptions but also struggled with 24 drops. He'll have to continue to trend in the right direction to be a viable option for Comeback Player of the Year candidate Aaron Rodgers in the Packers offense.

Minnesota didn't select a skill player until the fifth round when they took Central Michigan TE Tyler Conklin, who ultimately became their lone offensive skill position drafted. Conklin has all the tools and the combination of size and strength to possibly add a viable tight end rotation with Kyle Rudolph. Not much has been slipped about his potential role officially within the Vikings offense and rookie camps and offseason training activities will be crucial to his development within the Vikings organization.
PFF's Take:
Conklin dropped just eight passes on 91 catchable targets over the past three seasons showing his reliable hands as well as his prowess after the catch, averaging 4.1 yards after the catch per reception with Central Michigan. He was plagued by spotty quarterback play over the past few seasons outside Shane Morris and should benefit from stability at the position with Minnesota.