Yesterday, we debuted our 2018 NFL Draft Quotable series with the AFC East, a series derived from watching hours of post-draft press conferences that alluded to bits of insight the coaches and executives unwittingly let slip about their drafted players.
With that, here are some of the most insightful quotes on the offensive skill position players drafted this past weekend from the NFC East with the added context of PFF's data.

Pick No. 81 – Michael Gallup, WR, Colorado State
Director of Player Personnel Stephen Jones: "I will tell ya, we had some people in that room that were rooting for Gallup with our second pick."
General manager Jerry Jones: "There's a lot to like about him. He's big and athletic. He plays the game the right way. He's been a productive player for them doing a lot of different kinds of things. He can get vertical down the field. He's got stature to him. He's a good run-after-the-catch guy… [He] leaps off the screen at you. Great reports from the school… And we feel he has a real upside too. A lot of qualities that you want in a young receiver… A developmental receiver. But again, a lot of production too."
Head coach Jason Garrett: (When asked if wide receiver was a need) "We felt really good about Allen Hurns and Deonte Thompson."
(Jerry) Jones: "Gallup, I think can play immediately. Especially the way we're approaching our receiving corps, which is going to involve a lot of receivers."
PFF's Take:
Gallup was PFF's fifth-ranked receiver in the class, and a steal at Pick 81. His production certainly jumps out immediately. He was PFF's highest graded FBS receiver last year and racked up the fifth-most yards in the country.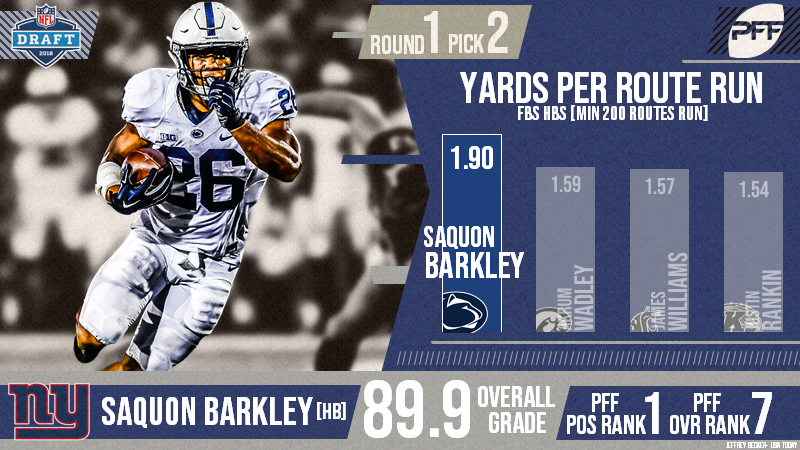 Head coach Pat Shurmur: "I really felt like he was the best player in the draft. First, he can catch the ball. Secondly, he's got great vision. Thirdly, he's great collision balance … He's a three-down running back. He's gonna be on the field for as long as he can handle it."
Shurmur: (When asked if he saw him as a Le'Veon Bell-type where he could get 25-27 touches per game.) "I mean he could be … He could handle that type of a load if need be. We'll just have to see as we go."
Shurmur (in a separate interview): "The most important thing, and the first thing you look for in a running back is 'can he catch?' 'Does he have ball skills?' Because, we all know, if we can run them all deep, and if they cover them, sometimes the best matchup on the field is just dropping the ball to the running back. Not to mention, we can feature him out of the backfield or in an extended kind of detached position … He's multi-dimensional and you can play him all three downs."
General manager Dave Gettleman: "Saquon was who we wanted and I was thrilled that he was there … Once Cleveland took Baker (Mayfield), I told our guys don't even waste your time (answering the phones) … [He's the best] prospect I've evaluated since Peyton Manning … I can't compare him to anybody."
PFF's Take:
Barkley certainly can catch. He had the highest receiving grade of any back in college football last year. As far as lining him up as a receiver, Barkley only did so on 24 snaps a season ago, so it could be a bit of a transition.

Pick No. 49 – Dallas Goedert, TE, South Dakota State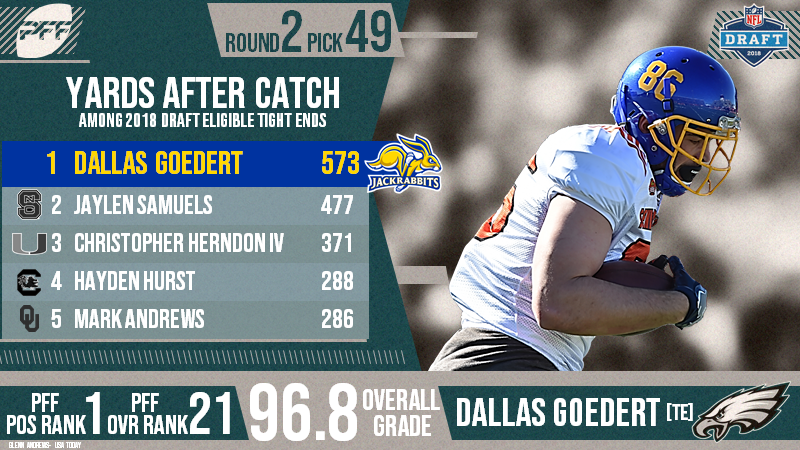 General manager Howie Roseman: "Really excited about him and his fit. [The] coaching staff really excited about the ways we can use him … He was among our players that we had grouped at 32."
Head coach Doug Pederson: (Asked how he sees him fitting with Ertz?) "We'll see where he's at. It's gonna add some depth and competition to the position. A weapon for us that I think we can utilize similarly to Trey Burton last year when on the field with Zach."
Roseman: (Was that a priority, to grab a tight end?) "We wanted to stick to our board, but… We were really excited. Nice to make Doug happy … He was at the top [of our list of tight end prospects]. That's why we picked him."
VP of Player Personnel Joe Douglas: "[He's] reminiscent of Brent Celek."
Pederson: (Interviewer mentioned how Ertz has said Pederson runs a very complex offense for a tight end, so what's a realistic expectation?): "You just gotta go step by step. We'll begin slow. He's a smart kid, he's gonna learn fast. Shouldn't take him long at all."
PFF's Take:
Goedert was the No. 1 tight end on PFF's draft board and even with Zach Ertz established, look for Goedert to play extensively as a rookie. Brent Celek and Trey Burton combined for 766 snaps the past two seasons.

Head coach Jay Gruden: "We're lucky to get him. This is a hard-nosed runner. He plays hard. He can catch the football. He can pass protect. Good vision. [We had a] high first-round grade on Derrius."
Gruden: "I think he has some improvement to do in pass protection, without a doubt, and I think he'll be the first one to tell you that … I think he can catch the football fine. But really our role for him is quite easy to see. It's first and second down. Because we have a third-down back. He's not gonna play on third down anyway. Chris (Thompson) is gonna be out there, and Chris is gonna be in there a lot."
PFF's Take:
Guice had the fifth-highest elusive rating in the country in 2016 (111.7) but took a bit of a step back this past season with more carries (58.8). He still posted grades above 85.0 each of the past two seasons and represented good value where he was selected.