The 2019 NFL Draft will be here before we know it but before then, the NFL's free agency period will open up, and teams will be looking to bolster their lineups with new signees while also looking to keep on board players who have shined bright since their arrival with their franchise. One big thing for the 2019 free agency period is that, for the first time, a rookie class that we had at least a college year of data from, have all now either finished their rookie contract or those select first rounders have had their final year exercised to stay with their team.
With that in mind, we decided to take a look back at some grades and PFF advanced statistics and data for every team's first- and second-round pick since that 2015 season. While some of these players are no longer with their respective team, the players listed below were all drafted by the team mentioned and the grades and stats represented are just from their time with their drafted team.
After looking at the NFC South and AFC North this week, today's series takes a look at the NFC East.
2015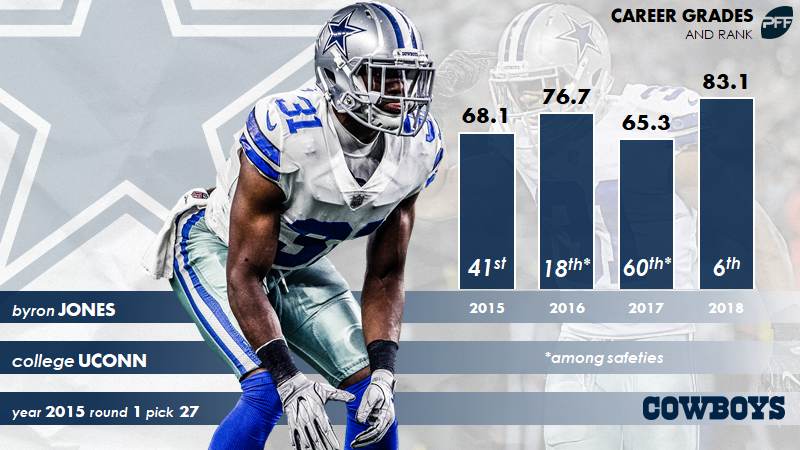 Byron Jones, cornerback
Round 1, Pick 27
Career-high overall grade: 79.9 (2018)
Jones has been a constant on the back end of the Cowboys' defense since he was drafted in 2015 and has logged a colossal 3795 over his first four seasons in the league. He spent the early part of his career at the safety position – a role in which he found relative success – but he was moved to the boundary corner position before the start of the 2018 season, and it's there where he has flourished. Even though he ended the 2018 season without an interception, it's clear that Jones has developed into one of the best in the game, he allowed only 481 yards in his coverage on only 37 catches this year, and His 53.6% catch rate allowed was the 15th-best mark in the league.
Randy Gregory, edge defender
Round 2, Pick 60
Career-high overall grade: 62.4 (2015)
The Cowboys took a risk by taking the former Nebraska Cornhusker in the second round of the 2015 NFL draft. The positives? He was thought of by many as being the best pure pass-rusher in the class. The negatives? He came with legitimate off-field concerns that ultimately ended up costing him (and the Cowboys) significant playing time in the NFL. Since 2015, Gregory has been forced to miss a total of 30 games due to suspension and has consequently only played 768 snaps over the last four seasons. The bulk (522) of those snaps came last season, where he showed signs of promise as a pass rusher, notching 41 total pressures from 360 pass-rushing snaps en route to an average, yet respectable, pass-rushing grade of 66.8.
2016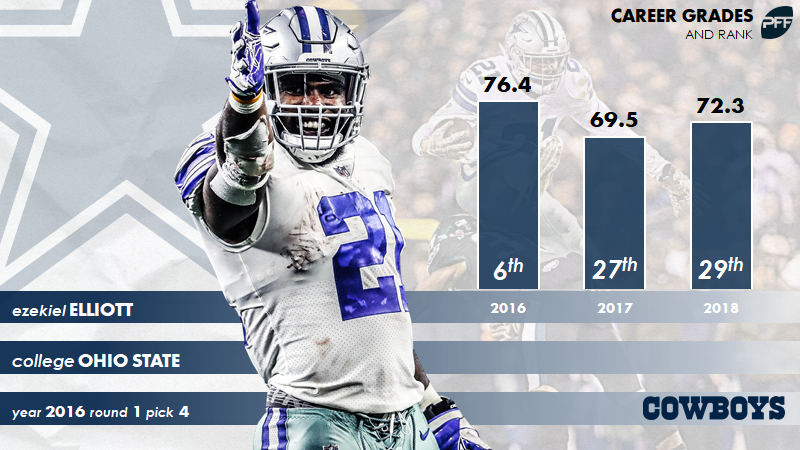 Ezekiel Elliott, running back
Round 1, Pick 4
Career-high overall grade: 77.0 (2016)
No running back over the last three seasons has logged more rushing attempts (868), more rushing yards (4048), more first downs (219) or more rushing yards after contact (2567) than Elliott, but his overall average of 3.0 yards after contact per carry and his career rushing grade of 80.2 rank 18th and 15th, respectively, among the 100 backs with at least 100 carries in that span. Three years into his NFL career, Elliott's best single-season is still his rookie year, where he ranked seventh among qualifying running backs in yards after contact per attempt (2.91) and second in breakaway yardage (550).
Jaylon Smith, linebacker
Round 2, Pick 34
Career-high overall grade: 84.5 (2018)
A torn ACL and MCL in his junior year at Notre Dame pushed him from being a sure-fire first-round pick in the 2016 NFL draft to a question mark, but after he found his feet with 575 snaps in his 2017 season – which was essentially his rookie year – Smith overcame those questions emphatically in 2018. Among off-ball linebackers with 50 or more pass-rush snaps, his 27.8 win percentage as a pass rusher ranked first, while he was one of six off-ball linebackers with 500 or more coverage snaps to allow one or fewer touchdowns in coverage.
2017
Taco Charlton, edge defender
Round 1, Pick 28
Career-high overall grade: 64.3 (2018)
Charlton has been limited along the Cowboys' defensive line since being drafted and played only 399 and 428 snaps in 2017 and 2018, respectively. In the first half of the 2018 campaign, however, it looked as if Charlton was about to break through the ranks as a starter on the edge; he played at least 50% of the team's snaps in every game from Week 1 to Week 6, and his grade of 68.0 was second to only Demarcus Lawrence in that span. However, a shoulder injury forced him to miss three games in a row, and he played just 151 snaps thereafter.
Chidobe Awuzie, cornerback
Round 2, Pick 60
Career-high overall grade: 78.4 (2017)
After playing just 309 snaps during his rookie year, Awuzie saw a huge uptick in playing time during his sophomore campaign to the tune of 1018 snaps. However, with a greater workload comes greater responsibility, and he ultimately struggled to live up to the promise he showed on limited snaps as a rookie. His overall grade of 78.4 in 2017 dipped to 63.9 in 2018, and he allowed 13.6 yards per reception in 2018 compared to an impressive 7.0 yards per reception as a rookie.
2018
Leighton Vander Esch, linebacker
Round 1, Pick 19
Career-high overall grade: 85.7 (2018)
Vander Esch finished the season ranked fourth among qualifying linebackers in overall grade (85.7), and he was one of four linebackers to finish the year with a grade of at least 80.0 in both run defense and coverage. The defining mark of his rookie year was his propensity to find and flow to the ball carrier, as he was the first to make contact with the opposing ball carrier on 15.1% of his defensive snaps. No other off-ball linebacker with at least 400 defensive snaps played finished above 12.6%.
Connor Williams, guard
Round 2, Pick 50
Career-high overall grade: 57.3 (2018)
After moving from his familiar left tackle position to the left guard position as a pro in Dallas, Williams struggled for the majority of his rookie campaign. He recorded just one grade above 60.0 all season and allowed 32 pressures from his 506 snaps as a pass blocker.
2015
Ereck Flowers, tackle
Round 1, Pick 9
Career-high overall grade: 69.4 (2016)
To say Flowers struggled during his tenure with the New York Giants would be an understatement. From Week 1 of the 2015 season to Week 2 of the 2018 season (his last appearance for the Giants), Flowers allowed a colossal 180 total quarterback pressures – which were 20 more than the next closest offensive lineman in that span – while his 65.4 pass-blocking grade was good for just 74th among all offensive linemen with at least 300 snaps in that span.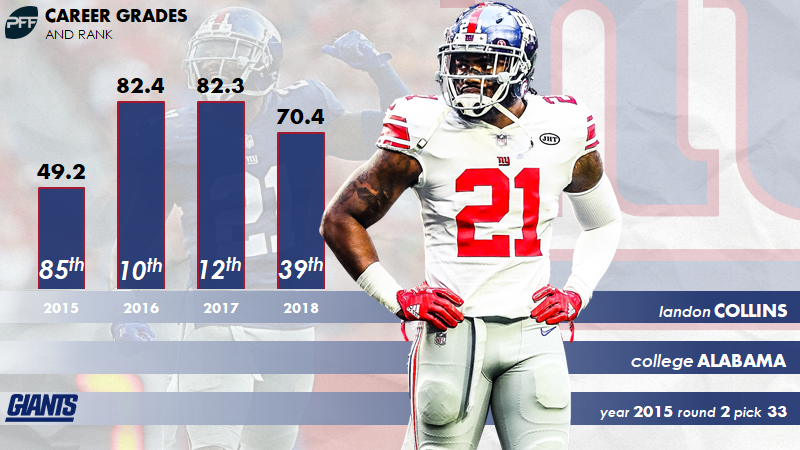 Landon Collins, safety
Round 2, Pick 33
Career-high overall grade: 82.3 (2017)
After earning 81.0-plus overall grades in Years 2 and 3 of his career, Collins fell to a 70.4 overall grade in 2018. He's still more than proved he can be a game-changer at a position few teams have on their roster, so he should draw a pretty penny if he makes it to the open market this offseason. Since he was taken with the 33rd overall pick of the 2015 NFL Draft, Collins has racked up 152 total defensive stops and 49 tackles for loss or no gain – both the most among safeties in that span.
2016
Eli Apple, cornerback
Round 1, Pick 10
Career-high overall grade: 65.0 (2018)
Just like the previous year's first-round pick, Apple struggled to find a groove in New York. He earned overall grades of 58.9 and 64.5 in his first and second years in the league, respectively, and allowed a passer rating of 108.4 on throws into his primary coverage during that span, good for 79th among the 84 quarterbacks with at least 100 targets.
Sterling Shepard, wide receiver
Round 2, Pick 40
Career-high overall grade: 70.7 (2017)
Sterling has shown promise ever since he was taken with the 40th overall pick of the 2016 NFL Draft and earned average yet respectable grades north of 65.0 in three consecutive seasons. His best showing to date came in 2017, where he ran 84 percent of his routes from the slot (fifth-highest rate in the NFL) and finished fifth in the league with 639 receiving yards from that position.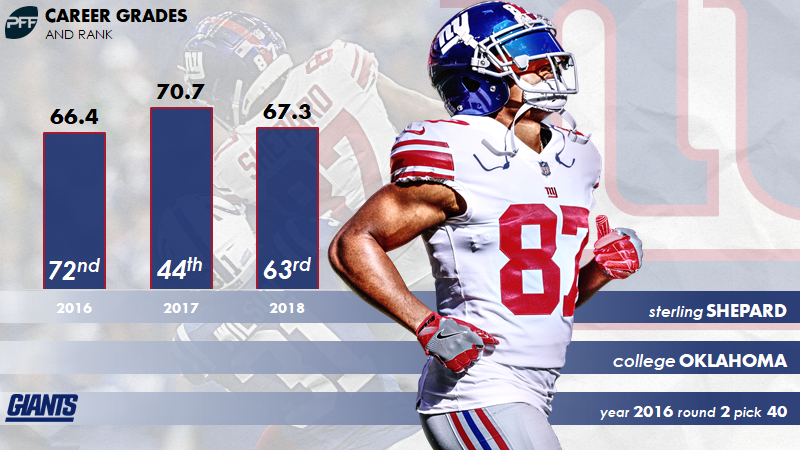 2017
Evan Engram, tight end
Round 1, Pick 23
Career-high overall grade: 76.5 (2018)
After much excitement about his selection, Engram recorded a mediocre 62.2 overall grade throughout his rookie year; a grade was brought down in two areas – run blocking and drops – as his run-blocking grade of 48.7 was the fifth-worst among 72 qualifying tight ends, and he dropped a position-high 11 passes. His second year, however, was a different story. In a year that was also hampered by injury, Engram finished the season with an improved grade of 76.5, ranking seventh among tight ends, but if you look at his play after the New York Giants' bye week, when he was starting to get healthier, he was even better. From Week 10 through the end of the season, Engram's overall grade of 91.7 led the tight end position. The future looks bright for Engram.
Dalvin Tomlinson, interior defender
Round 2, Pick 55
Career-high overall grade: 81.0 (2017)
Almost two years under the wing of run-stopping specialist Damon Harrison has quite obviously done Tomlinson some good, as the former Alabama big man has, himself, developed into one of the best run defenders in the game. In his two years in the NFL, Tomlinson has racked up 24 defensive stops against the run and his run-defense grade of 82.7 ranks 21st among 180 interior defenders with at least 100 run-defense snaps over the last two years.
2018
Saquon Barkley, running back
Round 1, Pick 2
Career-high overall grade: 85.9 (2018)
Saquon Barkley was as advertised; he nothing short of sensational in his rookie year. Ultimately, it did not matter to the 5-11 Giants, who once again find themselves near the top of the NFL Draft looking for the next franchise quarterback. One thing is for sure; whoever lines up under center for the Giants next year has a bonafide star at the running back position; a playmaker that few can stop once he gets going. In his 16 games, Barkley racked up 1,307 rushing yards from his 261 attempts, with 872 of those yards coming after contact (the fourth-most by a rookie running back in the PFF era). However, as great as Barkley was as a runner, his real value came from his receiving snaps, where he caught 91 of his 114 targets (both of which broke PFF records for a rookie) for 721 yards. His average of 1.54 yards per route run ranks 10th among the league's backs this year, but his 31 missed tackles forced as a receiver set a record for the most by a rookie running back in the PFF era. Barkley will end his rookie season with an overall grade of 85.9, the ninth-best mark ever recorded by a rookie.
Will Hernandez, guard
Round 2, Pick 34
Career-high overall grade: 65.8 (2018)
Where would be a 1,000-yard running back without an impressive offensive line? And that's just what Hernandez was this season, impressive. He finished with the league's second-highest grade for a rookie interior offensive linemen and was penalized just twice across 1,027 snaps.
2015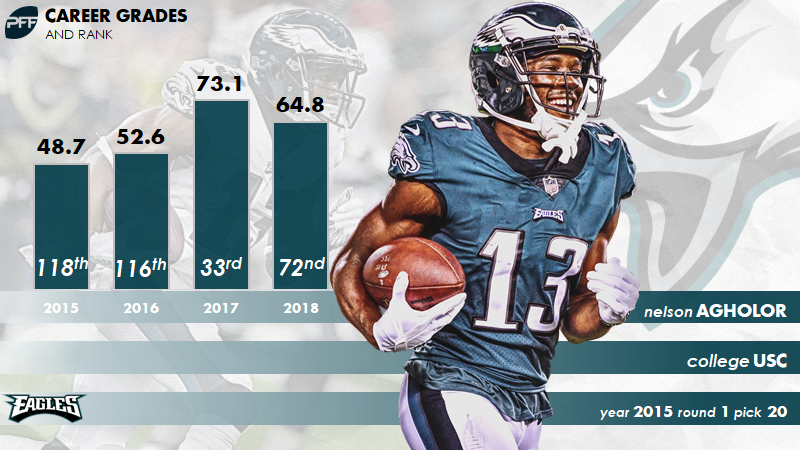 Nelson Agholor, wide receiver
Round 1, Pick 20
Career-high overall grade: 74.9 (2017)
Things looked bleak for Agholor over the first two years of his career, where he combined to drop 11 catchable passes and earn an overall grade of just 55.0 across the 2536 snaps in that span. However, he turned it all around in Year 3 thanks to a move to the slot and has averaged 1.59 yards per slot route run from the slot ever since, the ninth-best mark among receivers over the last two seasons.
Eric Rowe, cornerback
Round 2, Pick 47
Career-high overall grade: 64.2 (2016)
After a disappointing rookie season with the Eagles, Rowe was traded to New England, where he became one of the team's three top corners and ultimately earned himself a Super Bowl ring. The change in scenery clearly had an impact, as his grade improved from 58.3 to 64.2, but unfortunately, he's struggled ever since, mustering grades of just 54.9 in 2017 and 62.9 in 2018.
2016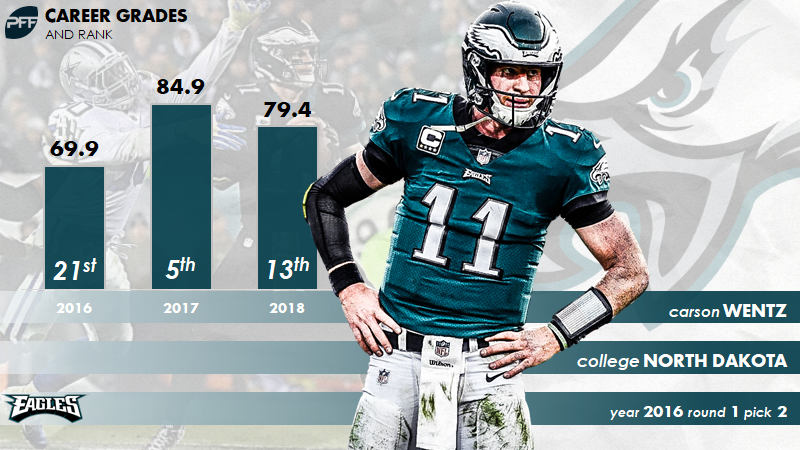 Carson Wentz, quarterback
Round 1, Pick 2
Career-high overall grade: 84.9 (2017)
Like most rookie signal-callers, Wentz had a bumpy start to his NFL career, but he both made up for that and justified his draft selection with a marvelous sophomore campaign that had him in MVP discussions before his unfortunately-timed season-ending knee injury. That year, Wentz was on another level when it came to third-down play, and his 93.3 third-down passing grade far outpaced his peers. It took until the final week of the season for anybody to surpass the 33 touchdown passes that Wentz tossed in a little less than 13 complete games, and while his passing under pressure had been an issue as a rookie, he threw eight touchdowns to just one interception when he was moved off his spot. Wentz fell back down to earth a bit in 2018, however, as his big-time throw percentage (4.5) and turnover-worthy throw percentage (2.99) dropped outside the top 10, as did his passer rating from a clean pocket. He'll look to get healthy and return to his 2017 form next year.
2017
Derek Barnett, edge defender
Round 1, Pick 14
Career-high overall grade: 68.4 (2017)
Barnett enjoyed a promising rookie campaign, and his contributions along the defensive line helped bring the team its first Super Bowl title. He ranked 63rd among edge defenders in terms of overall grade and recorded very respectable grades as both a pass rusher and run defender. Barnett's 37 total pressures tied Cleveland's Myles Garrett for the third-most among rookie edge defenders, and his 11.5 run-stop percentage ranked first among rookies with at least 50 snaps in run defense. Unfortunately, a shoulder injury meant that he could only play 234 snaps in his sophomore year.
Sidney Jones, cornerback
Round 2, Pick 43
Career-high overall grade: 50.7 (2017)
Jones managed just 29 snaps in his rookie year before a lingering injury ended his season, but he showed signs of promise against the slot in his second year. Lining up against the slot receiver, Jones allowed a fairly average passer rating of 86.4 but allowed only 0.86 yards per coverage snap, a mark that was good for tenth among corners. His slot coverage alone wasn't good enough to vault him up the rankings though, as he managed to rack up more missed tackles (8) than defensive stops (7), which led to an overall grade of just 47.5 in Year 2.
2018
Dallas Goedert, tight end
Round 2, Pick 49
Career-high overall grade: 75.7 (2018)
After a slight learning curve, Goedert ended his rookie year tied for second among rookie tight ends with an overall grade of 74.1. In an offense that likes to target to tight ends early and often, Goedert came into his own down the stretch and finished the year with 35 catches from 45 targets for 354 yards, five touchdowns, and 17 first downs. All told, he generated a passer rating of 115.7 on his targets, good for sixth among all tight ends.
2015
Brandon Scherff, guard
Round 1, Pick 5
Career-high overall grade: 81.4 (2016)
Scherff was well on his way to establishing himself as one of the better right guards in football before the injuries started to set in. Still, even with two injury-plagued seasons that hindered his performance in 2017 and 2018, Scherff's 81.6 overall grade ranks 14th among guards with at least 500 snaps from 2015-2018, while his run-blocking-blocking grade of 80.4 is good for 13th.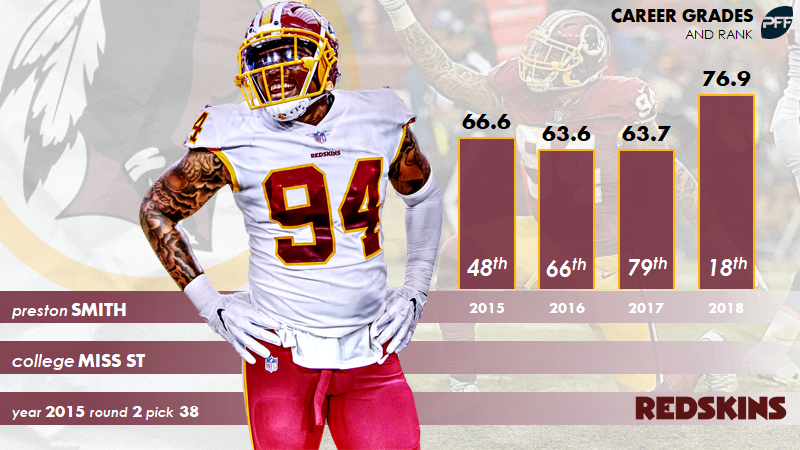 Preston Smith, edge defender
Round 2, Pick 38
Career-high overall grade: 76.9 (2018)
Smith has two big things in his favor heading into free agency. The first is that he's been able to produce while rarely coming off the field. He's played over 2,300 snaps over the last three seasons and 834 this past year. The second is that he's seen a distinct uptick in performance throughout his career. This past season, his 76.9 overall grade was a career-high, and he increased his pressure totals each of the last two seasons to 53 in 2018. His 76.9 overall grade in 2018 was a career high, and he racked up over 50 pressures and 20 run stops as a full-time starter.
2016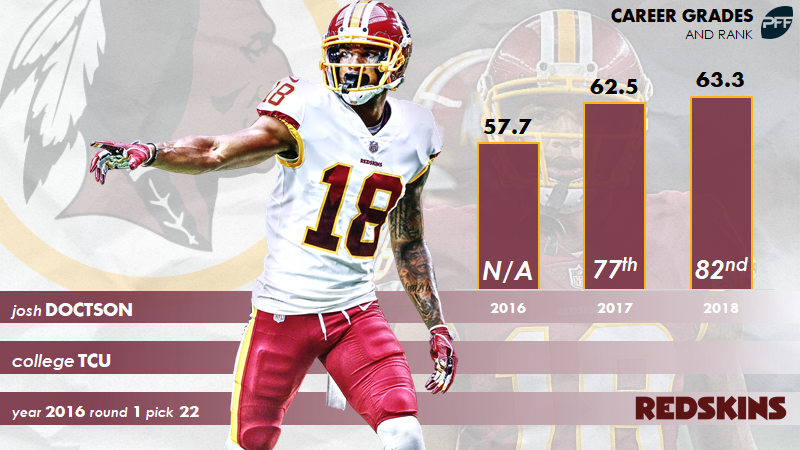 Josh Doctson, wide receiver
Round 1, Pick 22
Career-high overall grade: 63.3 (2018)
Doctson has never really lived up to his first-round billing, and three years into his Washington tenure, you can't help but wonder if a change of scenery is just what's needed for both parties. Doctson has failed to record a single-season overall grade above 63.3 since being drafted, and he's had almost as many drops (6) as receptions from deep passes (9). Not a good sign for a player who was supposed to serve as a deep threat.
Su'a Cravens, safety
Round 1, Pick 53
Career-high overall grade: 76.5 (2016)
Cravens exploded onto the scene in a hybrid safety/linebacker role, leading many, including myself, to peg him as one of the future stars of the position. He allowed a passer rating of just 73.1 on throws into his coverage that year, and he ended a successful rookie campaign with an overall grade of 76.5 – 16th among linebackers. Unfortunately, question marks about whether he'd even continue to play the game emerged and that caused him to miss to entire 2017 season. He's struggled to find his feet in the league ever since.
2017
Jonathan Allen, interior defender
Round 1, Pick 17
Career-high overall grade: 78.2 (2017)
Allen impressed as a rookie by racking up 16 total pressures from his 112 pass-rushing snaps and five defensive stops from only 45 run-defense snaps. Unfortunately, his rookie season was cut short by a foot injury, and he seemed to take a slight step back in his sophomore year that saw his overall grade drop from 78.2 to 71.5.
Ryan Anderson, edge defender
Round 2, Pick 49
Career-high overall grade: 86.8 (2018)
The former Alabama edge defender had a lackluster rookie campaign in 2017, recording 58.9 overall grade across his 194 snaps with Washington. However, with a year under his belt, Anderson very quietly enjoyed a promising season in 2018, recording both a coverage grade (88.8) and a run-defense grade (83.8) north of 80.0. If he can continue to develop his skill as a pass rusher (he tallied 11 quarterback pressures on 95 pass-rushing snaps), Anderson could be primed for a big year three in the Nation's capital.
2018
Da'Ron Payne, interior defender
Round 1, Pick 13
Career-high overall grade: 71.9 (2018)
Payne was about as consistent as they came this year and graded north of 65.0 in 11 of his 16 games as a pro. He racked up five sacks, three hits, and 19 hurries as a pass rusher (his 27 total pressures rank first among rookie interior defenders) and he added a class-leading 25 defensive stops against the run. The Redskins have several things to consider as they enter the offseason, but they can be content with the promise of a young and talented defensive line.
Derrius Guice, running back
Round 2, Pick 59
Career-high overall grade: N/A
The former LSU playmaker managed just 10 snaps this preseason before a torn ACL prematurely ended his rookie year. He'll look to return to college form in 2019 and remind everyone of the back who forced a colossal 92 missed tackles as a runner over his last two seasons in college.