Only JuJu Smith-Schuster's role is guaranteed in the Pittsburgh Steelers' offense. The rising star should fill Antonio Brown's shoes as the team's go-to target, and he should see 150-plus targets as a result. Pittsburgh's other veteran wideouts, however, don't have the luxury of solidified roles.
Donte Moncrief, who signed a two-year, $9 million deal with Pittsburgh this offseason, has drastically underwhelmed in recent years, earning sub-63.0 overall grades in 2017 and 2018. And his best has never been something to call home about, either. James Washington earned one of the lowest receiving grades of any qualifying rookie wide receiver in the PFF era (2006-18). Career slot receivers Eli Rogers and Ryan Switzer are question marks with – most likely – disappointing answers even if awarded clean bills of health and ample opportunity. None of the four misfits mentioned have wowed across significant stretches in their respective careers; none of the four kept Pittsburgh from spending a top-70 pick in the 2019 NFL Draft on a wide receiver.
Enter Diontae Johnson, a Toledo product with a real shot to play at a high level and contribute in Year 1 and sky-high potential in Years 2, 3 & 4.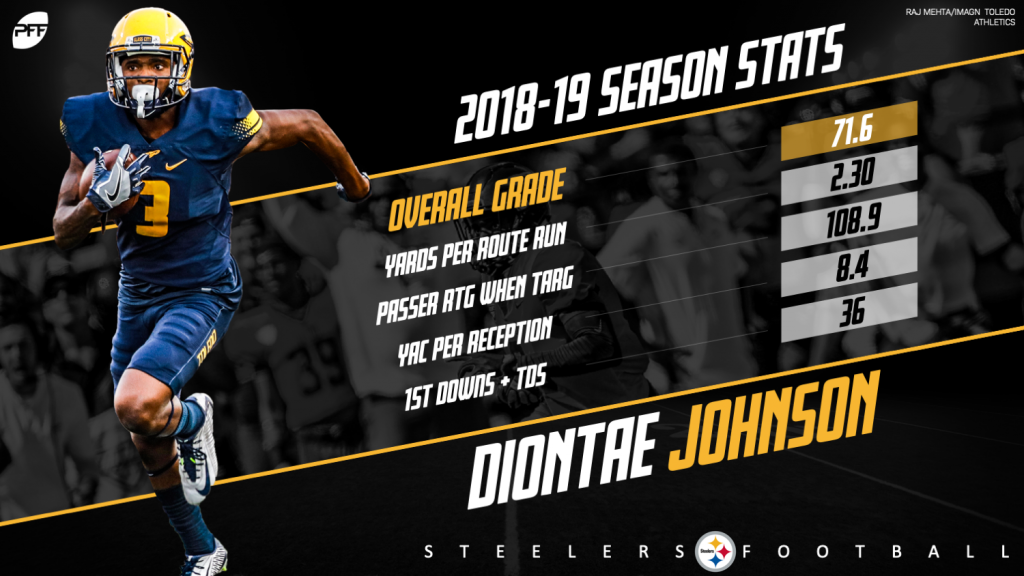 SKILLED ROUTE-RUNNER, CAN SEPARATE
Wideouts that create separation constantly are invaluable in today's NFL. It's hands down the most important trait when evaluating wide receivers. It's where a bulk of passing production comes from in the NFL. And the NFL's key decision-makers are buying in; taking smaller, crafty receivers with speed and the ability to separate over the bigger, more physical wideouts in this year's draft.
Johnson falls in line with the former. A 5-foot-10, 183-pounder with great short-area quickness and athleticism, the new Steelers wideout wins with separation. He makes up for his lack of size and physicality with crafty releases at the line of scrimmage and sudden movements at the top of routes and in his breaks.
And the results are encouraging. Among the 102 FBS wide receivers with 150 or more targets over the past two seasons, Johnson ranked tied for 22nd in receiving grade (85.9), 10th in yards per route run (3.01) and eighth in passer rating when targeted (126.8). He also ranked 18th in percentage of receptions resulting in a gain of 15 yards or more at 37.8% over the past two seasons.
Johnson's work in the red zone is spectacular, as well. He can sell any route on the tree even with the limited spacing that comes with being so close to the end zone. He ranked 11th in receiving grade (77.1) and ninth in percentage of targets resulting in a first down or touchdown (38.89%) in the red zone over the past two seasons.
The numbers get even better when isolating Johnson's production to just his 2017 season, where he benefited from much better quarterback play with AAF standout Logan Woodside at the helm. He ranked tied for fourth in receiving grade (89.3), tied for third in yards per route run (3.68) and sixth in passer rating when targeted (140.1) among pass-catchers with 50 or more targets two years ago.
Marquee separators like Johnson can win both inside and outside if they can also pull off clean releases at the line of scrimmage. He can beat defenders with his releases and shouldn't be limited to the slot at the next level.
Among the 115 FBS wide receivers with 100 or more targets at outside wide receiver in the last two years, Johnson ranked 12th in receiving grade (85.5), eighth in yards per route run (3.18) and 10th in passer rating when targeted (122.7). While his grade from the slot (72.4) isn't as impressive, he still proved quite efficient across his 189 routes run and 49 targets from an inside alignment, ranking tied for 35th in yards per route run (2.65) and tied for eighth in passer rating when targeted (137.2).
PROMISING YAC ABILITY
Johnson's rare movement skills translate to strong production after the catch, as well.
In his last two years at Toledo, Johnson averaged a whopping 7.9 yards after the catch per reception, ranking fifth among the 102 FBS wideouts with 150 or more targets since 2017. Even when removing screens and any passes within five yards of the line of scrimmage from the equation, he averaged 7.3 yards after the catch per reception, ranking tied for 10th with Alabama's Jerry Jeudy among qualifiers. His impressive 4.29 yards per route run average and 89.1 receiving grade on such targets are both indicative of his ability to win down the field and add yards after the catch.
His two-year metrics away from the red zone are outstanding, as well. Opening up the field for longer receptions and more yards after the catch, Johnson ranked 15th in yards per route run (3.28) and tied for sixth in yards after the catch per reception (8.6) on passes thrown outside of the red zone in 2017 and 2018.
FINAL THOUGHTS
Logging 13 drops in two years, Johnson has left yards on the table even after leaving his opponent in the dust with his route-running. However, eight of his drops over the past two seasons have come in less than ideal situations. His two-year drop rate on accurate passes – throws charted as accurate, frame or away from coverage – was just 5.21%, which doesn't even enter the top-40 in terms of highest drop rates on such passes among qualifiers.
And even if we wanted to circle his drops with a red Sharpie and see it as a larger concern, Johnson more than makes up for what he's dropped with how often he creates separation and wins with and without the ball in his hands.
Veterans currently ahead on the depth chart won't make things easy for Johnson to carve out a significant role in Pittsburgh, but if his ability to separate and create after the catch translates to the next level (as we expect it to), he'll join Smith-Schuster as the Steelers' other go-to target.