Kansas City Chiefs 33, Denver Broncos 10
Here are the top-graded players and biggest takeaways from Kansas City's 33-10 win over Denver in Week 16:

Quarterback grade: Alex Smith, 62.2
Smith puts together average performance, isn't asked to do much
Alex Smith did not have to make many difficult throws, relying instead on his skill players and legs to make big plays. This is best portrayed by the fact he attempted just five throws at least 10 yards down the field, with only one deep shot. His decision to keep the ball on a read-option play on Kansas City's first drive resulted in an easy touchdown run, and he also added 37 yards on two scrambles, both of which resulted in first downs.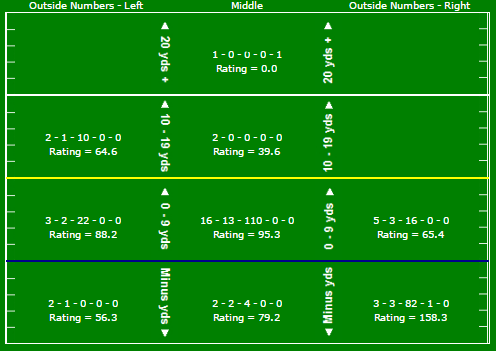 Top offensive grades:
TE Travis Kelce, 85.6
OG Laurent Duvernay-Tardiff, 81.8
RB Spencer Ware, 791
OG Zach Fulton, 78.9
OT Mitchell Schwartz, 78.6
Monster first half by Kelce leads to critical win
Kelce led the way early with three excellent blocks on big Kansas City runs, two of them directly resulting in the Chiefs' first two touchdowns, then made a monster play of his own by taking a screen pass 80 yards for a score. He finished the day with 11 receptions on 12 targets for 160 yards and the touchdown. The offensive line also had an outstanding day, especially in pass protection. The unit gave up just four total pressures, three of them by LT Eric Fisher.
Top defensive grades:
CB Marcus Peters, 84.1
OLB Dee Ford, 82.7
DE Chris Jones, 81.4
S Ron Parker, 78.1
CB Terrance Mitchell, 76.1
Secondary shuts down Denver receiving corps
The usual suspects pressured Denver QB Trevor Siemian, while the secondary was collectively outstanding. Rookie DE Chris Jones tallied five total pressures, while OLB Dee Ford put seven on the board, three of them hits. CBs Marcus Peters and Terrance Mitchell were tested a combined 12 times in coverage and gave up just four total catches for 47 yards with two pass breakups. S Daniel Sorensen was targeted the most (nine times), but limited Denver receivers to just 45 yards on six catches.

Quarterback grade: Trevor Siemian, 33.0
Siemian has a very rough outing in loss
Trevor Siemian had a disastrous night, as he was completely ineffective under pressure and unable to make accurate throws downfield. He completed just three of 13 passes that traveled at least 10 yards through the air, for 64 yards and an interception, and on 10 pressured throws he completed just two passes for 20 yards, and had a QB rating of 39.6.

Top offensive grades:
OG Max Garcia, 84.7
OT Russell Okung, 82.1
TE Jeff Heuerman, 80.2
C Matt Paradis, 78.0
WR Jordan Taylor, 69.1
Left side of offensive line performs well in loss
Considering the difficult matchups they faced, the Broncos had solid performances from LT Russell Okung, LG Max Garcia and C Matt Paradis. The trio gave up just three total pressures, and all three had run-blocking grades well over 70.0. Star wide receivers Demaryius Thomas and Emmanuel Sanders were essentially invisible, as they combined for four catches for 47 yards on 10 targets. 
Top defensive grades:
CB Chris Harris Jr., 89.2
CB Aqib Talib, 87.0
LB Todd Davis, 80.3
OLB Shaquil Barrett, 77.2
DT Sylvester Williams, 74.9
Chiefs' strategy of avoiding Broncos CBs works to perfection
Denver star CBs Chris Harris Jr. and Aqib Talib were only targeted on underneath throws, as evidenced by the fact their six receptions yielded went for just 24 yards. Kansas City instead went after S Darian Stewart and LB Todd Davis, who gave up a combined 11 receptions on 13 targets for 149 yards and two scores. Stewart made matters worse by missing four tackles — of the 12 he has missed this season, eight have come against the Broncos.
PFF Game-Ball Winner: Chiefs TE Travis Kelce
PFF's player grading process includes multiple reviews, which may change the grade initially published in order to increase its accuracy. Learn more about how we grade and access grades for every player through each week of the NFL season by subscribing to Player Grades.