2017 was chock full of fantastic candidates for breakout player of the year. Carson Wentz went from potential bust to MVP candidate. Daryl Williams was a backup in 2016 and is now the highest graded right tackle in the league. Jalen Ramsey built upon an inconsistent rookie campaign and turned himself into a shutdown corner.
No player embodied the term 'breakout' more though than Dallas Cowboys edge defender DeMarcus Lawrence. He spent the first three seasons of his career rarely, if ever, hinting at elite potential. His overall grades in his first three years were 75.4, 80.2 and 68.9, respectively. That's not the sort of grading trend that suggests he'd be the third-highest graded edge defender this season with a 94.1 overall grade.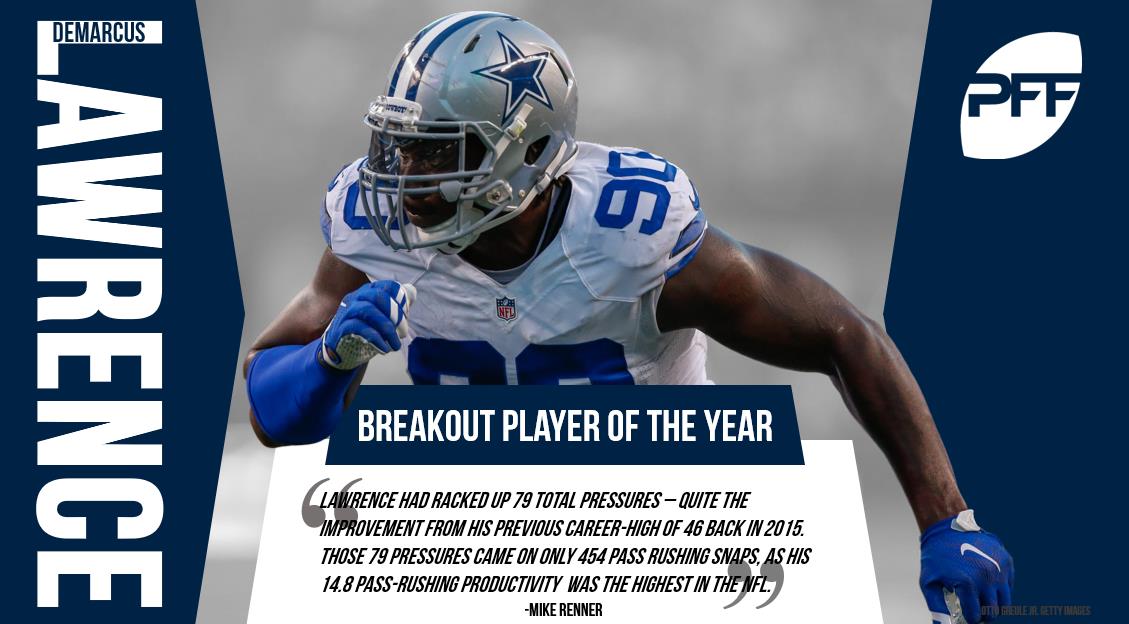 It wasn't too far into this season that we could tell that the proverbial switch had been flipped inside Lawrence. He posted the highest graded single game of his career in Week 2 against the Broncos in a two-sack, one-hit and three-hurry performance. He then almost equaled it a week later against the Cardinals with 13 total pressures. That career-high wouldn't even last the whole season, though. In Week 14 against the Giants, Lawrence compiled a 95.0 overall grade in one of the highest graded games at the position all season.
When all was said and done, Lawrence had racked up 79 total pressures – the third-most in the NFL. That's quite the improvement from his previous career high of 46 back in 2015. Those 79 pressures also came on only 454 pass-rushing snaps, making his 14.8 pass-rush productivity the highest in the NFL. Maybe the most impressive thing about his season was the fact that he was almost never shut down this year. He had multiple pressures in all but one game this season.
The breakout couldn't have come at a more perfect time for the Cowboys defensive end. He's set to hit free agency this offseason for the first time in his career and will undoubtedly be the crown jewel of the pass-rusher class. Some might be wary of Lawrence being a one-year wonder, but there isn't much on tape to suggest what he's done this year is a fluke.
[Editor's Note: For all PFF Edge & Elite subscribers, we will be releasing our 2018 Free Agency Guide on Wednesday, January 24 with profiles, grades, signature stats and much more on all the top free agents likely to hit the open market this offseason.]