The Broncos opened the scoring with a WR Emmanuel Sanders touchdown catch from QB Trevor Siemian, although QB Dak Prescott and WR Dez Bryant would respond with a touchdown of their own. Siemian would throw two more touchdown passes, another two Sanders and one to RB C.J. Anderson to keep the lead at halftime.
The Broncos would dominate the second half, with the final score coming from a CB Aqib Talib 103-yard interception return for a touchdown to put the finishing touch on the Broncos 42-17 victory. With that, we give you our PFF exclusive takeaways from the contest for each team.

Top 5 Grades:
EDGE Von Miller, 89.6 overall grade
RB C.J. Anderson, 87.7 overall grade
CB Chris Harris Jr., 87.7 overall grade
EDGE Shaquil Barrett, 87.3 overall grade
CB Aqib Talib, 84.3 overall grade
Performances of Note:
Anderson didn't get much help up front from his offensive line, but was still quite effective as a runner. He averaged over three yards after contact per carry, forced six missed tackles, and found the endzone once. He added another 36 yards as a receiver on three catches where he scored another touchdown.
Overall it was a pretty good outing for Siemian, but there was a big difference in his performance based on if he was pressured or not. When kept clean, Siemian had an adjusted completion percentage of 88 percent, all four touchdown passes, and a passer rating of 143.9. However, he completed just one five-yard pass on ten dropbacks under pressure. He also kept most of his passes shorter, with just three completions targeted 10-plus yards downfield, and 52 percent of his passing yards coming after the catch.
Von Miller was the story in this game, but Barrett's performance against a far better blocker in the shape of LT Tyron Smith (65.1), may have been just as impressive. Barrett didn't get a sack, but had nine total pressures himself, and led the team in defensive stops with five in the run game.
CB Aqib Talib, 84.3 overall grade
Talib could easily have come out of this game with three interceptions to his name, and had two passes ripped out of his hands by Dez Bryant turning defensive back. Talib ended up with a pick, two pass breakups and scored the final touchdown of the game, bringing his interception back 103 yards for a score.

Top 5 Grades:
EDGE DeMarcus Lawrence, 93.7 overall grade
DI Maliek Collins, 82.5 overall grade
EDGE Tyrone Crawford, 80.7 overall grade
G Zack Martin, 80.0 overall grade
EDGE Taco Charlton, 76.5 overall grade
Performances of Note:
Collins had looked much improved at right tackle over his play at guard for the Cowboys, but on Sunday that came undone, as he was completely unable to block Von Miller, arguably the game's best pure edge rusher. Collins surrendered a sack, a hit and 11 total pressures, and was bailed out of even more poor plays by plays getting nullified by penalty. At one point Von Miller was able to jump offside, jump back, and still beat him for pressure around the edge.
Prescott wasn't terrible in this game, but he was far worse than you typically expect, and could easily have had another two interceptions on the day had Dez Bryant not turned defensive back to prevent Aqib Talib picking them off. Balance that with the two he did throw being a throw off his receiver's hands, and a pass that was tipped at the line, and you have a strange outing for Prescott this week.
There wasn't much for bright performances on the Dallas defense, but Lawrence dominated Menelik Watson for much of the game. As a pass-rusher, he tallied one sack, one hit, three hurries, and one more hurry that was nullified by a penalty. Lawrence led the team with four stops against the run.
As good as the Dallas defensive front was in places, the secondary was lit up, and Brown coughed up six receptions on the ten passes thrown into his coverage, but he wasn't the only member to suffer. Nolan Carroll gave up a catch every time he was targeted, and even Jourdan Lewis, who notched a pick on a miscommunication, also gave up a touchdown and 75 percent catch rate.
PFF Game Ball: Von Miller, EDGE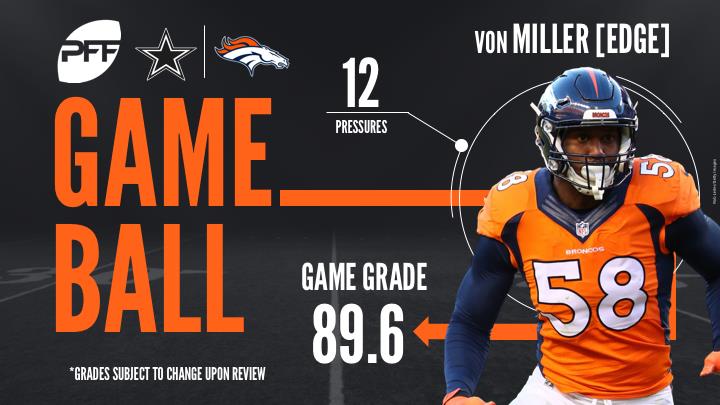 *Grades are subject to change upon review