The 2018 NFL league year is upon us and with that, the hustle and bustle that was the legal tampering period is over and teams can make their reported free agency signings official. With the dust settling from a few hectic days of reports, we at Pro Football Focus take an in depth look at some of free agency's biggest deals in our exclusive 2018 Free Agency Deal Grader.
Taken into our deal grades here are many contributing factors, including but not limited to scheme fit for the player signed, contract value and salary cap hit, PFF's overall grades for both player and team, and several other facets.
For more in depth insight all the league's free agents, check out the 2018 PFF Free Agent Guide, a part of your PFF Edge or Elite subscription.
Jerick McKinnon signs with the San Francisco 49ers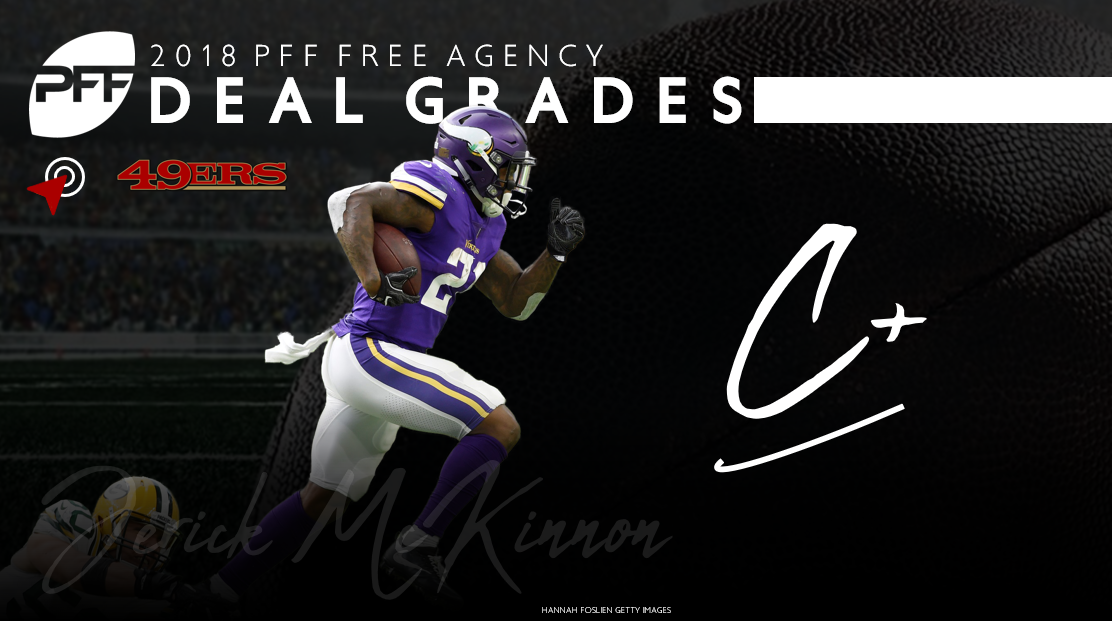 Grade: C+
Contract details: 4-year, $30-million
What it means for McKinnon:
This grade has everything to do with the numbers in the contract, as McKinnon's numbers on the field have been pretty good at times. While running the football in the NFL has less value than many believe, production in the passing game is a stable trait for running backs, and McKinnon has been good in this facet of the game during his time with Minnesota. His 1.53 yards per route run mark in 2017 was top-20 at his position, while his 2.25 number in a complementary role in 2015 was third.
As a runner, McKinnon's efficiency has been very dependent on the play of his supporting cast (which is true of most backs). When the 2014 and 2015 Minnesota offenses were 14th and 13th, respectively, in run-blocking grades, McKinnon averaged 4.8 and 5.1 yards per carry. When they were 23rd and 28th in 2016 and 2017, respectively, McKinnon's efficiency fell to 3.4 and 3.8 yards per carry. While he graded well in our system in 2017 (he was the eighth-highest graded back), it's clear that his individual talent alone is not enough to overcome poor play along the rest of the offense.
What it means for San Francisco:
After a shrewd financial move acquiring a great player at a premium position, the 49ers have spent a great deal on a player at a largely-replaceable position. Speaking to this, McKinnon joins a backfield that includes 2017 undrafted rookie Matt Breida (4.4 yards per carry on 105 carries as a rookie) and 2017 fourth-round pick Joe Williams, who spent his rookie season on injured reserve with an ankle injury. While it's likely McKinnon will get a plurality of the snaps for the 49ers, he's never carried the ball more than 20 times in a game in his career.
Speaking to this, the best way for the Niners to use this acquisition is to use the aforementioned backs as a complement to McKinnon in the running game and utilize McKinnon as much as they can in the passing game. Twelve of the top 13-graded running backs in our system generated more expected points added in the passing game than they did as runners, but San Francisco's only backfield player with a yards per route run over 1.13 was fullback Kyle Juszczyk (2.10), demonstrating the role McKinnon fills via this signing.
Bottom Line:
What San Francisco has acquired in McKinnon is a running back that has been, and likely will be, a solid component of a committee approach to the running game, and a player that can contribute in a meaningful way to the passing game. While the latter is more valuable than the former in today's NFL, there's a good question as to whether the NFL has caught up to this notion in terms of allocating resources at the position, meaning this price is likely too steep to give the acquisition of McKinnon too high of a grade.