As the New Orleans Saints wrapped up their 2016 NFL Draft having selected just five players, fans were likely pleased with their minimal but talented haul. Second-round pick Michael Thomas certainly hasn't been so bad since then, and first-round pick Sheldon Rankins has held his own on the interior. But interior defender David Onyemata, a fourth-round selection whom the Saints traded up for, was a relative unknown out of Manitoba (and the first player ever drafted from the school). But the Saints must have known something that other teams didn't — even today, Onyemata remains one of the NFL's best-kept secrets.
Through three years, he has steadily improved, climbing the ranks of the top NFL interior defenders. On just under 400 snaps in his rookie year, Onyemata was quiet with just a 57.2 overall grade, 10 quarterback pressures and 10 stops. At that point, it was easy to write off a fourth-round pick from a Canadian college. But the Saints didn't give up on Onyemata, and evidently, neither did he.
A 71.6 grade in 2017 and an 81.2 mark last season put Onyemata on the map, even if he isn't a household name. And from Week 5 to the end of the 2018 season, Onyemata ranked 11th among interior defensive linemen with an 89.1 grade. To explain just how impactful Onyemata has become — particularly during that torrid stretch after Week 5 — here were his best games from 2018 and the areas where he stood out.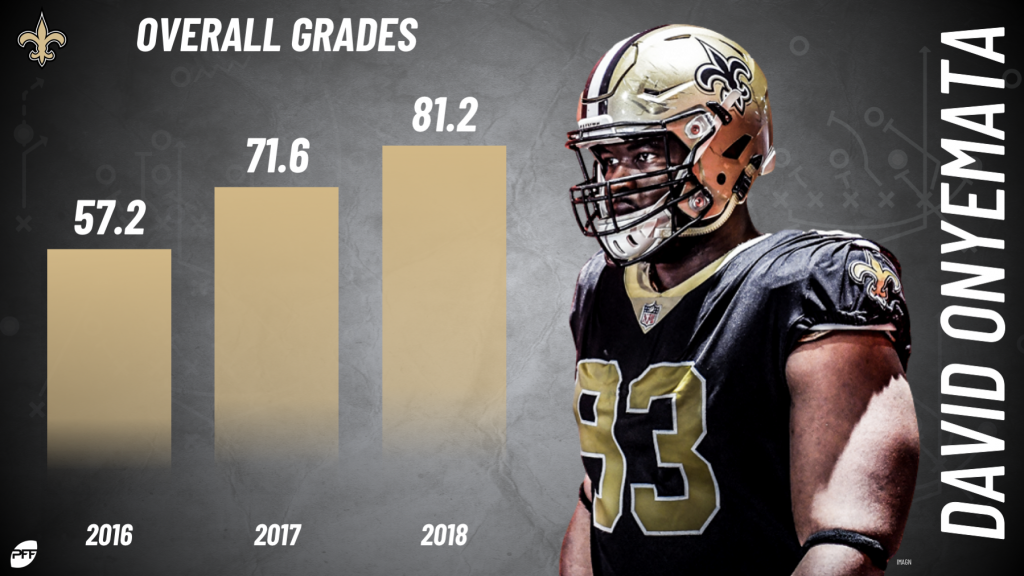 While Onyemata earned a stellar 90.3 pass-rush grade against the Ravens, his impact was particularly felt in the run game. Although it was in the pre-Lamar Jackson era, Onyemata made two tackles on run plays for no gain, helping the Saints force the Ravens to abandon the run early. Running back Alex Collins was handed the ball just 11 times for 38 yards in the Saints' 24-23 win.
The effort earned Onyemata a 90.4 overall grade — the first time he eclipsed 90.0 in his career — and slotted him just behind Aaron Donald and A'Shawn Robinson as Week 7's best interior defenders. As Onyemata's impressive streak of strong games continued, he would find himself in elite company once more with a 90.0-plus grade against the Cowboys.
The Cowboys methodically drove the ball inside the Saints' 10-yard line on their first series of the game before Onyemata made his presence felt. On third-and-goal, Onyemata bulldozed through Cowboys guard Xavier Su'a-Filo before taking down quarterback Dak Prescott. It both forced a field goal and kickstarted the best game of Onyemata's young career.
Later in the first half, Onyemata again fought through Su'a Fila, this time knocking him into Prescott and forcing a fumble to foil another Cowboys' third-down attempt. In the run game, Onyemata made first contact once, stuffing running back Rod Smith for just one yard. On the day, Onyemata had three sacks and five stops en route to a 92.4 grade — all career highs. He was the second-highest graded interior defender in Week 13 behind only Aaron Donald.
Week 17 was a rough one for the Drew Brees-less Saints in a 33-14 loss, but Onyemata continued to play at a high level. Another sack to his name along with three quarterback hurries solidified the best regular season of his career. And while Onyemata admittedly was quiet in two postseason games, there isn't much to complain about when a former fourth-rounder played as well as Onyemata did in just his third year.
One of the more underappreciated facets of Onyemata's underrated season was his ability to avoid penalties. He was tagged with two in Week 1 but wasn't penalized the rest of the year. While he won't be on the field Week 1 in 2019 due to suspension, the Saints have a keeper in Onyemata — even if the rest of the NFL doesn't know it yet.