Editor's note: Every day in "Daily Focus," PFF analysts take the latest NFL news and translate what it really means for each team involved.
Where does Tyrod Taylor rank among NFL QBs? I'm not sure Tyrod Taylor's 2015 season is getting enough ink for how good it actually was, especially when you consider he came from absolutely nowhere to do it. A year ago at this time, Taylor was in a three-way QB battle that also featured E.J. Manuel and Matt Cassel. The Bills' starting role was seen as a job somebody had to win, but nobody was likely to succeed with.
Taylor then put together a season that wasn't just surprising, but threatened to be genuinely excellent at times, and forces some very interesting questions about just how good the former Raven can become given that this was his first serious action as a starter.
He ended the season with the ninth-highest overall grade among NFL QB (81.8), ahead of players like Derek Carr, Jameis Winston, Kirk Cousins, and even Aaron Rodgers given the struggles he had in 2015.
Taylor wasn't a complete or prolific passer, throwing for only 3,035 yards over the season and completing fewer passes than 23 other QBs league-wide, but he was efficient in an interesting way, and added a lot with his legs that most of those other quarterbacks did not. Taylor added 566 rushing yards—405 of which came on scrambles. He notched four scores on the ground to go with the 20 passing touchdowns, as well.
But the more interesting aspect of his play was how safe he was with the football. Often young QBs can make big plays and be largely-efficient passers, but make crucial mistakes that turn the ball over and cost their team. Taylor threw only six interceptions all season, the lowest figure of anybody to start the majority of the season. In terms of interception rate, only Tom Brady, Josh McCown, Aaron Rodgers, and Alex Smith threw a pick on a lower percentage of their attempts than Taylor in 2015—Brady and Rodgers are all-time greats in this category, and it's part of what makes them so good.
As Smith's presence on that shortlist indicates, there is another way of throwing very few interceptions, though, and that's by never putting the ball in the air far enough for it to become dangerous. Smith had the league's lowest average depth of target, at just 6.8 yards downfield. Taylor was third in the NFL behind only Carson Palmer and Cam Newton at 10.7, around 2.5 yards per pass further downfield than guys like Brady or Rodgers.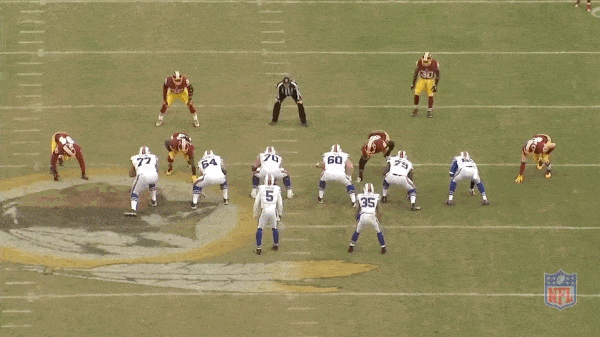 Statistically, Taylor should have been far more turnover-happy with the ball, and he made some of the most impressive passes of the season from any quarterback. His issue was on the more routine stuff over the middle on shorter and intermediate passes. That is usually the area young passers master first, so Taylor's style is almost built back-to-front compared to the usual QB progression.
That raises the interesting question of how much better Taylor can get. It's often a big leap asking a QB to go from being an efficient passer on the routine throws to adding in the devastating strikes that Taylor already has in his arsenal. But in theory, the things that he needs to develop are the easier facets of play to master, so a year in the system and on the field could see another step forward in his performance. If it does, he would vault himself into the discussion with the better QBs in the league—and be thoroughly deserving of a big-money contract.
As it is, Taylor has already shown far more than Brock Osweiler had when he was handed $37 million guaranteed by the Texans, and the Bill has shown it over a longer period of time, but not all teams are as desperate for an answer at QB as the Texans were, so it's tough to gauge where that puts Taylor's value. Right now, the Bills may see him in the same bracket as Washington sees Kirk Cousins, which is to say a guy who had a good season, but who they can't rely on to be worth a massive-money contract just yet.
(PFF Fantasy Insight: Taylor is one of our fantasy team's most appreciated quarterbacks entering draft season — he is the No. 13 quarterback in our staff consensus ranks, despite being 19th in current ADP. Taylor showed his strong rushing abilities last season, and a rushing quarterback always has a high fantasy floor.)
Can Rawls replace Lynch without a bump in the road? Seattle's O-line has been a disaster for some time, and part of the reason it hasn't really hampered the team is because Marshawn Lynch was able to go full-Beastmode and break more tackles than anybody in the league to keep the chains moving. What is most impressive about the rookie year Thomas Rawls had was that he was just as impressive as Lynch, if not more so. In 111 carries last season, Lynch broke 29 tackles, and while Rawls couldn't quite match that pace, breaking 26 in 147 carries, he did outdo Lynch when it came to yards after contact, averaging 3.1 to Lynch's 2.6 per attempt. Rawls wasn't just excelling for a rookie, but he was doing so behind one of the worst offensive lines in football, and at least last season, was doing so without any drop off from Lynch. The question of his ankle injury obviously affects his 2016 prospects but the bigger question is just how repeatable is that performance, because it was so spectacular to begin with.