Editor's note: Every day in "Daily Focus," PFF analysts take the latest NFL news and translate what it really means for each team involved.
Which QB deserves to be paid next? With Andrew Luck signing a huge contract extension earlier this week—making him the highest-paid player in the NFL—the attention now turns to which quarterback deserves to be rewarded with a substantial extension next. For a lot of people, that means looking at former first-round draft pick Blake Bortles, but he has another two years remaining on his deal, and then the Jacksonville Jaguars have a fifth-year option which they are almost set to take up.
So if not Bortles, why not Oakland Raiders signal-caller Derek Carr? Well, while Carr is vastly underpaid considering his performance last year, the Raiders have him under contract for another two years, too, so while he is costing less than $2 million on the salary cap, it makes sense for them to wait and spend the money elsewhere as they try to build a contender. Provided they both continue to play the way they have thus far, both Carr and Bortles will get paid down the line.
However, if we're looking for the one quarterback who deserves to be paid next, there really is only one clear choice, and that's the Buffalo Bills' Tyrod Taylor. Earlier this week, colleague Nathan Jahnke highlighted Taylor as being the quarterback with the best contract from a team-friendly perspective right now. With Taylor making just $3.1 million this year, and $1.3 million next year, Jahnke is absolutely correct—but not for long.
Taylor earned the ninth-highest overall grade among quarterbacks last season, at 81.8, and with plenty of teams paying backup quarterbacks more than Taylor makes right now, it's a great deal for the Bills. His ability as a runner was obviously important, rushing for 566 yards and four touchdowns, with 26 missed tackles forced on 104 carries, seeing only Cam Newton grade higher among quarterbacks in that regard, but to say that's all Taylor is would be completely wrong.
He had the 11th-highest passing grade among starting quarterbacks last year, and was one of the best when it came to throwing the ball downfield. His 1,014 passing yards on throws 20 yards or further downfield were the fifth-most in the league, while his 12 touchdowns on those deep targets were tied for the second-best mark. Only seven quarterbacks had a better touchdown-to-interception ratio than Taylor's 12:3, too, highlighting just how good he was throwing the ball downfield.
Taylor was pretty impressive on intermediate throws, too, with 44 completions for 754 yards, a touchdown, and two interceptions on targets between 10 and 19 yards, . Interestingly, if there was an area where he was weakest, it was on passes less than 10 yards, and throws behind the line of scrimmage. He earned a strongly negative grade in this area, with several poor throws hurting his mark.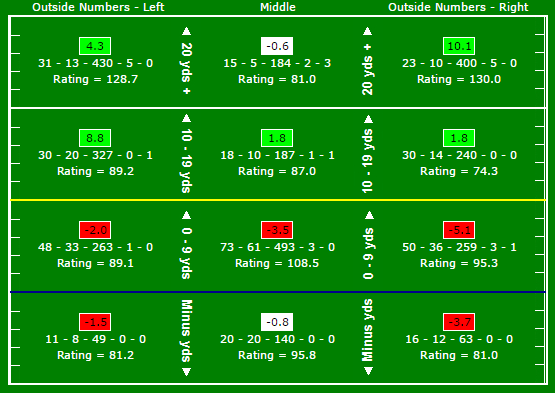 With that in mind, Taylor does clearly have some improvements to make, and the Bills certainly don't want to rush into giving him a huge deal like Brock Osweiler just got in free agency from the Houston Texans. However, they don't want to drag out long contract talks with the best quarterback on their roster, so provided that he can perform at his 2015 level in the 2016 season, it wouldn't be surprising to see him be rewarded with an in-season contract extension that better represents his ability on the field.
Taylor makes the Bills better on offense, and is not only the team's best runner and deep-passer at quarterback, but among the best in the league at both. The difficulties those two skills together present for opposing defenses shouldn't be understated, with big plays coming from both, and should that continue, it won't be long before Taylor is finally being paid what he deserves in his role as a full time NFL quarterback.
Richardson suspension another hit to the Jets' defensive line: News broke yesterday of multiple suspensions across the league, with a one-game suspension for New York Jets defensive lineman Sheldon Richardson one of the biggest to be announced. Richardson had his lowest-graded season since entering the league last year, but it's worth noting that he was asked to play outside linebacker on 169 of his 630 defensive snaps, and still finished the year with seven sacks, nine hits, and 39 hurries.
They already lost nose tackle Damon Harrison, who opted to switch teams but stay in the same stadium, signing for the New York Giants early in free agency, taking with him the highest run-defense grade among interior defenders last season. Harrison might be primarily a run defender, but it's a role he has excelled in, making a tackle resulting in a defensive stop on 18.1 percent of his run defense snaps, the best mark among DT/NTs by a considerable margin, with Philadelphia Eagles' Bennie Logan in second place at 14.8 percent.
With Richardson suspended, Harrison no longer on the team, and Wilkerson possibly holding out into training camp, the Jets' once-vaunted defensive line has taken hit after hit this offseason.
McClain's suspension just as costly for the Cowboys: Also announced on Thursday was the 10-game suspension for Dallas Cowboys linebacker Rolando McClain. He was suspended for the first four games of the 2015 season, too, before playing in 11 games and earning a positive grade over the course of the season, continuing his streak of grading positively in every season he has played in.
Sean Lee was outstanding for the Cowboys last year, earning the third-best overall grade among linebackers, excelling in coverage and being on the field for the second-highest snap total of his career so far. That has always been the struggle for Lee, with strong performances on the field balanced by a string of injuries that limited how much he has been able to play.
Even if Lee can play the full season though, it will leaves question marks about who should start alongside him. Reports continue to point towards rookie linebacker Jaylon Smith being unlikely to play at all in 2016, leaving Anthony Hitchens and Kyle Wilber as the most-likely starting options. Hitchens earned the 69th-highest overall grade among linebackers last year, missing 12 tackles, while Wilber has moved from defensive end to linebacker throughout his career and is yet to find his niche.
An even bigger blow than the four-game suspension last year, McClain has turned the Cowboys' linebacker corps into one of the bigger question marks on the depth chart.