Editor's note: Every day in "Daily Focus," PFF analysts take the latest NFL news and translate what it really means for each team involved.
Tyrann Mathieu contract extension smart move by Cardinals: With his incredible play to date, Cardinals DB Tyrann Mathieu has highlighted the flaw of minimal height criteria for certain positions. Despite standing at just 5-foot-9, Mathieu is able to cover the NFL's best pass-catchers. He topped our cornerback rankings with a 91.5 coverage grade a season ago, allowing a QB rating of just 77.6. Playing predominantly in the slot, Mathieu gave up only 1.06 yards per cover snap in 2015 (10th-best for the position), picked off five passes, and deflected another five. His 17 stops ranked second amongst corners, and he added another 24 from the safety spot. Arizona defensive coordinator James Bettcher has tremendous freedom and flexibility because of the risk the Cardinals' front office was willing to take three years ago.
The five-year, $62.5 million contract Mathieu signed on Tuesday highlights the versatility of his skill-set. No safety averages more than $9.5 million per year. None came close to earning the $40 million guaranteed Mathieu was awarded. That guarantee even exceeds the assurances in the contracts of CBs Josh Norman and Darelle Revis. It's a significant investment, but well worth it considering Mathieu's prodigious talent.
Impact of rookie CB William Jackson injury in Bengals' secondary: The Bengals opted to re-sign just one of their three secondary starters scheduled to hit free agency this offseason. While CB Adam Jones is the obvious favorite to start on one side, the opposite cornerback spot has appeared wide open entering training camp. Dre Kirkpatrick has struggled mightily in his career thus far; he ranked 100th of 111 qualifying corners in 2015, earning a 38.8 overall grade (1–100 scale). There is very little behind him in terms of experience, though. First-round pick William Jackson III (University of Houston) had a fantastic chance to start as a rookie, before a torn pectoral sidelined him Tuesday for what will likely be the entire 2016 season. Jackson needs plenty of refinement, but entered the league as a razor-sharp prospect. His size-speed combination is freakish, and he has the coverage skills to make the most of the physical talent. The Bengals will be hoping Darqueze Dennard or Josh Shaw can fill the role to the same standard if Kirkpatrick's performance to date continues.
Veterans James Jones, Dwight Freeney still have value: With training camps well underway around the country and fitness tests concluded, a few older free agents are signing new contracts. In truth, OLB Dwight Freeney and WR James Jones are still capable of making major contributions for the Falcons and Chargers, respectively. Freeney, the spin-move specialist, generated 41 combined pressures (12 knockdowns) on 267 pass rush snaps for the Cardinals a season ago. He still has a knack for collapsing the pocket, even if he needs frequent rest. Freeney's pass-rushing productivity of 13.9 was sixth at his position a year ago.
Jones enjoyed a career revival back in Green Bay last season. Although far from perfect, he burst back onto the scene with some tremendous performances early in the year. Overall, Jones ended the season with 50 catches from 89 targets for 890 yards and eight touchdowns. He was particularly effective down the field, managing over 300 yards and three touchdowns on 20+ yard passes. The addition makes for an intriguing receiving corps in San Diego, which already features Travis Benjamin's (Browns) speed, Keenan Allen's subtlety, Antonio Gates' height, and Hunter Henry's (Arkansas) reliability. Rivers can't, at least, complain about the pass-catchers at his disposal.
Could Jones steal Benjamin's targets?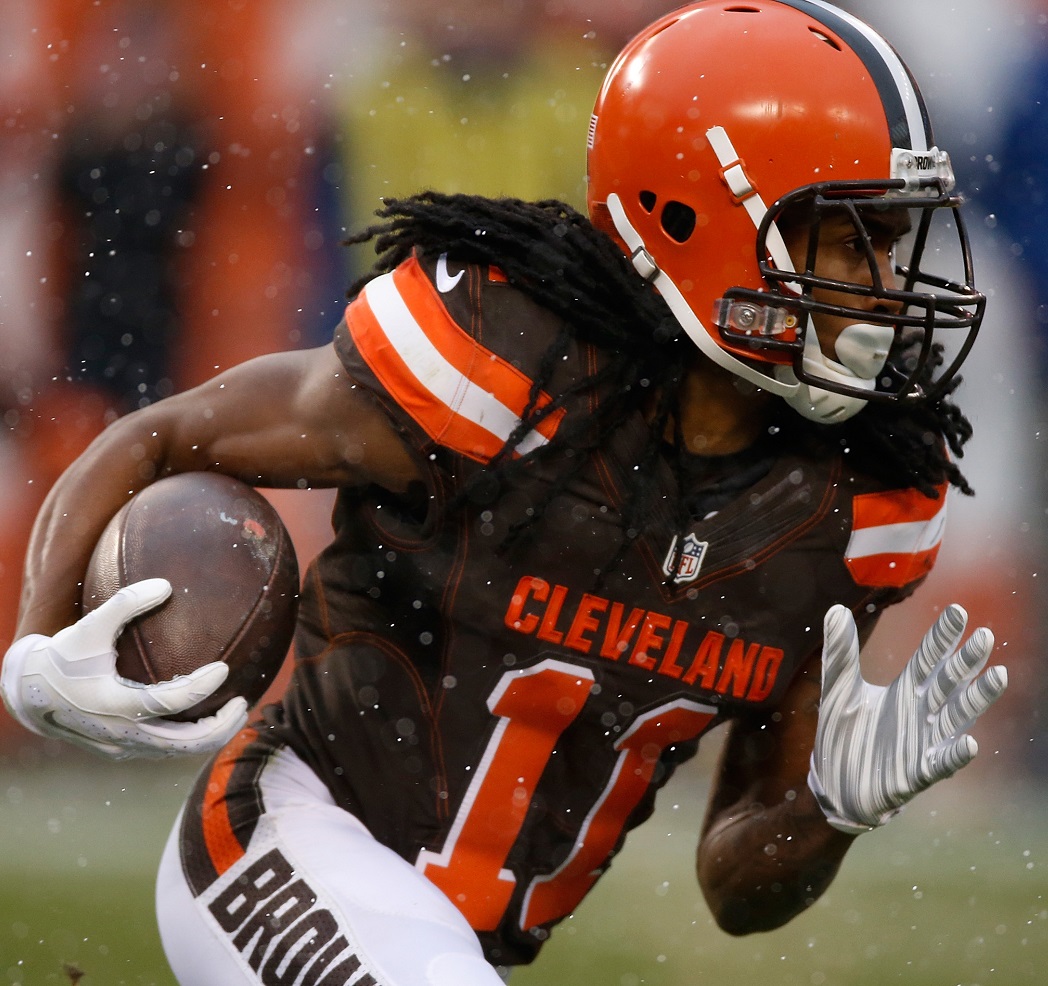 Jones could complicate things in San Diego for Travis Benjamin, who was one of our AFC West players to watch in training camp.
Check our pre-Jones Chargers depth chart look