Editor's note: Every day in "Daily Focus," PFF analysts take the latest NFL news and translate what it really means for each team involved.
One of the biggest stories to break Tuesday was that several teams have talked to the Cleveland Browns about the trade availability of returning wide receiver Josh Gordon. That's the first news item we'll cover in Daily Focus, which will look at the following:
1.) Which teams should consider trading for Josh Gordon?
2.) How former Bills RB Karlos Williams would fit in the Jets backfield
3.) What Craig Stevens' retirement means for the Titans
The three teams that make the most sense for Josh Gordon: Gordon had a breakout year in 2013, but had played just 242 snaps over the past two seasons thanks to suspensions. The second half to his 2013 season was incredible, including racking up 498 yards over two games at one point, and he finished the year second to only Calvin Johnson with an average of 2.68 yards per route run (our yards per route run metric takes into account yards when compared with the number of pass routes a player runs, giving a better indication of production that receiving yards alone).
Given his history, trading for Gordon is a risk for any team, but here are three teams who could benefit by adding him ahead of the 2016 season.
1. New England Patriots: The Patriots have been willing to take chances on players with behavioral question marks in the past, with wide receiver Randy Moss the most successful story in that regard. Moss scored 23 touchdowns and finished the regular season as our fifth-highest-graded wide receiver in 2007, and now might be the time to add another top end wide receiver to boost the Patriots offense for Tom Brady's return after his own four-week suspension. Julian Edelman was our 15th highest rated receiver last year at 86.5, and he could continue to have success on underneath routes, while Gordon could be the downfield threat. It's a move that would be risky, but the Patriots have a history of making these moves work. New England ranked No. 1 in our offseason ranking of all 32 NFL receiving corps, and Gordon would only improve that.
2. Los Angeles Rams: While the Rams added their quarterback of the future with the first overall pick in the 2016 NFL draft, they still lack a top-end wide receiver. Heading into the 2016 season, their starting wide receivers look to be Kenny Britt (76.1), Tavon Austin (60.3) and rookie Pharoh Cooper. Austin is not without value, rushing for 434 yards and forcing 14 missed tackles on 52 carries last year, as well as forcing 19 missed tackles on 52 receptions, but throughout his three year career he has graded poorly as a receiver. Britt was a solid big-play threat last year, and was 13th among wide receivers in the NFL with 382 yards on passes travelling 20 yards or more downfield last year, but also dropped five of the 41 catchable passes thrown his way, and lacks the consistency needed to be a top wide receiver. Adding Gordon would give the Rams a viable number one receiver for new quarterback Jared Goff.
3. Cleveland Browns: One of the teams that would most benefit from having Gordon on its roster wouldn't need to trade for him at all. They should be looking at what new quarterback Robert Griffin III has done this preseason, the type of offense that suits him best, and how best to put their offense in a position to play well. While there has been some definite inconsistency in his career, RG III has a big arm and can make some huge throws downfield. Without Gordon, the Browns starting outside wide receivers are likely to be rookie first-round draft pick Corey Coleman, and converted former Ohio State and Oakland Raiders quarterback Terrelle Pryor. Pryor has played well this preseason, including the big touchdown over Atlanta Falcons cornerback Desmond Trufant featured below, but he has played just 91 regular-season snaps at wide receiver since joining the Browns. Gordon was second in yards per route run in 2013 with a Browns offense that relied heavily on wide receiver screens, slants and go routes downfield, and that figures to be similar to the RG III-led offense this year.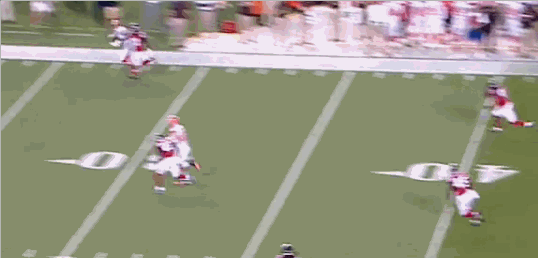 Would former Bills RB Karlos Williams share the load with the Jets? After his release from the Buffalo Bills, news broke yesterday that running back Karlos Williams was visiting the New York Jets. It's not a bad move by the Jets, given Williams was our 22nd-highest-graded running back at 78.0 last year. He averaged 5.6 yards per carry, tied for third among running backs with at least 22 carries and forced an impressive 19 missed tackles on 93 carries, but conditioning would be key given that it appears to have been a major factor in the Bills decision to release him.
What's more interesting is how he would fit in the Jets' backfield. They added Matt Forte in free agency, and at 81.9, he was our 10th-highest-graded running back last year, while Bilal Powell ranked 30th at 74.5. Williams would be an upgrade over Powell if he can get his conditioning right, and could form a fairly intimidating one-two punch with Forte, but it would likely leave Powell as the odd man out.
Read the full Jets season preview here, complete with positional rankings.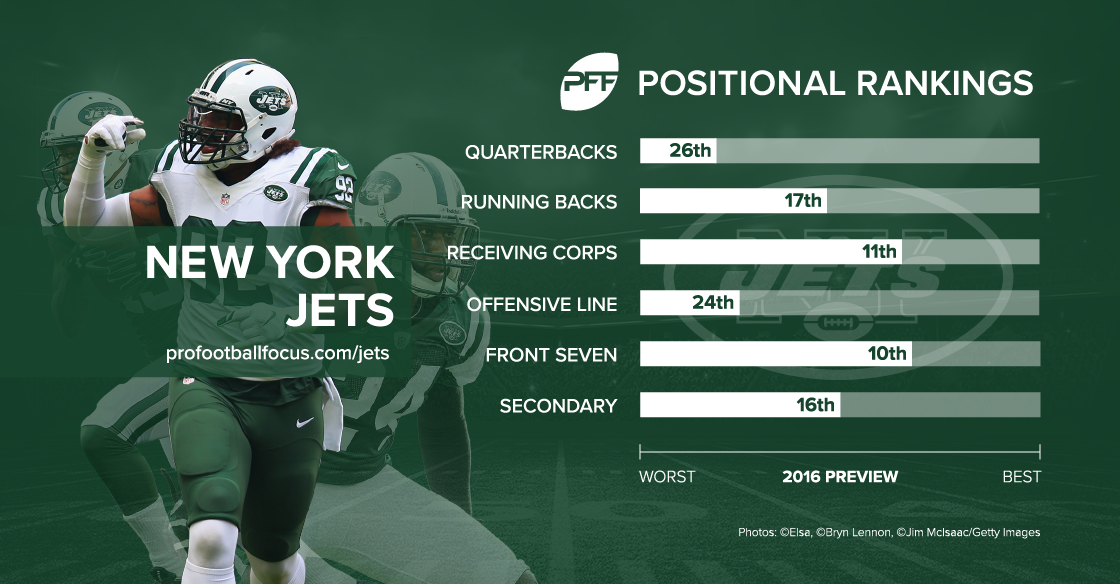 What Craig Stevens retirement means for Tennessee: The news that Tennessee Titans tight end Craig Stevens has decided to retire after eight seasons in the NFL comes as a bit of a surprise given the timing but even with Delanie Walker and Anthony Fasano as the top two receivers in Tennessee, his departure is still a loss.
Over the course of the past six seasons Stevens has never had a player grade lower than 71.8, and while you're unlikely to find him on many all time lists, he was the definition of a solid NFL player in that span. The Titans boast our second highest rated tight end in Delanie Walker (92.1), and he had a solid run-block rating of his own at 83.0, so the move doesn't leave them with a gap in a starting role, but that doesn't mean Stevens won't be missed.