In an increasingly pass-happy league, the value of the cornerback position cannot be overstated. While interceptions, tackles and passes defensed hint at a cornerback's success, PFF's advanced statistics, specifically Signature Stats, offer the most comprehensive analysis in terms of player performance.
Common knowledge to the standard football fan, the cornerback's primary responsibility is coverage. At PFF, we track much more in that regard including yards allowed per snap in coverage, coverage snaps played per reception allowed, passer rating allowed as the primary defender and coverage snaps played per target. All the aforementioned metrics are compiled as a result of tracking targets, completions allowed, yards allowed, touchdowns allowed, interceptions, etc.
Additionally, we track a cornerback's efficiency against the run via run-stop percentage while we also showcase combined tackling efficiency and pass-rush productivity to highlight successes in other areas outside of coverage.
To read all of our in-depth definitions of Signature Stats, check out our newly published Signature Stats Glossary.
Run-stop percentage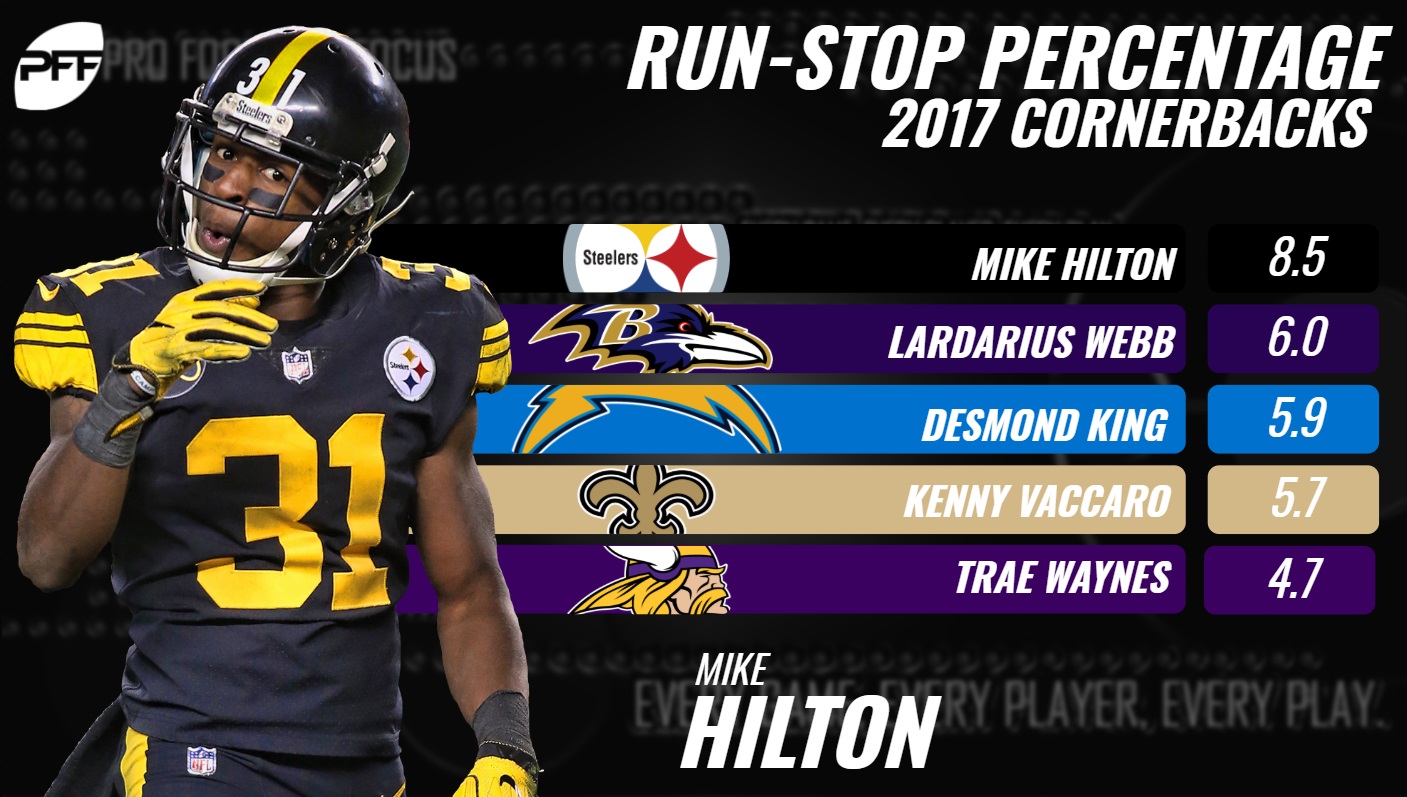 Though feeble compared to the average run-stop percentages of interior defensive linemen, edge defenders and linebackers, cornerbacks can still have a significant impact on running plays – some more than others.
Four of the five cornerbacks ranked highest in run-stop percentage last season all played most of their defensive snaps at slot cornerback, which comes as no surprise given their proximity to the backfield. But this revelation outlines just how successful Minnesota Vikings' Trae Waynes, primarily an outside cornerback, was at defending the run in 2017.
Of the four slot cornerbacks, it's clear Pittsburgh Steelers' second-year veteran Mike Hilton can hold his own in the run game despite his small stature. The 5-foot-9, 184-pounder not only led all qualifying cornerbacks in run-stop percentage, but he eclipsed the man in second (Lardarius Webb) by 2.5 percentage points.
 Mike Hilton, Pittsburgh Steelers | 8.5%
 Lardarius Webb, Baltimore Ravens | 6.0%
Desmond King, Los Angeles Chargers | 5.9%
Kenny Vaccaro, New Orleans Saints | 5.7%
Trae Waynes, Minnesota Vikings | 4.7%
Combined tackling efficiency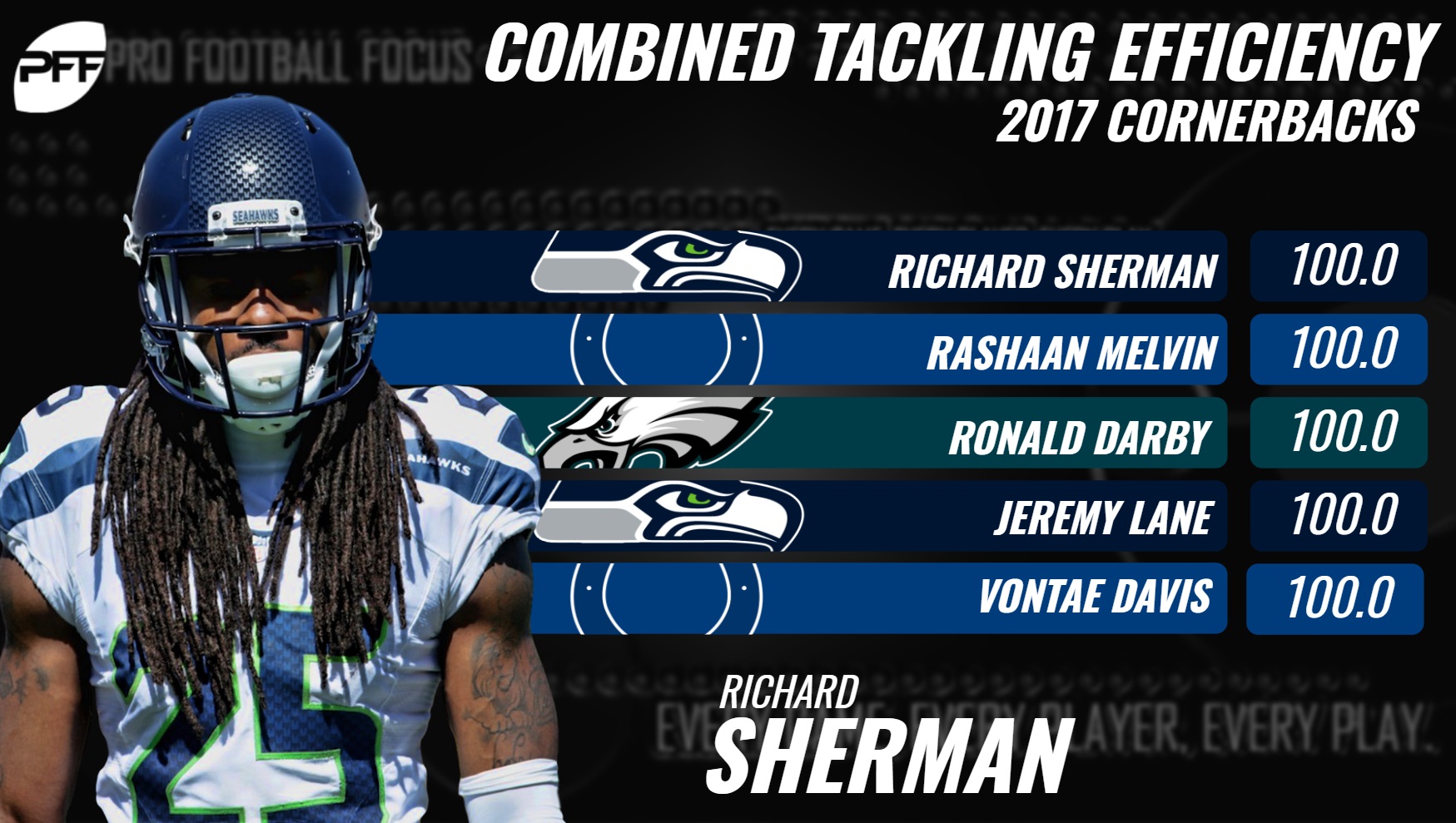 Strong tacklers at the cornerback position often keep good plays from turning into great plays and limit the NFL's wide variety of shifty speedsters from gaining yards after the catch. The cornerbacks listed below were the league's strongest tacklers, standing tall as the only five qualifiers to not miss a single tackle in 2017 with at least 200 snaps played on defense.
All five cornerbacks, however, played fewer than 550 defensive snaps a year ago, while 79 of the 123 qualifying cornerbacks played north of 550 defensive snaps – a testament to just how hard it is to maintain a high combined tackling efficiency through a significant workload.
Three of the five cornerbacks (Rashaan Melvin, Richard Sherman and Vontae Davis) will look to have repeat performances tackling their opposition in new uniforms in 2018, as all three signed deals with different teams as free agents this offseason. Sherman, who left Seattle and signed with the San Francisco 49ers, played the most defensive snaps (547) without missing a tackle.
 Richard Sherman, Seattle Seahawks | 100.0
Rashaan Melvin, Indianapolis Colts | 100.0
Ronald Darby, Philadelphia Eagles | 100.0
Jeremy Lane, Seattle Seahawks | 100.0
Vontae Davis, Indianapolis Colts | 100.0
Yards allowed per cover snap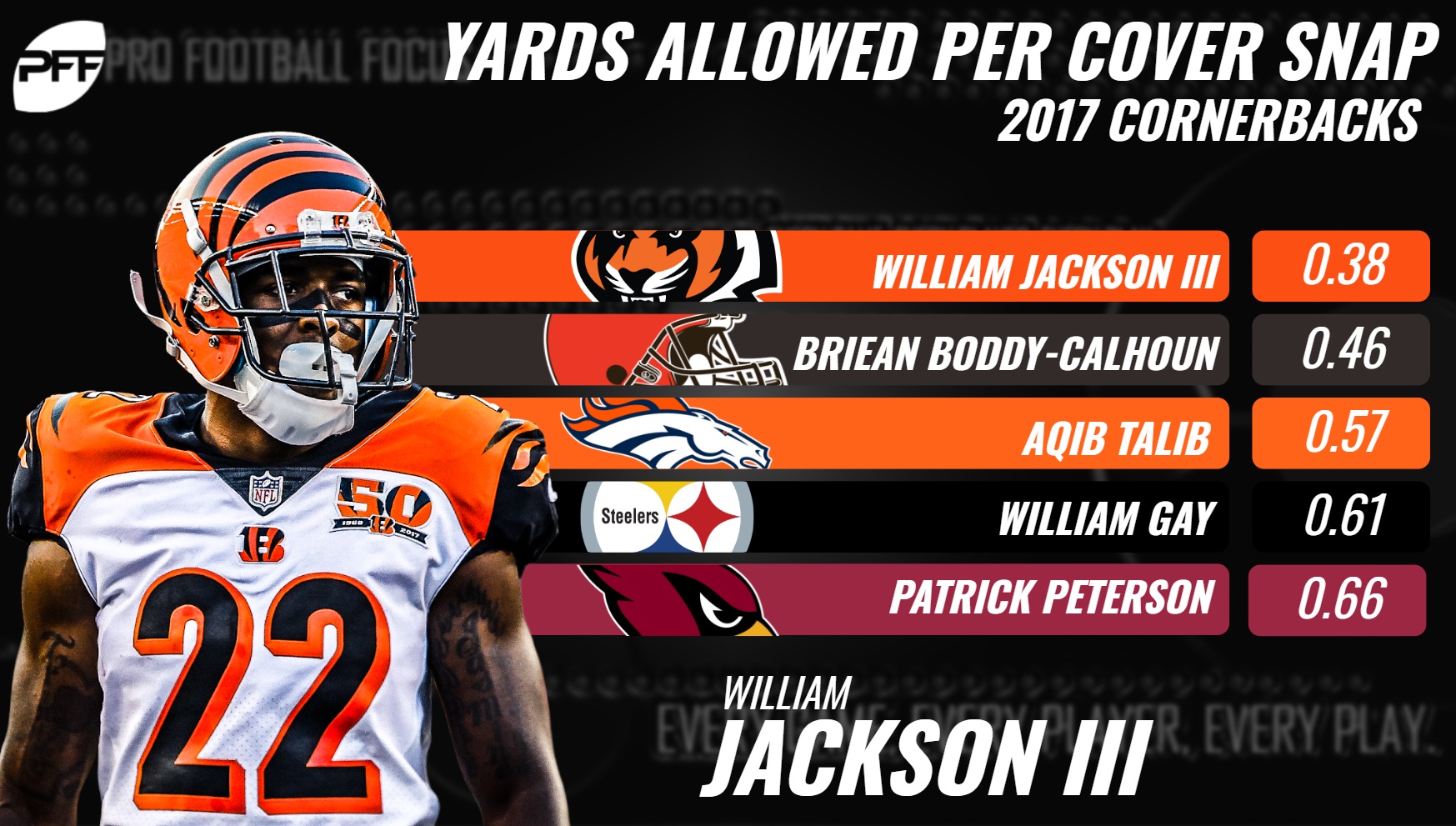 Cincinnati Bengals' second-year star William Jackson III is a name you'll see early and often across our advanced coverage metrics. The former first-rounder ranked first or second among qualifiers in three of the four next signature stats, including yards allowed per cover snap.
Jackson led all cornerbacks in yards allowed per coverage snap at 0.38, largely due to a dominant stretch over the Bengals' final six games (Weeks 12-17), as he allowed just 0.04 yards per snap he spent in coverage in that span.
Other top performers, Aqib Talib and William Gay, will suit up for different teams in 2018. Talib is expected to start opposite of fellow Los Angeles newbie Marcus Peters, while Gay will vie for the Giants' slot cornerback role with current starters Eli Apple and Janoris Jenkins penciled in at outside cornerback.
William Jackson III, Cincinnati Bengals | 0.38
Briean Boddy-Calhoun, Cleveland Browns | 0.46
Aqib Talib, Denver Broncos | 0.57
William Gay, Pittsburgh Steelers | 0.61
Patrick Peterson, Arizona Cardinals | 0.66
Passer rating allowed when targeted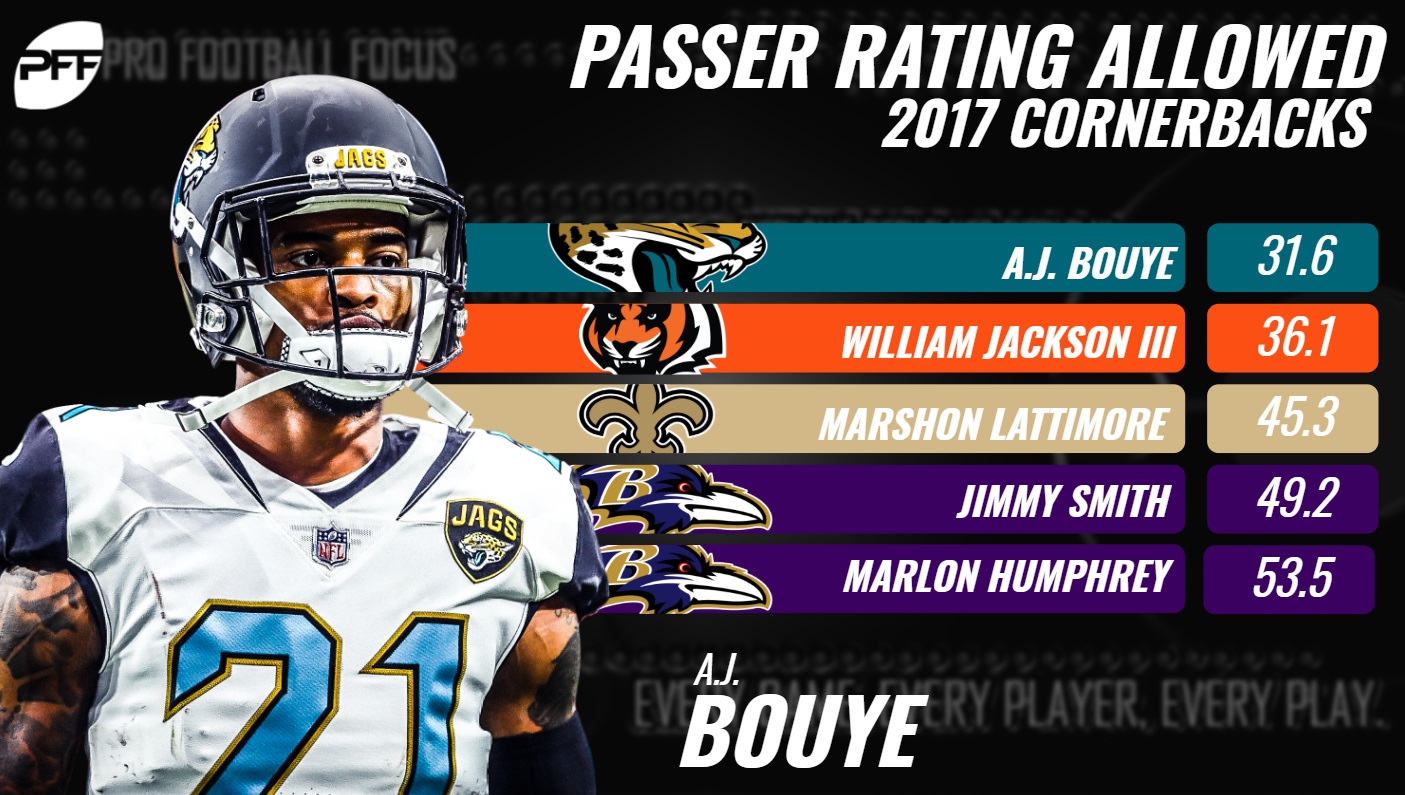 While often tied to the quarterback in the box score, passer rating is also indicative of a cornerback's success on the whole, as it builds on interception totals by factoring in touchdowns allowed, targets and yards allowed.
Some of the league's most notable names ranked inside the top five in passer rating allowed this past season, including Jacksonville Jaguars star cornerback A.J. Bouye and New Orleans Saints' rookie Marshon Lattimore. Bouye thrived in the shadow of his flashy counterpart Jalen Ramsey, allowing just a 31.6 passer rating when targeted and Lattimore exceeded the lofty first-round expectations that followed him by allowing a paltry 45.3 passer rating into his coverage.
Rounding out the top five list, Baltimore Ravens teammates Jimmy Smith and Marlon Humphrey shined while in coverage, respectively. Both Smith and Humphrey allowed low passer ratings into their coverage, however, Smith played fewer than 10 snaps in six games last season due to various injuries.
A.J. Bouye, Jacksonville Jaguars | 31.6
William Jackson III, Cincinnati Bengals | 36.1
Marshon Lattimore, New Orleans Saints | 45.3
Jimmy Smith, Baltimore Ravens | 49.2
Marlon Humphrey, Baltimore Ravens | 53.5
Cover snaps per target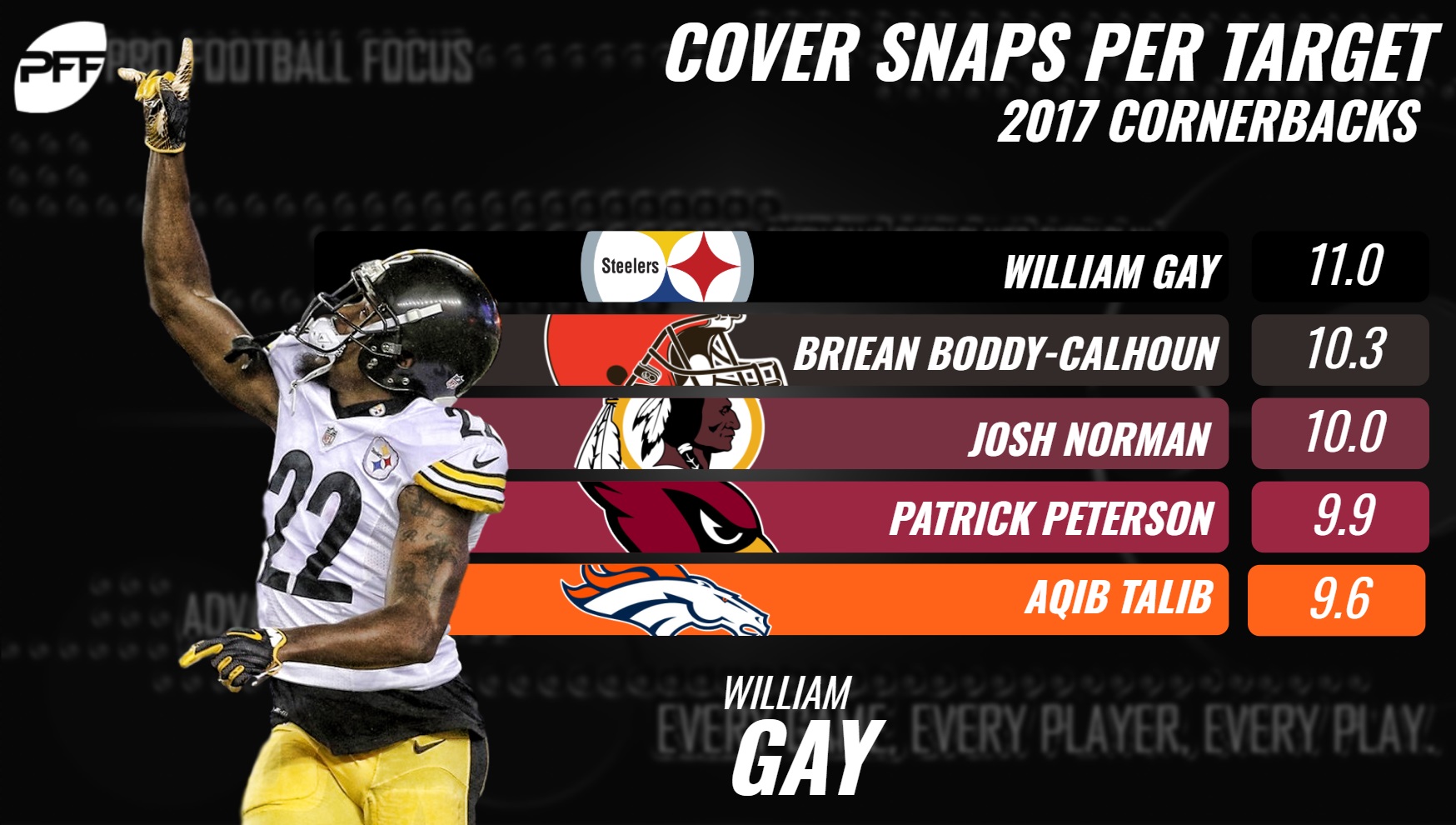 How often a cornerback is targeted showcases potentially how sticky a cornerback's coverage was. While some cornerbacks will not see as many targets as some others be it due to defensive or offensive scheme, our coverage snaps per target showcases how many times a player was actually tested in coverage over the course of their season.
Talib ranked fifth among qualifiers in cover snaps per target, and he did so working within a secondary loaded with cornerback talent, alongside Bradley Roby (84.0 overall grade in 2017) and Chris Harris Jr. (83.5). Similarly, none of the Arizona Cardinals' primary cornerbacks earned a sub 79.0 overall grade a season ago, yet veteran Patrick Peterson was rarely targeted, as he ranked fourth in cover snaps per target (9.9).
William Gay, Pittsburgh Steelers | 11.0
Briean Boddy-Calhoun, Cleveland Browns | 10.3
Josh Norman, Washington Redskins | 10.0
Patrick Peterson, Arizona Cardinals | 9.9
Aqib Talib, Denver Broncos | 9.6
Cover snaps per reception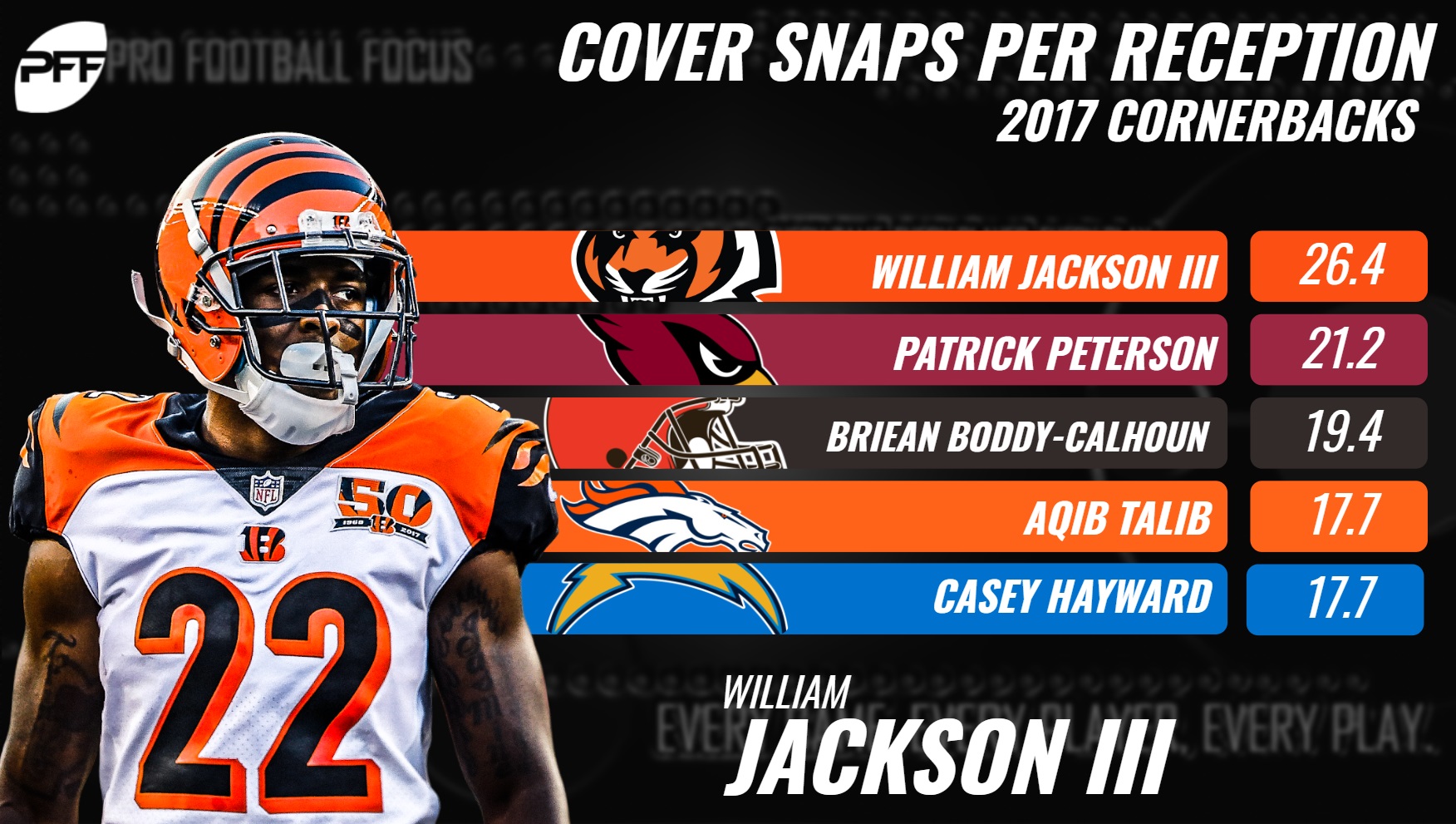 Some usual suspects (i.e. Jackson, Peterson, and Talib) finished within the top five in coverage snaps per reception, while our highest-graded cornerback and award-winning top coverage defender Casey Hayward also made an appearance, as he ranked tied for fourth by averaging 17.7 cover snaps per reception allowed.
Hayward could do no wrong this past season, as he allowed very few completions into his coverage and recorded four interceptions – all while covering the opposition's top receiving target on a weekly basis. In his most dominant stretch of games (Weeks 6-12), Hayward allowed a catch rate of just 29.2 percent (7-of-24) and a 1.6 passer rating when targeted.
William Jackson III, Cincinnati Bengals | 26.4
Patrick Peterson, Arizona Cardinals | 21.2
Briean Boddy-Calhoun, Cleveland Browns | 19.4
Aqib Talib, Denver Broncos | 17.7
Casey Hayward, Los Angeles Chargers | 17.7
Pass-rush productivity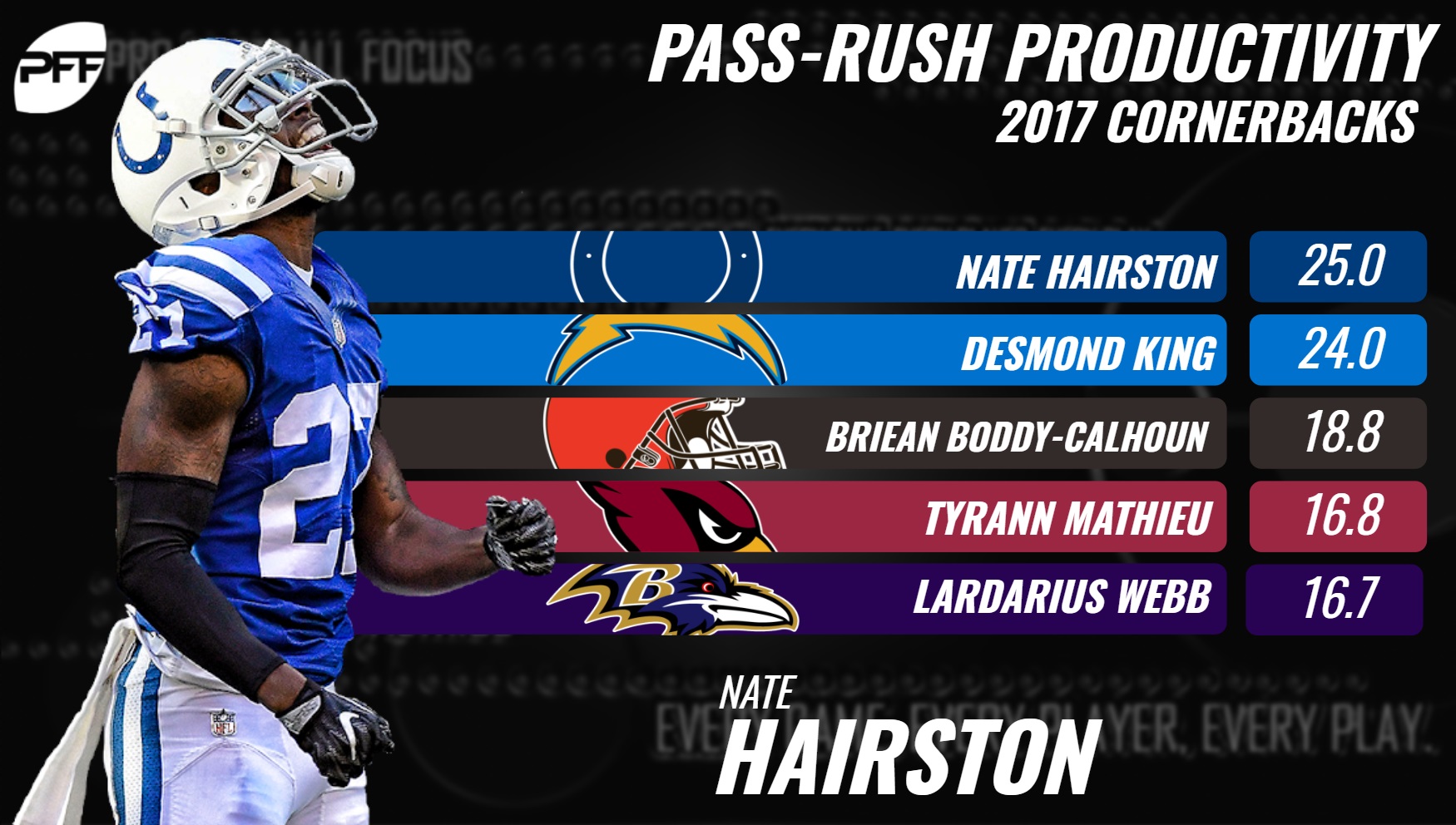 18 cornerbacks rushed the passer at least 19 times in 2017. Indianapolis Colts cornerback Nate Hairston and Chargers' Desmond King – both rookies – recorded pass-rush productivity ratings above 20.0 on limited pass-rush snaps. Hairston totaled six pressures (three hurries, one hit and two sacks) on 20 pass-rush snaps, while King totaled seven (two hurries, two hits and three sacks) on 25 pass-rush snaps.
Mathieu may have ranked fourth in the metric, but he rushed the passer at least 30 more times than the three qualifying cornerbacks ahead of him. Mathieu recorded 12 total pressures (10 hurries, one hit and one sack) on 55 pass-rush snaps in 2017.
Nate Hairston, Indianapolis Colts | 25.0
Desmond King, Los Angeles Chargers | 24.0
Briean Boddy-Calhoun, Cleveland Browns | 18.8
Tyrann Mathieu, Arizona Cardinals | 16.8
Lardarius Webb, Baltimore Ravens | 16.7