For Clay Matthews, what was old is new again. The 32-year-old edge defender, who played the first 10 seasons of his career with the Green Bay Packers, is now heading home to Southern California, where his career began, to play for the Los Angeles Rams for the 2019 season.
Matthews was born in Los Angeles into a family of football royalty. His father was a first-round draft pick of the Cleveland Browns in 1978, and his grandfather played for the San Francisco 49ers in the 1950s. Despite his lineage, however, he had to earn every opportunity he ever received on the football field. His father was his defensive coordinator in high school and refused to start him until his senior season because he was undersized. He was forced to walk onto the football team at the University of Southern California and was a member of the scout team in his first year with the squad. It wasn't until his third year with the team, his sophomore season, that he finally received a full athletic scholarship and he wasn't a full-time starter until his senior season. He made his limited time count, however, and was subsequently drafted in the first round of the 2009 NFL Draft by the Green Bay Packers.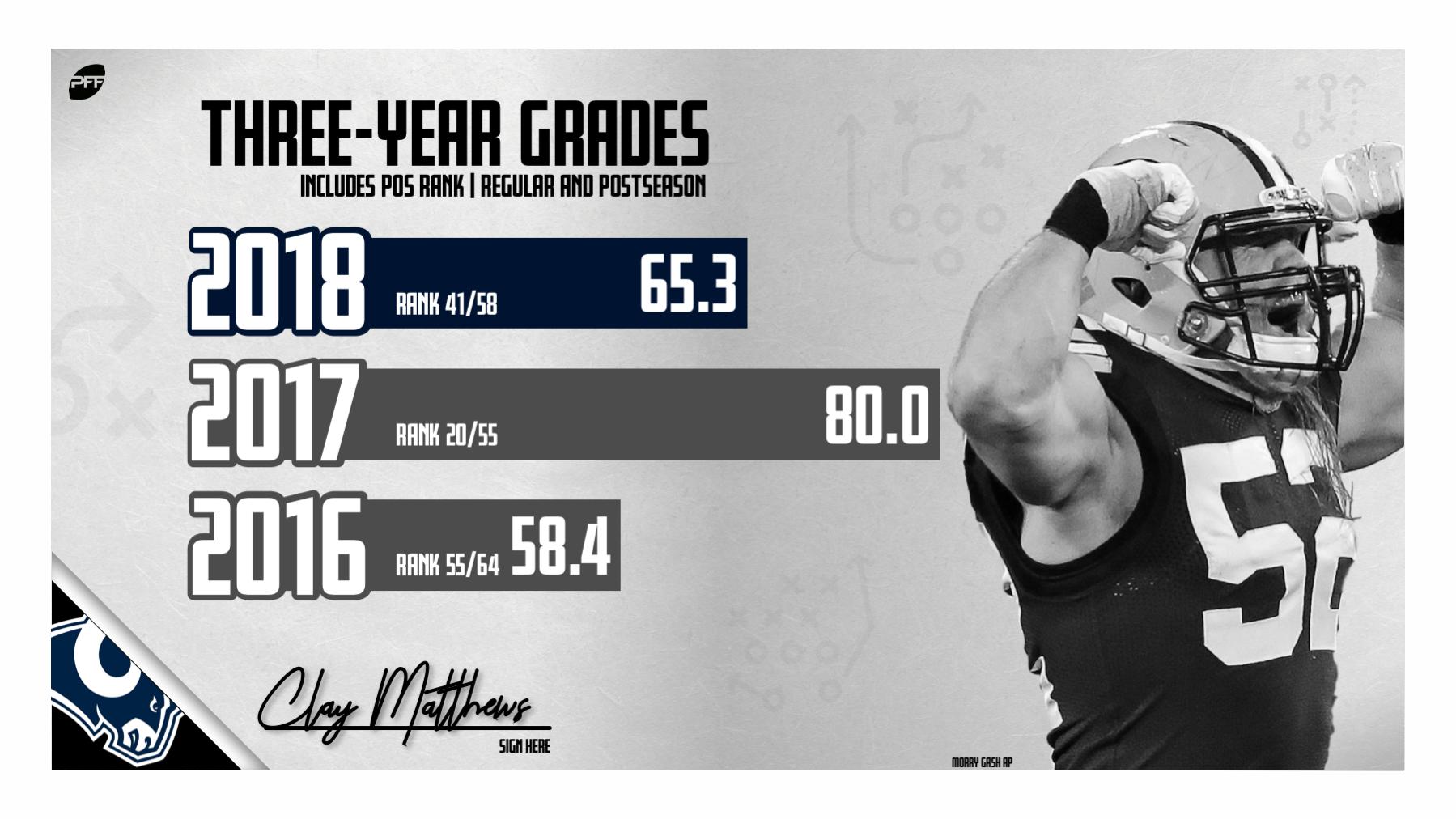 Matthews excelled during his time in Green Bay. Over his 10-year career, no Packer produced more sacks (101), hits (114), hurries (294), or total pressures (509) than Matthews, while his pass-rush grade of 87.4 and his pass-rushing productivity of 15.2 respectively rank 23rd and 32nd among the 127 edge defenders with at least 1000 pass-rushing snaps throughout that span. As they say though, Father Time catches up with everyone, and some will argue that Matthews' best days are behind him. He is coming off arguably the worst season of his career, where he registered only 30 pressures across 357 pass-rushing snaps en route to an average 65.3 overall grade and a career-low 8.4% pressure rate.
However, the opportunity for a career resurgence exists in Los Angeles. With players like Aaron Donald and Dante Fowler in the fold, Matthews won't be forced to be the defensive playmaker he was for the Packers. He can serve as a jack of all trades for the defense – rushing off the edge on one play and dropping into coverage the next.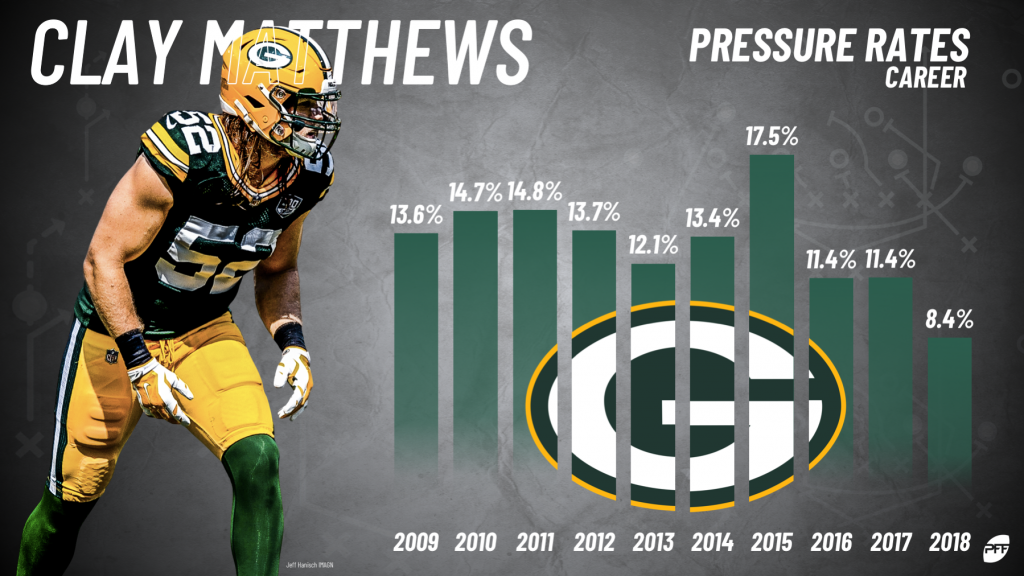 In his 10 years in the NFL, Matthews has dropped into coverage 911 times after he lined up as an edge defender, which is fifth-most among all edge defenders in that span. He's performed well on those snaps too, earning the ninth-best coverage grade (84.6) among those with 100 or more coverage snaps. Among the players who were targeted at least 50 times within those 10 years, Matthews' allowed catch rate of 73.3% ranks seventh, while his 82.4 passer rating allowed ranks sixth.
If the Rams use him correctly as a rotational player, Matthews can still be a valuable asset to the group of Rams edge defenders that ended the 2018 season ranked 20th among 32 units in pass-rush grade and 31st in pressure rate. He isn't the player he was in his prime, but he is still a force on defense when healthy, and he can definitely be a key contributor to his hometown team on their quest to get back to the Super Bowl.