Aaron Donald is currently sitting pretty as the NFL's highest-paid defensive lineman in terms of average annual salary at $22.5 million, per Over the Cap. He signed a six-year, $135 million contract with $86.8 million in guarantees in August 2018.
Kansas City Chiefs' Chris Jones will soon ask for and could very well receive more.
While Donald still reigns over the NFL as the league's best interior pass-rusher, defender and overall player, Jones will have every reason to jump ahead of Donald in average annual salary when his contract runs out at the end of the 2019 season. As we saw this offseason with the likes of Trent Brown, Xavien Howard and Mitch Morse, the highest-paid player at each position is no longer always the best player but instead the latest top talent to sign.
Jones should soon benefit from the NFL's ongoing trend, but he, unlike others recently signed to new deals, is a top talent with a real shot at playing among the league's best at his position across his next contract.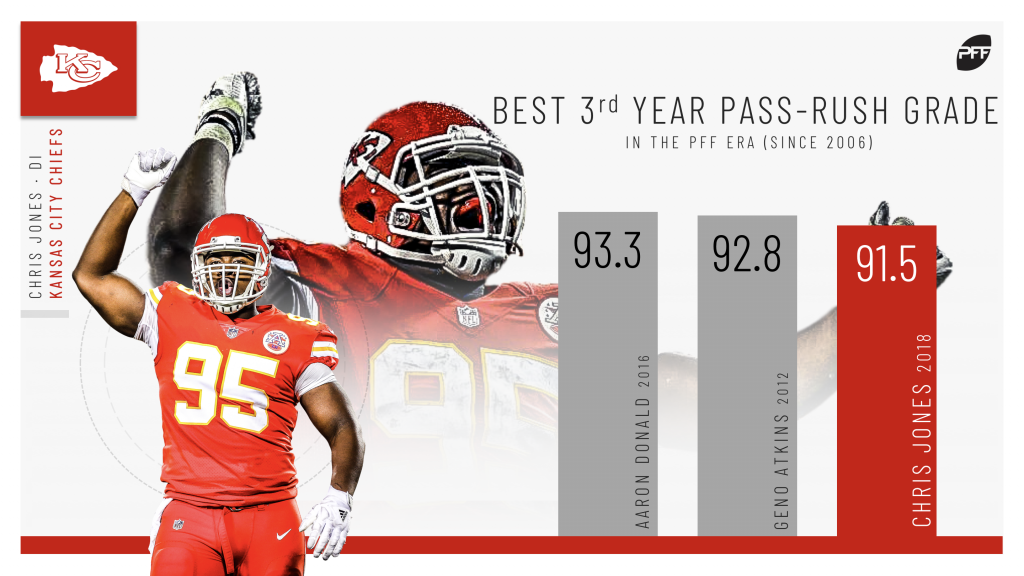 ELITE PRODUCTION
Jones' three-year overall grade (90.8) and pass-rush grade (91.1) rank sixth and tied for third, respectively, among the 73 at his position with 1,200 or more defensive snaps played since 2016. He also ranks fourth among qualifiers in three-year pass-rush win percentage (15.7%) behind Aaron Donald, Fletcher Cox and Geno Atkins.
The 6-foot-6, 310-pounder is an elite mover for his size with outstanding burst and explosiveness at the snap. He's an ox with an elite first step and the strength to overpower his opposition when engaged one-on-one.
Removing play-action dropbacks, screens and passes thrown within two seconds of the snap from the equation, Jones has recorded 119 total pressures across 706 pass-rush snaps in his career, ranking fourth and tied for fifth in pass-rush grade (90.4) and pass-rush win percentage (20.0%), respectively, among qualifiers across that three-year span.
Only six interior defensive linemen have earned 90.0-plus single-season pass-rush grades in the PFF era (2006-18): Aaron Donald, Fletcher Cox, J.J. Watt, Gerald McCoy, Geno Atkins and, of course, Jones for his career-year efforts in 2018. Jones' 91.5 pass-rush grade this past season ranks tied for seventh with Cox (2018) and McCoy (2014) among qualifiers since 2006, and his 19.3% pass-rush win percentage ranks seventh on the list.
Compare Jones' 2018 campaign to other third-year interior defensive linemen in the PFF era and the numbers only become more impressive. Only Donald (93.3) and Atkins (92.8) earned higher pass-rush grades as third-year players than Jones did this past year. And while Donald's 21.4% pass-rush win percentage in 2016 takes the cake among third-year defensive interiors, Jones' 19.6% this past season ranks second.
WE SAW THIS COMING
PFF – with none other than new lead draft analyst Mike Renner leading the charge – slotted Jones as the 12th-best player in the 2016 NFL Draft before watching him fall to the Chiefs at the top of the second round. His collegiate production, specifically in his last year at Mississippi State, was simply too good to overlook.
Jones' 91.3 pass-rush grade in 2015 is the second-best single-season pass-rush grade earned by an interior defensive lineman in the PFF College era (2014-18). Only Quinnen Williams, the 2019 NFL Draft's No. 3 overall pick, ranks higher with his 92.5 pass-rush grade in 2018.
From Renner's feature on Jones first published in March 2016:
"I'm on record in the PFF offices saying I'd take him in the top five picks, but more realistically, with the risk he presents, I'd say once he slips past pick No. 10 the value is too good to pass up. The pick No. 11-14 range of Chicago, New Orleans, Miami and Oakland is the sweet spot where every team could benefit from his services. Anywhere farther down than that and one very lucky team is getting the steal of the draft."
He wasn't wrong.
FINAL THOUGHTS
Pay the man. The rising star is entering the prime of his career; Kansas City should do everything in their power to pay Jones his due before his market price gets even higher when the league's other top pass-rushers (i.e., Grady Jarrett, Yannick Ngakoue, Kenny Clark, Joey Bosa) sign multi-year deals.