It can be hard to spot a breakout player in the making. Plenty of NFL talent will stand out in an area or two, but it isn't as easy as just extrapolating a few strengths into developing an all-around stud at any position.
That doesn't look like the case for Chicago Bears wide receiver Anthony Miller. His first season didn't produce the volume to stack up with the rest of his rookie class, but his efficiency signals the potential to emerge in 2019.
His seven receiving touchdowns are the obvious talking point, leading his offense in endzone catches while playing less than 60% of the team's snaps. But Miller also led the Bears with a 117.5 passer rating when targeted, which ranked in the top-20 among wide receivers last year.
Perhaps it was more a result of the offensive scheme, but he had more success making plays with the ball in his hand than any other Chicago receiver. In fact, he averaged an impressive 5.2 yards after the catch per reception. And yet, he was also their best when defensive backs gave him little space to work with, hauling in 62.5% of his contested catch situations. Miller was one of the few "triple threat" receivers in the league last season with the ability to create separation at a high level, win the difficult catches and make moves after the catch.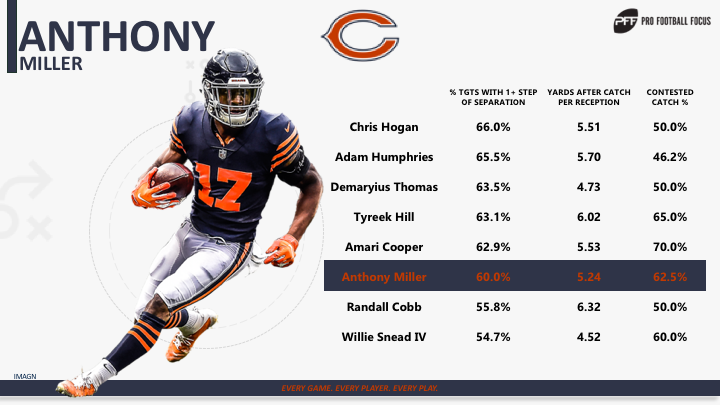 He did most of his damage over a relatively short period. Over Miller's first eight games, he recorded over 75% of his targets, 72% of his catches and 78% of his yards. Head coach Matt Nagy dialed down Miller's workload in the second half of the season as the young receiver battled a dislocated shoulder that popped out of its socket a handful of times over the course of the year.
His connection with his quarterback was still in its infancy too. PFF's ball placement data shows Mitchell Trubisky was accurate on just 50.0% of his targets to Miller, lower than his passes to both Allen Robinson II and Taylor Gabriel. He had "perfect" accuracy on just 9.6% of passes to his rookie wide receiver compared to 15.9% for Robinson.
Anthony Miller had to left incredibly frustrated after his performance against the Patriots: 7 targets, 2 catches, 35 yards and so many plays left on the field pic.twitter.com/P7cpvrGsiZ

— Lorin Cox (@CoxSports1) July 19, 2019
Miller did drop a team-high four passes last season, and his seven penalties also helped limit his overall grade to a 60.4. But his efficiencies and shortcomings largely mirrored what he produced in college.
As in his rookie season, his 18 touchdowns in 2017 at Memphis is what caught everyone's attention. Nearly half of his 1,459 receiving yards came after the catch (713) at a rate of 7.4 per reception, and Miller's 130.0 passer rating when targeted during his junior season was among the best in his draft class. Drops were an issue too, as he let 12 passes slip through his hands in 13 games.
His strong rookie season had one uncharacteristic aspect that didn't make the same translation from college. In his final year at Memphis, Miller ranked eighth in the nation with 19 tackles avoided. He recorded just two in 2018. The dislocated shoulder might be the culprit, but it leaves a clear area where the young receiver can improve next season.
If the Bears' offense takes another step forward in 2019, don't be surprised if it's Miller who converts efficiency into volume and reveals the worst kept secret in Chicago to the rest of the NFL.